SPONSORED
Daily Hair Care Routine To Prevent Excessive Hair Fall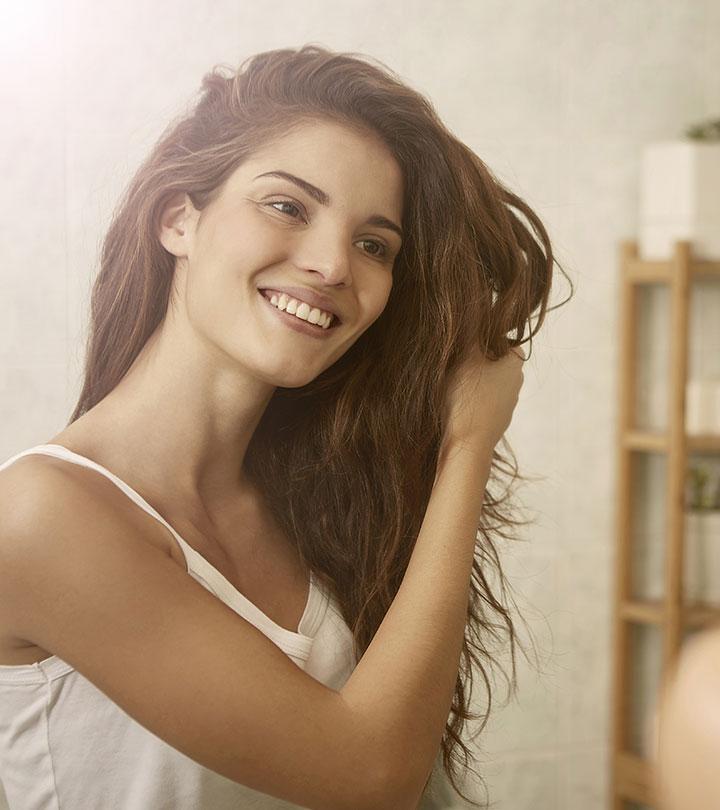 Most people lose about 100 strands of hair per day. This usually goes unnoticed as new hair keeps growing at the same time. A single hair follicle goes through a cycle of growing, transitioning, and rest. Certain circumstances can push more of your hair into rest, causing it to fall out. When your hair falls at a greater pace than it's growing, it causes hair loss.
Many factors can cause hair loss; excessive hairstyling, hormonal changes, and stress can all contribute to hair fall. However, genetics and poor lifestyle choices are the most common causes of hair fall. Ignoring this issue can be dangerous and often lead to serious problems like balding.
Hair is a woman's crowning glory. To tackle hair fall effectively, you must first come up with a daily hair care routine that is best suited for your hair type and scalp. Hair types can differ from person to person. Hence, how you care for your tresses, and the products you use on them must also vary. The best way to know what kind of hair you have is to dab a tissue on your hair a day after you wash it. If you have oily hair, then strands will stick together; if you have dry hair, then the tissue will be dry; if the tissue has an oil blot, then you have normal hair. If you still feel unsure of your hair type, use hair care products that suit all kinds of hair, like Pantene Hairfall Control Range with shampoo and conditioners suitable for all types of hair.
Daily Hair Care Routine For Dry Hair
What causes dry hair? Well, ineffective oil glands can cause your hair to dry out. Dry hair tends to look dull and frizzy. Also, this kind of hair breaks easily as it is more brittle and has split ends. Hot oil massages are a great way to keep dry hair in check. Here's a hair care routine that will bring the moisture back into your tresses.
Shampoo: If you are someone who struggles with dry, frizzy hair, then avoid washing hair daily and instead wash your hair only twice or thrice a week. While washing, use a shampoo that has been specially curated to cater to the needs of dry hair, like the all-new Pantene Silky Smooth Care. Infused with ProVitamins, this shampoo comes with a combination of eight amino acids and vitamins that nourish your hair from the root to the tips, helping you to leave hairfall worries in the past.
Conditioner: Follow this up with the new Pantene Silky Smooth Care Conditioner. Made using a blend of the latest technology, craftsmanship, as well as tradition, this conditioner contains the goodness of Pantene's Patented Pro-Vitamin science. With this product, not only will you be able to enjoy more open hair days but you can also avoid bad hair days.
Open Hair Miracle: Massaging your hair with oil and serums can go a long way in restoring nourishment to the hair. However, oiling your hair can be a hassle. If you feel that you're someone who hates having stains on your clothes, and sticky hair, then we recommend that you check out Pantene's Open Hair Miracle. Adding this to your daily hair care routine will provide your hair with all the essential oils it needs. Apply this serum 30 minutes before washing the hair. It nourishes like oil, can be used as a replacement to your conditioner, and protects the hair against damage due to heat. Healthy hair means you can go ahead and style those tresses the way you like it. This serum can also be used after you wash your hair to help de-tangle it and keep it frizz-free.
Daily Hair Care Routine For Oily Hair
If you have trouble with oily skin, then chances are you also have oily hair. Oily hair is caused by an over secretion by the oil glands. Sebaceous glands present at the base of the hair root secrete an oily substance known as sebum. This is what makes the hair oily. The problem with oily hair is that it often lacks bounce and tends to be greasy. No matter how many times you wash your hair, it always goes back to being oily and looks limp. Oily hair also easily attracts dirt, making it stick to the scalp. Adding to this, oil, sweat, and dirt can clog the scalp and make it harder for your hair to grow. With the scalp itself unhealthy, hair growth is unlikely to be a smooth process. If you have oily hair, then avoid homemade hair masks and hot oil massages. Eating a balanced diet is a good way to maintain scalp health, and control hair fall. Instead of consuming saturated fats, switch to eating more healthy fats, and carbs. Include Omega-3 in your diet as it helps to promote scalp health.
Shampoo: Amp up the number of times you wash your hair and use cool water to wash it whenever possible. While washing your hair, use a shampoo that cleanses the hair from the root to the tip. Choose a shampoo like the Pantene Advanced Hair Care Solution Lively Clean. Not only does this shampoo render your tresses free of dust, grime, and oil, but it also helps to bring the bounce back to it. Say goodbye to the days of limp hair and welcome the happy, open hair days.
Conditioner: It's quite common to see people with oily hair ditching the conditioner. A conditioner is imperative as it not just moisturizes your hair but also locks the moisture in it. This protects the hair, thereby reducing hair fall and damage. Protect your hair by applying Pantene Total Damage Care Conditioner to it. This conditioner will prevent the ends of your hair from drying out and getting damaged.
Open Hair Miracle: If you plan on leaving your hair open, then add Open Hair Miracle to your routine. This will help you bid goodbye to your limp hair weighed down by grease. Leave it looking bouncy and fresh by simply rubbing a walnut-sized amount of it on your hair.
Daily Hair Care Routine For Normal Hair
If you're one of the lucky few who fall into the normal hair category, then remember to thank your stars. Normal hair has a multitude of perks. It is naturally shiny, healthy, and pH balanced. Even though you're one of the lucky ones, you still have to take a few cautionary measures to maintain your hair. Avoid using heat on your hair. Instead of blow-drying your hair after washing, try air-drying it. Apply homemade masks to your hair, and every once a week, opt for a deep conditioning serum or hot oil massage.
Shampoo: You can protect and control damage by using the Pantene Long Black Shampoo. It is developed to nourish the hair deeply and to keep it long and lustrous. It protects the hair against the damage caused by heat and pollution, and prevents the shine from fading. Follow up this shampoo with a conditioner. Make sure that you shampoo your hair 2-3 times a week.
Conditioner: Use a conditioner to protect the hair against the damage of heat and pollution, such as Pantene Total Damage Care Conditioner. As much as we would like to believe that conditioning is optional, it isn't. Conditioner restores moisture to your hair and prevents it from drying out and splitting at the ends.
Open Hair Miracle:  If you don't have time to rinse and condition your hair, then add a small amount of Pantene's Open Hair Miracle to your haircare routine. This product is designed to grant you an easy daily hair care routine. It will improve the appearance and the texture of your hair. In addition to saving you loads of time, it will also help you save the money that you would otherwise have to spend on hair treatments and salon appointments. Also, when you leave your hair open on special occasions, it won't look dull.
Following a daily hair care routine is essential to maintain the texture and thickness of hair. A healthy hair care routine will improve the strength and appearance of your hair. Taking care of your hair will help you enjoy more and more good hair days. It will also give you the boost of confidence you need to go out and grab the world by its horns.
Recommended Articles
The following two tabs change content below.