SPONSORED
The Evolution Of Indian Bridal Jewellery Over The Years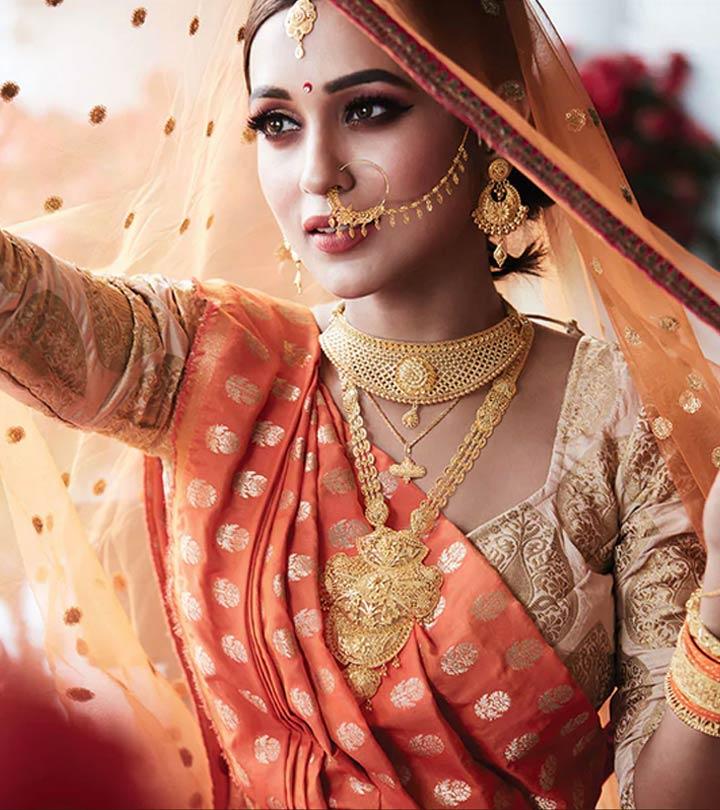 There is no doubt that Indian bridal jewellery is enchanting. It has captivated people's hearts all over the world with distinct designs, ornate varieties, and heavy embellishments. It is unique in its identity, and it remains deeply embedded with our cultural values.
The legacy of Indian jewellery spans over 5,000 years. It is also an expression of the country's aesthetic and cultural history. Over the years, the use of jewellery, the making and modes of creation have had progressive influences from political and socio-cultural elements. Over the years, wedding jewellery worn by Indian brides has undergone changes but the traditional heritage and craftsmanship remain just as rich and diverse. However, bridal jewellery worn today has pop-culture and viability to shape its new avatar.
It's not surprising to see how traditional Indian bridal jewellery and its legacy have charmed the world, stirring new ideas of creative fusion between Indian and Western trends. Here's a glance at the transformation of Indian bridal jewellery through the years and how it has continued to prosper in the present day.
The Significance Of Bridal Jewellery Through History
In India, it is customary for a bride to wear jewellery that has ornamental and symbolic values. On her wedding day, a bride is always adorned with intricate pieces of jewellery, symbolizing beauty, power, and cultural heritage. Although the symbolism of wedding jewellery has changed with time, it still continues to be an essential part of a bride's apparel, as it was in the olden days.
Indian bridal jewellery comes in a variety of designs, with each state's culture being reflected in the jewellery to honor its traditions. Some of the most extensive wedding jewellery worn by Indian brides include necklaces, bangles, maang tikka, earrings, nath or nose rings, haath phool and mangalsutra.
The History Behind The Popular Types Of Wedding Jewellery
India has many popular kinds of bridal jewellery— like kundan, enamel meenakari gold jewellery, temple jewellery, jadau, and polki, to name a few. Each of these jewellery types is a specialty from different regions and has its own story of becoming a vital part of a bridal ensemble. Here are some interesting facts and history behind some of these jewellery pieces!
Jadau
Although the Mughals brought the jadau technique of jewellery making to India, it was the artisans from Gujarat and Rajasthan who perfected it with their distinctive touches and made the design their own. The technique of jadau making is quite complex and involves heating or beating pure gold until it reaches a pliable state, creating a frame, filling in lac in the hollow frame, and then setting precious stones in it.
Jadau technique is also used in the making of polki and kundan jewellery pieces. Some of the most intricate Jadau pieces were designed by the skilled craftsmen of the Rajputana dynasty. It was customary for every royal Rajput bride to wear mesmerizing kundan jewellery on her wedding day. There was a time when jadau inspired jewellery was only meant for royalty, but it has long become a part of mainstream weddings, and brides everywhere aspire to own these versatile pieces.
Temple Jewellery
Temple jewellery was initially crafted with the sole purpose of adorning the idols in temples. However, when temple dancers began performing renditions of devotional stories, they started wearing imitations of temple jewellery. As the dance form Bharatnatyam became famous, along with it grew the popularity of temple jewellery— thus paving its way into the world of bridal jewellery.
Meenakari Jewellery
This jewellery art was introduced by Raja Mansingh of Amer when he brought artisans from Lahore to create these elegant jewellery pieces for the King's personal use. This technique includes fusing powdered glass in intricate patterns of metals. Meenakari or enamel jewellery has found its popularity among modern Indian brides for its vibrant and colorful beauty.
Current Trends In Bridal Jewellery
Today, modern brides have an abundance of jewellery options to choose from. They can either go for a traditional look or an entirely modern look, depending on their preferences. From simple yet elegant diamond designs to complex antique jewellery, the options are endless. Let's take a look at the current, most popular trends in the bridal world today!
Commonly known as an Oddiyanam or Vaddanam in South India, the bejeweled waist belt is usually worn over a sari. The traditional waist belt features designs of Indian Gods and Goddesses as well as themes inspired by nature. The waist belt is a favorite among brides as it helps keep heavy bridal sarees in place and gives a cinched waist silhouette to their ensemble. This bridal accessory is a favorite among millennial brides.
From traditional to fashionable, and from contemporary to classic, bridal chokers add a royal touch to the overall look of a bride. Bridal chokers have gained a lot of attention and are a popular choice at celebrity weddings. In case you are deciding on a heavily embroidered dress for your big day, then a choker would be the perfect accessory to match it with.
Mangalsutras are believed to bring long life to the husband and are considered a must-have for every bride. Nowadays, diamond mangalsutras have gained a lot of traction among modern brides. The sleek, light-weight, and elegant design look jaw-dropping, and it has become a well-liked bridal accessory.
A lot of thought goes into choosing the right kind of bridal jewellery. If you are on the lookout for something unique for yourself as your wedding day arrives, then we suggest you take a look at the exemplary jewellery collection from Rivaah by Tanishq. These elegant jewellery pieces are a rendition of their deep-rooted creativity and inspiration, and are indeed breathtaking!
The following two tabs change content below.