SPONSORED
For An Evening or An Eternity, Here's What The Ideal Valentine Should Be Like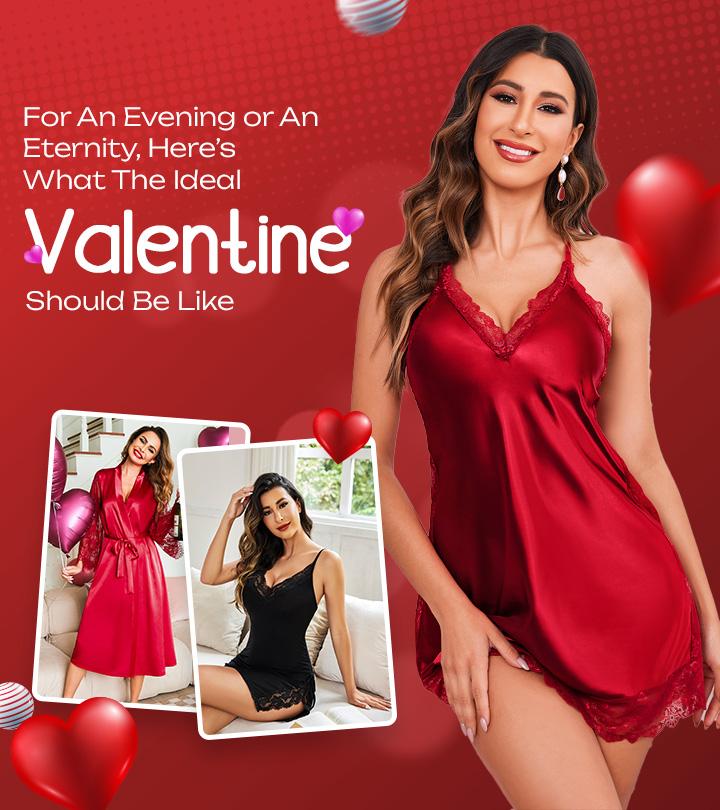 With Valentine's Day knocking at the door, people are planning vacations with their partners, making a profile to explore the dating scene, or taking off with friends. For some, love is in the air, while for others, there's anything but. And it's okay either way! So, while we are here to chat with you about the ideal valentine, let us assure you that it is anything but a laundry list of the same rundown qualities people have memorized by now. It's time to move on from the "tall, dark, and handsome" and the "long hair flowing down their back."
While there's no formula that says, "This added to that equals your ideal valentine," some signs do indicate that they might be the one, whether for an evening or an eternity. So, let's look at them before the coffee gets cold.
They Should Be Versatile
You're in the mood for a suspense thriller, but they only watch science fiction. You want to try continental food at the new restaurant in town, but they order the same item off every menu. That's bound to get boring after a while. While looking for an ideal valentine, why not choose someone as versatile as the Avidlove Lingerie Chemise Nightgown? The satin-and-lace sleepwear is available in 26 colors that won't let you have a dull moment. The adjustable shoulder straps and lace halter neck are a cherry on top to keep things spicy.
They Should Be Supportive
Whether you're getting a piercing or a promotion, your ideal valentine should always be supportive. We are NOT settling for someone who downplays our achievements. Know your worth and feel good about your accomplishments. Support is always necessary, whether from your S.O. or your sleepwear. That's why the Avidlove Cami PJs are our favorite. The triangular cups and adjustable shoulder straps support us while we have fun. Comfy meets sensual in this satin sleepwear featuring sheer lace underbust band, scalloped trim, and cheekily cut back.
They Should Stand Out
Blending in with crowds is old school. Instead, choose a valentine who can make heads turn as soon as they step into a room—suave charm, blinding smile, and the click-clack of boots as they walk up to you. Just like the Avidlove Babydoll Teddy Lingerie. The crisscross spaghetti straps wrapped around the back can make you look like the gift that you are to the world! Made with polyester, this sleepwear has a sheer lace panel inset underbust and lined lace cups. If this piece can be real, so can your ideal valentine!
They Should Make You Feel Comfortable
We're all for shy smiles and whispered words, but if you're not comfortable with your valentine, there's bound to be awkwardness. So, the next time you and your valentine spend time together, ask yourself, "Is the silence awkward or comfortable?" If signs point towards the latter, they might be your ideal valentine! Few things feel more blissful than comfort, and that applies to all areas of life. For instance, when it comes to sleepwear, nothing screams ultimate comfort like the Avidlove Lace Chemise Babydoll. This bombshell is like a second skin and keeps you company as you scroll through Instagram or dance to your favorite songs. Another go-to nightwear for comfort is the Avidlove Spaghetti Strap Babydoll. Anyone who said comfortable couldn't be stylish should take a look at this ASAP.
They Should Give You Space
The "You complete me" belief has to go. We're having none of that. We are complete by ourselves, so if a relationship feels suffocating, feel free to walk out. While we have to test the waters before finding out if our valentine is ready to give us space, the Avidlove Full Slip Adjustable Spaghetti Strap Camisole Minidress affirms that in one go! It accentuates the curves without feeling tight, and the V-neckline, bare back, and solid hues complement the look.
They Should Be Quirky
What's romance without comic relief? Dull! Find a valentine who rides shopping carts with you, sings their heart out in public, and cracks a dozen dad jokes to make you laugh. And if you find a similar pair of jammies, why look elsewhere? The Avidlove Cami Pajama Set is all things quirky, and we're here for it! The lace trim adorning the shorts' edges and the vest's neckline has us reaching for our wallets. Should we choose a solid hue or experiment with bold animal prints?
They Should Be Transparent
While people are allowed to have secrets, they shouldn't affect the relationship. For instance, your obsession with Keeping Up With The Kardashians can remain under wraps on the first date, but if you've just come out of a relationship and your ex is keeping an eye on you from another table at the same restaurant, you must tell them. It's all about being transparent in the right places, and the Satin Kimono Robe and the Lace Kimono Robe by Avidlove know that. The long, flared lace sleeves elevate the oomph factor, while the satin adds elegance and style.
They Should Be More
Be with someone more than just your S.O.—a friend, a confidant, a partner in crime. Put a spin on things by exploring the various areas in a relationship, and keep it fresh, much like the Avidlove Chemise Nightgown Full Slip Babydoll. The sleepwear features spaghetti straps and lace trims, and you can wear it while curling up in your blanket or slip a jacket over it before heading out.
Well, as the list comes to an end, we hope we were clear that your perfect valentine is less about what they are like and more about how they make you feel. So be with someone who matches your vibe, and don't settle for anything less. And while looking for your ideal valentine, feel your best with these gorgeous pieces by Avidlove.
The following two tabs change content below.