SPONSORED
Give Your Skin An Ubtan Glow-up This Shaadi Season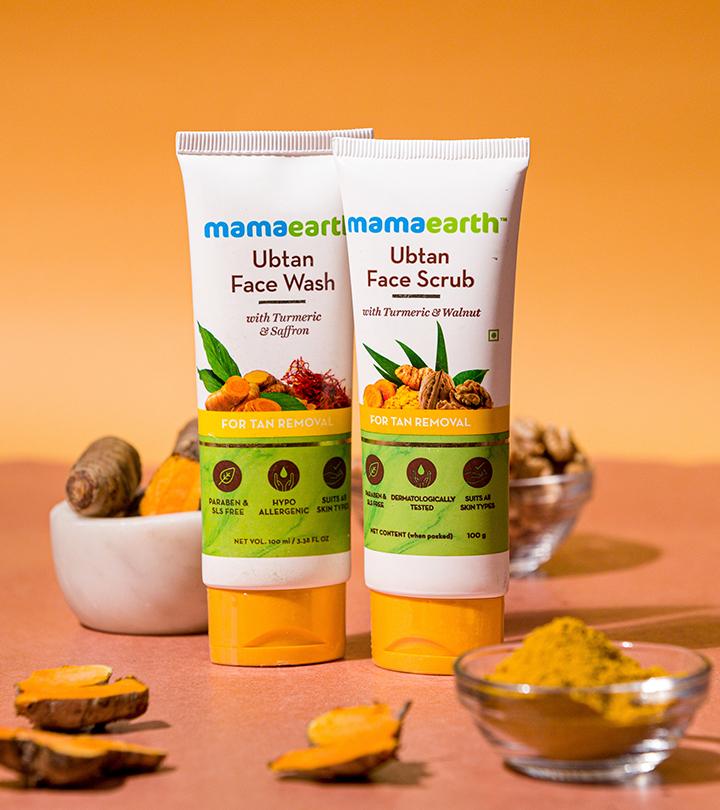 Wedding season is here, and it's time to move past the "Saajan ji ghar aaye, dulhan kyun sharmaaye?" era. The dulhan doesn't need to be shy anymore because it's time for her to flaunt her flawless skin and sing, "I'm diamond, you know I glow up!" In fact, whether you're the bride or bridesmaid, groom or guest, shaadi season calls for a glow-up that people will remember for years to come.
Wedding celebrations may last no longer than a week, but it takes months of preparation to get there. From shopping to inviting guests to posing for pre-wedding photos, it's an elaborate affair leading up to D-Day. Unfortunately, while immersed in one task lined after another, we often forget to look after our skin and take care of it for the main event. Instead, we hop out of the house, let the dust and dirt draw patterns on our skin, bathe in the sun without sunscreen, and invite acne for a long, not-so-lovely stay. By the time we notice the skin damage, even a last-minute 24K gold facial fails to come to the rescue.
Well, this year, we're having none of that. No applying layers of foundation to hide those pimples, nor concealers to draw a curtain over the dark spots—we are choosing to take care of our skin and let it heal from the inside.
It's time to get that #ShaadiWalaGlow.
The Magic Of Ubtan
In an industry where products promise instant fairness, let's take a step back and look at the ingredients more closely. Most instant brightening products are riddled with harsh chemicals that make our skin rough and dry.
Ubtan, on the other hand, is a paste made with natural ingredients like turmeric, saffron, milk, and gram flour. The ingredients may vary according to skin concerns, but turmeric and milk are always present. It is widely used in the beauty industry, thanks to its skin-healing properties. From helping reduce tan to imparting a natural glow, this natural remedy has been fighting skin woes for years.
Tradition Meets Trendy
Ubtan has been used in Indian households for centuries. Initially, a fine blend of herbs and essential oils made from coarsely ground seeds was added to the thick turmeric paste. However, it has only recently gained popularity in the beauty industry, swiftly climbing up the skincare ladder to become the go-to product for millennials and Gen Zers. So, what exactly does ubtan do?
How Does Ubtan Help?
Mentioned below are a few ways in which ubtan can give you that #ShaadiWalaGlow daily:
It helps reduce pimples and acne.
Acne spots and pimples invite themselves over at the slightest triggers and stay rent-free on the skin. Ubtan skincare helps tackle them and gives you a healthy glow. Turmeric and saffron have antibacterial and antifungal properties that keep pesky pimples at bay.
It improves skin texture.
Ubtan cleanses and exfoliates the skin, improving skin texture in the process. In addition, it eliminates deep-seated dirt, grime, and bacteria to rejuvenate your skin and leave behind a natural glow.
It detoxifies the skin.
The potent ingredients in ubtan help improve skin tone by reducing large pores. They also effectively detoxify the skin and eliminate makeup residue and harmful pollutants.
It helps reduce dark spots.
Regular application of ubtan helps improve the skin's elasticity, reducing fine lines and wrinkles. It also helps strengthen the skin, shielding it from environmental changes.
It gives a soft, natural glow.
The most popular reason why ubtan is a prominent name in the beauty industry is its ability to give and retain a natural, healthy glow. Infused with skin-loving ingredients, it has skin-brightening properties that help revive its natural radiance over time.
Choosing Your Ubtan
Making your own ubtan paste using raw kitchen ingredients may not be as beneficial. It may even end up causing additional skin concerns since they aren't usually suited to the skin in their natural state. Natural ingredients must be refined so that we can use them safely on our skin. That's why Mamaearth has brought a range of ubtan products to offer the best skincare experience.
The showstopper of the range, Mamaearth Ubtan Face Wash, needs to be a part of your daily skincare routine so you can achieve that #ShaadiWalaGlow every day. In addition, the range includes face masks, moisturizers, facial kits, body wash, face scrub, night and day creams, and soap, among others. You can find your ideal skincare regime and get that gorgeous glow with the Mamaearth Ubtan Range. Shop the ubtan face wash right here.
So, whether you're the bride waiting for her partner "mehendi lagaa ke" and "doli sajaake" or the groom on his way to take his "gori" away, make sure to look your best with Mamaearth Ubtan. And if you're not the main character of the occasion, fret not. You don't need a shaadi to get that #ShaadiWalaGlow, anyway. So, flaunt your natural glow every day, everywhere, and go and steal that spotlight!
The following two tabs change content below.