Does Your Dandruff Keep Coming Back? Read More To Know How To Permanently Reduce Your Dandruff...
There's a reason your dandruff keeps coming back …
All the remedies you've been using till now, are NOT ENOUGH.
Why are they not enough? Your dandruff can be caused by any number of factors: infections, dryness, improper nutrition, hormones, curly hair, pollution, and even allergies among many others.
If even one of these causes is untreated - dandruff will return to your scalp. On top of that, there's a worse consequence to having dandruff: as you'll find out below.
Is Dandruff Dangerous?
Untreated dandruff can be very risky for your hair. So yes, dandruff can be dangerous.
Even your own regular dandruff solution is causing harm. Research from the US National Library of Medicine report how commonly found ingredients in anti-dandruff shampoos and treatments, simply strip your scalp of everything. They harshly wash out the flakes, but also the essential oils, and the moisture that you need.
If itching is not solved as soon as possible, it can cause irreversible hairfall - due to the damage to the hair follicle.
Definite link between dry-scalp and hair-fall. Especially for women. As the hair becomes too dry, the hair becomes more weak and brittle. Easily falling or breaking off.
If ALL factors causing dandruff aren't handled at once - dandruff can come back fully.
So a true effective dandruff solution will fight infections, keep your scalp moisturized and nourished, while also soothing irritations. A healthy, clean scalp will not produce as many dead cells (the flakes), cause dryness (the itching), nor be prone to infections.
Introducing Royal Indulgence Darvi Anti-Dandruff Oil: Permanent Dandruff-Relief With 54 Potent Ayurvedic Ingredients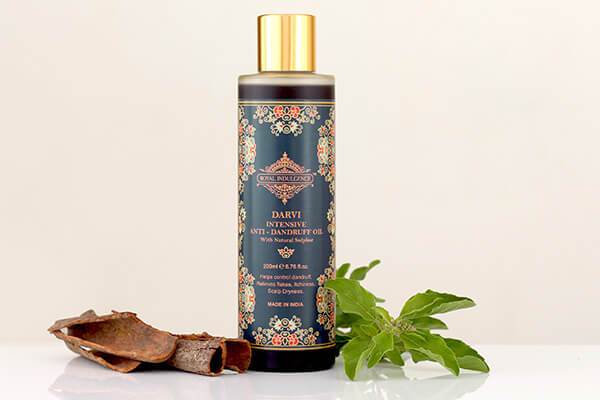 Royal Indulgence Darvi is an Ayurvedic, 100% natural dandruff remedy that can bring you permanent results. Because it addresses ALL the factors causing dandruff. The 54 powerful herb-and-plant extracts provide an ALL-IN-ONE dandruff solution for you!
All the 54 ingredients in Darvi work on your scalp without drying it out, or causing any itchiness. Darvi has all your dandruff complaints taken care of!
Darvi's Five-Point Scalp-Boosting System Brings You Permanent Results
Royal Indulgence Darvi takes care of ALL your dandruff concerns, while promoting the most optimal scalp health. Preventing dandruff, and associated conditions. Here's how:
Darvi has natural antifungal and antibacterial ingredients like Neem, Tulsi and Cinnamon, to fight the infection-causing microbes with every ue, while preventing further infections.
It locks-in and provides moisture with Extra-Virgin Olive oil, and Karanja oil, without blocking your pores follicle roots.
It removes flakes using Natural Sulphur - the safest and gentlest keratolytic (flake remover) that isn't harsh on your scalp, while being as effective as any synthetic alternative.
Jatamansi and Karpoora extracts soothe any irritations on your scalp by replacing irritants with nutrient-rich, hydrating oils that moisturize your scp and hair.
Lemongrass and Nutmeg help increase hair growth by stimulating the hair-roots for greater blood-flow, thus improving their function.
Royal Indulgence Darvi gives you the chance to uniquely fight dandruff from EVERY ANGLE.
Infections will be prevented, dryness will be reduced, itchiness will be calmed and hair fall will be reduced. Additionally, your scalp health will be boosted, thus allowing stronger, shinier, thicker hair to grow!

Here are the star Ayurvedic ingredients among the 54 meticulously refined, purest extracts in Darvi Intensive Anti-Dandruff Oil.
What Makes Darvi So Unique?
In just 10 applications of Royal Indulgence Darvi, have up to 70% of your dandruff permanently reduced! 30-days of this hair-oil regimen will reduce 90% of dandruff your for good. In 2 months, your dandruff will be almost as good as gone. It simply will not return like before.
After the initial usage period of just 7 weeks, you'll only have to use Darvi once or twice a month!
Without a permanent reduction in your dandruff - it will come back every few days. That's what happens when dandruff is incorrectly treated. Now, imagine the time you're spending on researching the best anti-dandruff shampoo. Imagine the costs that add up every month on dandruff remedies. Imagine the stress you get from worrying about whether people can see your dandruff or not. Worrying about whether your friends, partner, or boss seeing it.
With Darvi, you get permanent relief from all those concerns. tackles your dandruff problem from all angles. That means no subjecting your scalp to questionable ingredients in shampoos, serums, etc. for temporary fixes. Only all-natural dandruff-care that you can count on!
"I Thought I'd Live WIth Dandruff Forever. But A Few Weeks Of Using Darvi, I Saw A Huge Difference"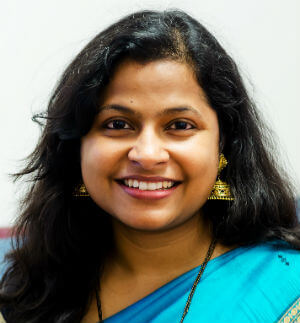 I thought it was too expensive at first.
"I've tried a lot of dandruff remedies. Even some expensive lotions that make my scalp oily. But so far, no remedy has gotten rid of my dandruff for more than 4 or 5 days max.
Gave Darvi at least 30 days to work
I saw my friend ordering Royal Indulgence Darvi, and was curious myself. But very reluctant to spend so much. She said that it could help get me long-lasting relief from dandruff. So I've been using it for about 6 weeks now, and my dandruff has FINALLY come down, significantly!
It's easy... and it's working!
Covered my scalp with the oil thoroughly and massaged it in for about 25 minutes before going to bed. My dandruff is reducing after every application. The itchiness I had from using anti-dandruff shampoos... is barely there anymore. I already think I'll need to use Darvi only one or two times a month after this!"

How To Use Royal Indulgence Darvi To Diminish Dandruff
It's a quick 3-step process. To beat dandruff with Darvi,
Apply to scalp.


Take a capful of Darvi in your palm, and apply it directly onto your scalp. Get even, thorough coverage. Use more if necessary.

Massage for 20 mins.


Massage the oil deep into your hair roots in gentle circular motions.

Wash off with mild shampoo.


Leave overnight for 7 or 8 hours, to get the best results from Darvi. If that's not possible, it should be left on your scalp for at least 3-5 hours.
That's it! Using Royal Indulgence Darvi is no hassle, the routine fits right into even the busiest of schedules.
Darvi "Dandruff-Free" Guarantee, Or Get Your Money Back
If you are not satisfied with the results from using Royal Indulgence Darvi? Simply email or call us at (support@royalindulgence.shop & 040-39561410) to claim a 100% refund for your purchase!
Within 30 days, if you use Darvi as directed and still don't see results, just let us know. We will send the money back to you, ASAP. NO QUESTIONS ASKED.
All we want to know is that you've tried Darvi. Dandruff needs careful care, and we understand that you want to use the oil as efficiently as possible.
But don't worry! You can even use up the whole bottle before 30 days, and still ask for a refund if you're not happy. This is truly RISK-FREE purchase, and we will refund you even the bottles are empty. If you're not satisfied with the results after using it, you will get your money back no matter what, as easily as it can ever be.
It takes about 12 to 13 uses of Darvi to truly see results that you'll be amazed by. Please follow the regimen for Darvi as mentioned above, because the ingredients in Darvi deeply nourish and clean your scalp with every use. You'll see the results that you yearn for only with consistent use.
If not, you have your money back you your hands. Still have doubts or questions? please call us RIGHT NOW at 040-39561410 to know more about solving your dandruff problems.

The 10 Most Common Doubts You May Have Before Getting This Super-Effective Anti-Dandruff Oil
Doubt #1:"The price is too high for me to buy this, I don't know if it's worth it."
Dr. Manjusha: We understand why you think this. But take a step back and look at the expenses for dandruff that you already have. Most regular treatments like anti-dandruff shampoos and serums require you to use them every other day. Adds up to monthly costs, which runs into 1000s of Rupees over the whole year.
With Darvi, it may be more costly in the short-term, but in the long-term - you'll be saving so much money and effort! Plus you'll be trying Darvi RISK-FREE, with our 30-Day money Back Guarantee, so it's a purchase you can make readily!
Click here now to get the most cost-effective dandruff solution ever...
Doubt #2: "I don't know if it will truly give me permanent relief, even if I buy it."
Dr .Manjusha: The 54 herbs in Royal Indulgence Darvi ensure that your dandruff is properly taken care of. In fact, all 54 are chosen from over 5000 years of time-tested Ayurvedic formulae. The top 10 ingredients are well-known, proven antifungals, moisturizing and soothing agents. Which deal with dandruff from all sides, head-on. They include Neem, Tulsi, Cinnamon, Karanja, Olive Oil, Lemongrass, Nutmeg, and Sulphur, Jatamansi and Karpoora - all 54 of which work to make sure your scalp is dandruff-free!
Click here now to permanently reduce your dandruff problems with confidence...
Doubt #3: "I can just buy an anti-dandruff shampoo instead of this, this isn't a better alternative."
Dr. Manjusha: Dandruff shampoos use synthetic ingredients that strip your scalp of the flakes, but also essential oils, moisture, and your healthy microbes that actually protect it against infections. Thus they can easily dry out your scalp and cause even more itching and flakes with consistent use.
Royal Indulgence Darvi has 54 herbal extracts that not only fight infection - but also moisturize your scalp, and calm any itchiness. No more dryness, itchiness, or flakes, to deal with - thanks to Ayurveda!
Click here now to get the safest, most effective alternative to regular dandruff solutions…
Doubt #4: "It will take too long to see the results, I want dandruff gone now..."
Dr. Manjusha: Within 2-3 applications itself, scalp will feel soothed not feel as itchy, or dry. Your scalp will also feel more moisturized, and in the presence of a fungal infection, the antimicrobial and antifungal ingredients in Darvi are starting to subdue it.
After 10 applications, that is, after 3 weeks/20 days, you will notice a 50%-70% reduction in their dandruff.
After the 4th week (so after the 1st week of using it 2/3 times, i.e., after 30 days), you can expect 80%-90% permanent dandruff reduction.
Click here now to get both immediate and long-term dandruff relief...
Doubt #5: "Dandruff isn't a serious issue, I don't need a permanent solution as I can live with it and tolerate it."
Dr. Manjusha: Whatever you do, don't let this reason stand in your way of getting the kind of relief from dandruff that you deserve!
Dandruff can start out as not a serious issue, but if left untreated, or insufficiently treated - it can have irreversible consequences. Your scalp health is important for your hair health. Dandruff can cause poor scalp health due to poor nutrition of the clap, and thus can even cause hairfall! There's even an established link between dry scalp and hair fall, which Darvi can help with over 10 highly hydrating oils.
Click here now to solve your dandruff before it gets any worse...
Doubt #6: "What if there are side-effects to using Darvi?"
Dr. Manjusha: We have the strictest forms of quality tests and if something fails to meet our set parameters it is immediately discarded. We take customer satisfaction as the number one priority., and everything is focused on giving you the best possible product.
That why Darvi is clinically tested, and officially certified by the Ministry of Ayush, India. It is thus completely safe - so ZERO side-effects! This makes it one of the safest and most reliable anti-dandruff products you can buy.
Doubt #7: "Can I trust the 30-Day money-back guarantee that comes with Darvi?"
Dr. Manjusha: We at Royal Indulgence are obsessed with customer satisfaction. We would rather lose money than lose the trust of our loyal customers. With that in mind we have a money back guarantee policy on Darvi. This means that for whatever reason, if you are unsatisfied with the results you received from Darvi you can return it and we will refund your entire amount!
However, we would advise that you use as recommended and trial it for the first 30 days, as we are confident that our product delivers exactly what we promise!
Also, compared to a monthly - Rs. 300 - and yearly - Rs.3600 - on regular dandruff remedies, the permanent results you get with Darvi will need only once/twice a month maintenance! Imagine the thousands or rupees you'll be saving over the years!
Click here now to try this all-natural Ayurvedic anti-dandruff oil risk-free...
Doubt #8: "What if it causes hair fall?"
Dr. Manjusha: Royal Indulgence Darvi has scalp-nourishing, scalp-repairing, and scalp-boosting natural ingredients that serve a variety of purposes. Primarily the herbs will clean, calm and moisturize your scalp.
Dandruff can cause some hair to be weak due to poor nutrition to that area. Even otherwise, please understand that your hair grows in cycles. So there will always be some hair on your head, that in its last stage of its growth, where it is ready to fall. When you rub any hair oil or even just massage your scalp - these will fall off. It's completely normal, and nothing to worry about. The few hairs that may fall out hair will simply regrow.
The volume of your hair will in fact increase week after week, as Darvi nourishes your hair follicles for healthier, thicker hair!
Click here now to safely beat dandruff-related hair-loss and grow thicker, healthier hair...
Doubt #9: "I style my hair using a flat-iron/color dyes/curlers etc. on my hair. Is it still safe to use Darvi?"
Dr. Manjusha: Yes! as there are no staining agents in Darvi, it can be used on colored hair. It can also be used on hair that is flat-ironed, curled or blow-dried, as it is 100% all-natural and plant-based, therefore it will be extremely gentle on your scalp and hair. Like we mentioned before, Darvi can have no side-effects!
Click here now to reduce dandruff no matter how you style your hair…
Doubt #10: "How do I know these ingredients are pure and effective?"
Dr. Manjusha: These ingredients are taken from over 5000 years of time-tested Ayurvedic practices The main ingredients in Darv iare sproven antifungal, moisturizing agents and scalp-calming oils like Neem, Tulsi, Cinnamon, Lemongrass, Nutmeg, - among the 54 herbal extracts in Darvi.
But they also demand the purest quality and the exact ingredients sourced from all over the country.They are then distilled and purified even further in a labor-heavy quality-control check.
What you get in a bottle of Darvi is the purest natural ingredients, combined together to stop your dandruff in its tracks!
Click here now to get rid of dandruff with powerful all-natural ingredients....
Hurry! 10,700+ Bottles Sold Already To Happy Customers. Get Yours Now!
We're thrilled to announce that 10,700+ people like you, have solved their dandruff problems for good with Royal Indulgence Darvi. This one-time intensive treatment helped permanently reduce their flakes, itchiness and dryness. In fact, after launching Darvi, the response that this anti-dandruff hair oil got has been overwhelmingly positive. As of , we currently have only 200 bottles of Darvi.
Hurry, before we run out of Royal Indulgence Darvi bottles! Our next batch will arrive only months later - don't let your dandruff get out of control by waiting till then!
Buy Royal Indulgence Darvi (200ML) Here
ATTENTION: Due to recent high demand we can no longer guarantee supply of Darvi. As of we currently have the product in-stock and will ship within 24 hours of your purchase.






Certified by Ministry of Ayush India
Exclusively sold by StyleCraze.com
Get This Amazing Deal Now! - Valid Only Till .
See What Our Happy Customers Are Saying!
I was tired of spending so much money, on so many dandruff products...
"I was very sceptical to try this as I was suffering from dandruff for quite a long time. I was tired of using all these product with huge false promises but delivered nothing. I was also not too keen on trying it because it is an organic product… I'd never tried a natural remedy for dandruff."
What attracted me to Darvi was that I could try it RISK FREE
"I love the fact that I could just return the product if I didn't see the dandruff-relief I wanted. After spending on countless anti-dandruff products, I liked that Darvi had a 30-Day money-back guarantee. Also, since it is 100% natural, there were just no side-effects…"
The best part was that in 7 weeks, close to 90% of my dandruff was GONE!
"It just disappeared. The powerful, all-natural ingredients in Darvi reducedd my dandruff so much! And this has been a permanent solution, so it's not like dandruff is going to come back once you stop using it. Dandruff returned when I used all other chemical products. But not with Darvi!"
I'm living a much more stress-free life...
"Before, my confidence and morale were really down, because I was constantly worrying about…"Hey, can you see the white flakes?"...I couldn't wear dark colors… Even though I liked them, I didn't wear any black-colored clothes for the longest time because all the flakes on my shoulders."
Within 7 weeks, it's turned my dandruff problems upside-down
"I feel so much better, and my hair feels so much better, it has solved my dandruff complaints… After 7 weeks I only had to use it once/twice a month… I wa ready to live with dandruff forever, but this product showed me that it can be solved. Personally I can say it's worked miracles for me so far. I would definitely recommend hits product to everyone. "
- Apoorva Bajpe, Actress, Bangalore

The thought of others seeing me with dandruff was truly terrifying...
"Dandruff Can get really embarrassing. I've had it for years. Every minute of your life becomes irritating. My scalp was really itchy, and I was constantly controlling the urge to scratch."
I avoided my promotion because of my dandruff...
The idea of standing in front of so many people and having them notice my dandruff… was too much.
I approached a few dermatologists… but nothing worked!
I went to a few skin clinics to have professional check it out. They gave me shampoos and pills but nothing really worked to keep my dandruff away for more than a few days. I even considered shaving off my head, because it felt like the best and only solution to my dandruff issue.
I was pessimistic about using Darvi…
When I saw Royal Indulgence Darvi online, saying it was a permanent solution for dandruff, I really wanted to give it a shot. For 2-3 weeks, I didn't see anything, but for the 4th week, I saw a huge change! The amount of my usual amount of dandruff flakes was reduced by more than half. That was really motivating.
The highlight for me: I need to use it only once/twice a month now...
Things were going uphill after those few weeks, I even met my girlfriend around that time. The best part is that Darvi is a one-time investment. As it's given me a permanent reduction in my dandruff, I don't have to frequently spend so much on regular dandruff solutions. Go ahead, try Darvi for yourself!
- Sonank Arora, Media Professional, Mumbai

My son didn't want to use any oils for his dandruff...
You know how children are these days… He didn't want to use this at first as it was a hair oil. He is used to something quick like a shampoo. But the dandruff always kept coming back.
I wanted a truly permanent dandruff solution
My friend suggested Royal Indulgence Darvi to me, she said it would help permanently reduce his dandruff. So I tried convincing my son to put Darvi oil on his scalp.
I saw results in just two to three weeks!
I saw his dandruff reducing week after week! After 2 weeks, my son said to me, "Mamma, my dandruff is actually going away. How do I look?" He was very happy about the progress. I was happy too, seeing the results that my son got.
It's costly, but let me tell you - it's really worth buying…
They said it was a permanent solution for dandruff. And that's what I noticed. My son's results with Darvi have made us both very thankful towards Royal Indulgence. The smell is very pleasant, it's non-sticky, and there are no chemicals in it. A completely natural dandruff solution. Please use Darvi Anti-Dandruff Oil - you will be very happy!
- Avalokateshwari Kurup, Higher Secondary School Teacher, Gurgaon
The EXPERT Behind Royal Indulgence DARVI Intensive Dandruff Hair Oil
Royal Indulgence Darvi comes from the time-tested Ayurvedic wisdom that Dr. Manjusha Manneri has learned from her gurus in Ayurveda. Her childhood interests always involved scriptures, Vedas, and sacred texts, while her education made her explore Ayurveda as a serious cure, for all human ailments and conditions.
Royal Indulgence Darvi powerful anti-dandruff formula was taken from the best of skin-healing, skin-detoxifying, and skin-rejuvenating specializations taken up by Dr. Manjusha. Her expertise in these areas lead her to pursue an all-encompassing anti-dandruff solution. And Ayurveda rewarded her – with Royal Indulgence Darvi formulation.
Years of research was put into Royal Indulgence Darvi by her. Since its release to customers like you, it's flown off our shelves – and we're thrilled that so many people can get rid of their scalp concerns.

Frequently Asked Questions
Royal Indulgence Darvi is all-natural, and absolutely safe to use. Made exclusively from plant extracts – Royal Indulgence Darvi will only help to alleviate your dandruff worries. The ingredients are found in other powerful Ayurvedic preparations, which are used for even more sensitive issues. Royal Indulgence Darvi is the gentlest dandruff treatment available, especially compared to other present-day alternatives.
Royal Indulgence Darvi will certainly work, if used as recommended. The first 3 weeks are when you should be using it every alternate night. After that, twice a week for 4 weeks months. Beyond that, ONCE a month is sufficient. Twice - if your dandruff condition is severe. Symptoms will not return in-between usages like before at all.
Men, women, and children can use Royal Indulgence Darvi. However, children below 10 years of age, pregnant women, and people allergic to natural Sulphur shouldn't use Royal Indulgence Darvi. If none of these applies to you, you can confidently trust millennia of Ayurvedic wisdom, and use Royal Indulgence Darvi on your scalp.
Royal Indulgence Darvi has ZERO side-effects. The plant extracts are dermatologist-tested, and also certified by the Ministry of Ayush, India. The ingredients are freely available in nature, and are mild on your skin and scalp. There are no side-effects to worry about while using this product.
Royal Indulgence Darvi works best if you leave it overnight. We recommend using a cap while you sleep, and a towel on your pillow – to avoid transfer. Also, if you get the oil into your eyes, wash them and the skin around them with plenty of water.
You will start seeing results from the first 2 to 3 uses itself. Your scalp will feel less itchy, less oily, and you'll notice less flakes on places that you found them before. After 10 applications of alternate-day use for the first 3 weeks, you'll notice 70% of your dandruff simply GONE. After 30 days – 90% of your dandruff symptoms will be resolved FOR GOOD.
Please understand that dandruff is a recurring condition. However, Royal Indulgence Darvi treats all possible causes your dandruff. Because of this, your symptoms will never come back with the same severity. To be dandruff-free, use Royal Indulgence Darvi at least once - or at most twice - a month after the first 2 months. While it won't get rid of dandruff completely, it's your next best solution, offering the longest-lasting results out of any dandruff treatment today. At the end of your regimen, your symptoms will have greatly reduced - to almost nothing.
We're so sure that your dandruff is going to be resolved, that we're offering you a money-back guarantee. If within 30 days, you don't see the results you're looking for – simply return the product to us. Your payment will be fully refunded, no hassle for you.
Yes, a Cash-On-Delivery Option is available.
It'll take about week to reach you, at the most. We ship as soon as we receive confirmation of your payment.
Simply drop us an email at support@incnut.com. We'll get back to you ASAP. Or, give us a call on 040-39561410.