Dear 90s Kids, Were Our Fashion Choices Questionable?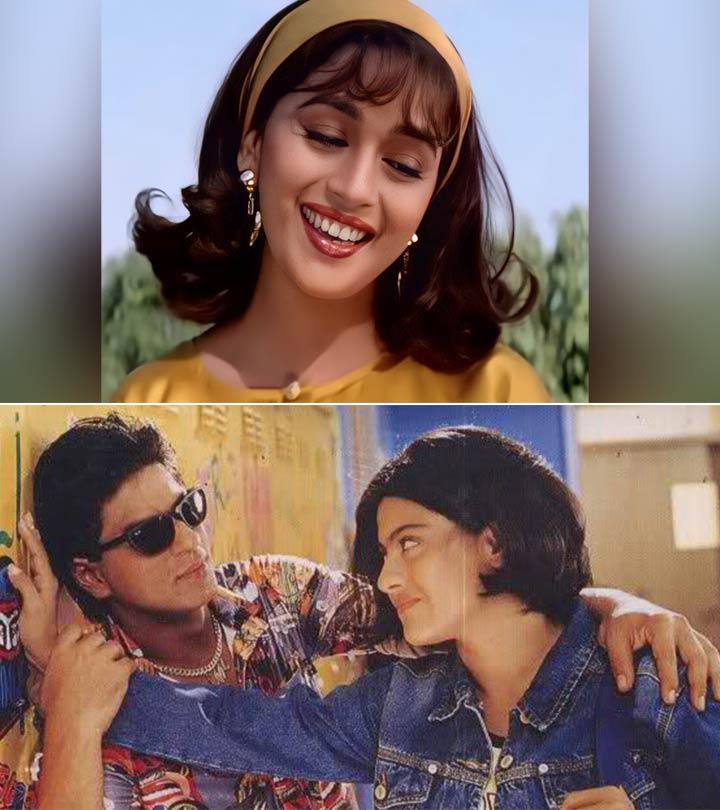 Banner image Source: Twitter/Source: Twitter
Once in a while, you'll come across an article that will remind you of your past and make you question the way your parents dressed you (or the way you dressed). The 90s and early 2000s were an interesting time for Bollywood. India was slowly opening up as an economy, and we started following more western trends. Many western brands and clothing companies started opening up shops in India and tried to attract a wider audience. While some of the fashion choices were super iconic, others were a little more offbeat and unconventional that only belonged on the ramp. And in some cases, costume designers took the trends a little too far in their attempts to seem relatable (we're looking at you, costume designers of Kuch Kuch Hota Hai). Here are some popular 90s and early 2000s fashion outfits that really have us scratching our heads:
1. Tied-Up Dungarees
You can slay denim dungarees or cotton dungarees if you are in the mood for experimentation. However, they're the kind of clothes you could possibly wear while painting your house (pockets everywhere) or maybe on a casual hang out with your girlfriends. While there is no harm in experimenting and trying something outside of your comfort zone, we really want to know who thought these weird tied-up dungarees would be a good look on Shah Rukh Khan. While many of his fashion choices in his earlier films were a little questionable, this fashion choice certainly didn't have too many winners. It's also not helping that it's leather.
2. Monochrome Overdose
Karisma Kapoor was considered one of Bollywood's most bankable actresses in the 90s for a reason. Whatever outfits she sported in her films, all ended up trending among fashion lovers all across the country. We really want to know why wearing everything matching was such a trend in the 90s? Even though monochromatic outfits are back in trend, the trick is to mix and match different shades of the same color to avoid looking tacky or weird. For example, a darker shade of green pants with that top would be a perfect monochromatic outfit! The top-to-bottom mint green situation is just serving candy cane Christmas decorations. While Karisma's style was clearly undeniable and she certainly carried the look off well, the same can't be said for the rest of us.
3. Ultra Wide Hairbands
Madhuri Dixit was considered a major fashion icon and her sweet, simple, girl next door sense of style was quite difficult to emulate. While wearing hairbands is totally normal and you shouldn't stop yourself from wearing them, we have to admit that Madhuri's look in Hum Aapke Hain Koun was a little too childish. Plus what's the point of wearing a hairband if your bangs are still going to cover your forehead?
4. Black Shades And Metallic Chains
Let's be real. The only ones who look really cool in black shades and metallic chains are actual rappers. Also, why wear shades when you're indoors? While the fashion in Kuch Kuch Hota Hai was pretty apt for its time period, it has slowly gone out of style and people have preferred a more subtle approach. Since Kuch Kuch Hota Hai dealt with a time jump, we see the characters adopt a more mature sense of fashion as the story progresses. We see Shah Rukh Khan dress more like an adult with a suit and tie rather than the punk, jock character he used to be while he was in college. We see Anjali actually put in more thought and effort into her look as she grows older (according to her character growth). If you really want to go for metallic chains, pick the single-styles instead of excessively layered necklaces.
5. Peppy Hair Clips
Peppy and fun hair clips are super cute! When you're 12 years old. We don't know if any adult would still wear a butterfly hair clip in their hair to work. While these cutesy clips were pretty popular back in the day, we're super glad that this is one fashion trend that is hopefully not coming back. After all, some fashion trends are better left in the past. While these kinds of hair clips are still popular, they aren't as popular among the older crowd.
6. Super High-Waisted Jeans
Who doesn't love a good pair of high-waisted jeans? But there's something called taking it too far. Plus, since high-waisted jeans are worn tight and high on your waistline, you need to be careful about the pair that you choose. If your high-waisted jeans are so high, you end up looking like a school PE teacher, and you might want to reconsider your choices. There's a reason super high-waisted jeans are often called "mom jeans". It's because they aren't as fashionable as we might presume them to be. It comes at the risk of being too wide at the waist and ruining the silhouette of your top.
7. Shimmery Leather Pants
Dil Chahta Hai truly changed the game for many of us 90s kids. It was our first taste of what adult life is like and how it feels to grow up in an urban side of the country. The film was well ahead of its time and dealt with heavy topics like depression, alcoholism, heartbreak, and more. All good things aside though, can we just talk about the wardrobe choices in the song "Koi Kahe"? Who thought colorful leather pants and a shirt are good outfit choices? Have you ever walked into a club and seen men in leather pants dancing up a storm (we're talking about a nightclub, ladies, calm down *giggles*)? Firstly, leather pants in all weathers are impractical because the humidity would make you melt. Secondly, why are all three leads wearing leather pants? Do regular cloth pants not exist? While the song itself is a true banger and still super popular amongst our generation, we're glad that this movie didn't make brightly colored pants a thing.
Sure, some of our fashion choices might make us look back and cringe, but who knows, years from now, our future grandkids might look at our pictures for style inspiration. Since fashion is versatile, we cannot truly knock down a trend, as it was a trend for a reason. Put on your creative cap if you love styling and give your own contemporary spin to these vintage trends. Well, we just hope that the newer generation makes smart and practical fashion choices. Do let us know all of your thoughts in the comment section below!
The following two tabs change content below.