9 Amazing Benefits Of Using Mangoes In Your Summer Skincare Routine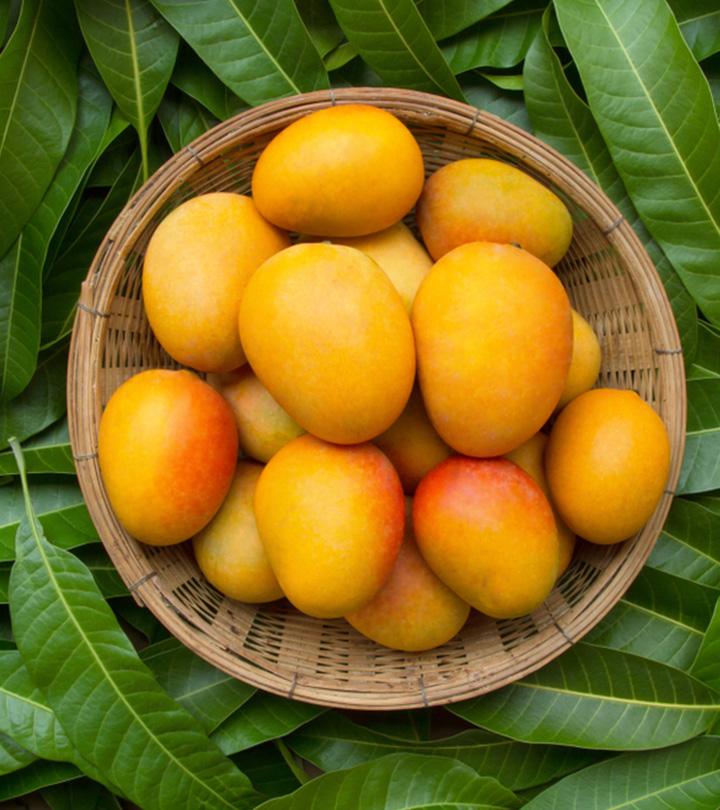 You might love feasting on these sweet nothings but chances are that you haven't still tried them as an ingredient for smooth skin. Hate to break your bubble, but mangoes are great for your skin. Mangoes are cultivated in more than a hundred countries across the world and are a highly sought-after and much-loved fruit. They are highly nutritious in nature and are filled to the brim with minerals, antioxidants, and healthy vitamins that support your overall health. Many recommend including this scrumptious fruit in your diet as it is a great way to support the health of your skin. Since the fruit is rich in antioxidants, it can prevent premature aging, boost collagen and even reduce damage caused by the sun. However, mangoes are best known for their ability to hydrate your skin when they are applied topically. In fact, many popular beauty brands are making use of mangoes in their products. So here are nine incredible benefits of using mangoes in your skincare routine (1):
1. Helps Fight Off Acne
Did you know mango was so effective that it can remove marks on your face? Mango contains beta-carotene that can help fight off acne. A good way to use mangoes to help with acne problems is to apply a mango pulp face pack at night and keep it for at least an hour. Just make sure that you wash your face right before you go to sleep. You can also make use of mango as an astringent. Boil a raw mango and use the water as an astringent and apply it topically. You can apply this directly to your pimples and acne and Voila! You can bid goodbye to your chemical cleansers and other expensive skincare products.
2. Helps Get Rid Of Dark Spots
Due to the vitamin C that is present in mangoes, applying them to your face is a terrific way to reduce the number of dark spots and acne scars on your face. Vitamin C is now very popular among beauty influencers and celebrities. It is known to be a good healing agent for your face. Mango pulp can also reduce the appearance of freckles and pigmentation caused by the sun.
3. Works As An Amazing Exfoliating Agent
It would not work if you apply it freshly peeled, because it does not have very rough fibers. Instead, when you apply mango onto your skin with honey and glycerin, it can work as a great exfoliating agent. Mix a spoon of raw milk with two spoons of honey and a spoon of mango pulp to form a paste. Rub this paste onto your face to gently remove whiteheads and blackheads. This mango scrub can help remove your dead skin cells and may improve the appearance of your skin, leaving it with a natural glow.
4. Works As A Great Natural Peel-Off Mask
Chemical peel-off masks contain tonnes of benefits and are widely available on the market; however, if you don't like putting chemicals on your face, you can opt for natural face masks. Raw mango is rich in vitamin C, vitamin A, and alpha hydroxy acid, both of which are incredible peeling agents. These ingredients work well on your skin and can make it glow bright.
5. Provides Nourishment For Your Hair
The seed of the mango is great for your hair when you keep it soaked in oil for a few days. When you apply this mango oil to your hair, it can help prevent hair loss and reduce the risk of getting grey hair. When this solution is mixed with yogurt and fenugreek, it works as a brilliant home remedy to get rid of dandruff. You have to put in the work if you want luscious locks and give the smelly egg and curd mix a break.
6. Keeps Your Skin Hydrated And Healthy
Mangoes are rich in antioxidants which have exceptional properties and keep your skin hydrated and well-nourished. Vitamin E and potassium work alongside each other to help keep your cells hydrated and moisturized. When you apply mangoes topically to your skin, these ingredients work together to keep your skin bright, soft, and healthy. If you are done with excessive use of moisturizers and lotions that are turning your skin dull and dark, resort to this smooth and natural method to sort out the dryness.
7. Helps Reduce Signs Of Aging
Vitamins C and E work together to keep your skin safe from environmental damage and are present in large concentrations in mangoes. They are stored in your skin cells, and when your skin is exposed to sun damage, the amount of vitamins present is reduced. Vitamin C also supports the production of collagen. Thus, eating mangoes or applying them to your skin can help reduce signs of aging (2).
8. Might Lower Your Risk Of Skin Cancer
Apart from making your skin look flawless, mangoes can be a surprising life-saver. Mangoes contain a polyphenol that is called mangiferin. This polyphenol is a brilliant antioxidant and has countless proven benefits. The kernels, peels, and seeds of the mango contain a high level of mangiferin, and there's some evidence that suggests that these can help reduce the risk of suffering from certain types of cancers like skin cancer (3).
9. Reduces Damage Caused By The Sun
Although the protection that mangoes offer does not match up to what a sunscreen would, the presence of vitamin C in mangoes can drastically reduce damage caused by the rays of the sun. Mangoes work by protecting the skin against free radicals and thus reducing the damage caused by them. You can try this as a last resort.
Whether it's candy, juice, pies, we love the fruit in all its forms. Even for glowing skin. Mango is loaded with healthy vitamins and nutrients that help support overall health as well as the health of your skin. As incredible as home face packs and remedies are, you should be careful and always conduct a patch test before you apply it to your skin. Do let us know all of your thoughts on this article in the comment section below!
3 Sources
The following two tabs change content below.