15 Awesome Ideas On How To Decorate And Celebrate Your Graduation Party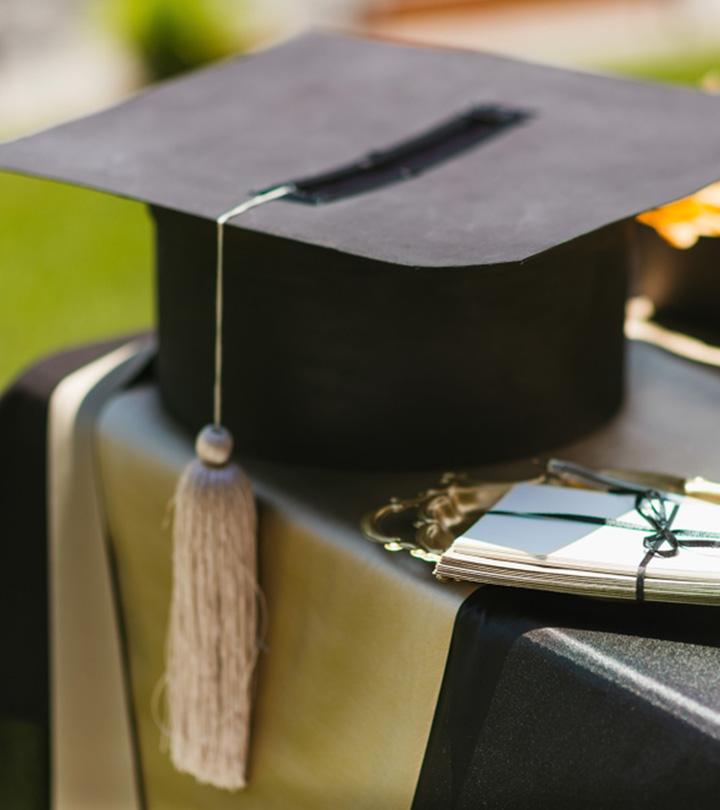 Graduation reels in a lot of mixed feelings before you officially complete high school or college. Sure, it's bittersweet because you are going to miss all those fun moments you spent with your loved ones, but you're finally done! You might not be able to celebrate your graduation in a grand manner you may have imagined, but that doesn't mean you can't still have a great time! If you're looking for some fun and creative ways to celebrate your graduation, here are fifteen ideas that can be of help to you:
1. Have A Drive-By Party
Just because you are staying home most of the time nowadays, doesn't mean you can't have your friends over for a fun drive-by graduation party! So everyone can stay within the confines of their cars and still have a great time. You can even hand out party favors to your guests, albeit with all the proper safety precautions. Choose an empty space instead of crowding the streets and take responsibility for all the booze and food properly.
2. Make A Tassel Garland
A colorful tassel is super easy to make and can make a room look incredibly bright and vibrant. You can use colorful wool and ropes to get started and add tiny decorations like glitter paper and party strings. It's one of the most fun ways to celebrate a graduation party!
3. Create A Trophy Wall
Although you are stuck at home, you don't need to have a muted celebration. Why not bask in your achievements by putting up a trophy wall? What better way to celebrate all those magical memories than by making a wall full of all your accomplishments. You can also suggest your friends carry their best achievements or trophy to reminisce old memories.
4. Add A Memory Jar
Have all your guests join you on a trip down memory lane by asking them to include special messages and memories on chits that they had with you in a mason jar. You can place this jar out on your front porch and ask your friends to add whatever they like.
5. Hang Your Polaroids On A Photo String
One way to reminisce about the good old times is to decorate your walls with all those precious high school memories. You can print out some polaroids and clip them to a jute string. You can even ask friends to add their favorite pictures with you on the rope. Finish with fairy lights to brighten up the aura.
6. Add Confetti Into Some Balloons For Decor
Welcome your guests with gigantic balloons filled with confetti and get the perfect pictures for your Instagram! Imagine the sheer surprise when your guests are covered in confetti after they have popped a balloon.
7. Create Some Cardboard Speech Bubbles
One fun "gram-worthy" way to celebrate your graduation is to make cute cardboard speech bubbles and distribute it among your close friends and family. Ask them to add their thoughts and words and do a little reveal at the end for fun surprises. What better way to showcase your joy of graduating than by holding a speech bubble that declares "FREEDOM!"
8. Don't Forget To Add An Ice Cream Sundae Bar!
Of course, no party is complete without an ample amount of ice cream. One way to make your drive-by party memorable is to include a fun ice cream sundae bar. Make sure you stockpile it with some fun toppings like sprinkles, dried fruits, and more.
9. Make Mini Graduation Cap Toppers
Plastic graduation toppers are super cute and make great cupcake toppers. Make sure that you use recyclable materials. Rather than using plastic toppers, you can create a mini graduation cap and prepare some with toothpicks.
10. Serve Drinks At A Drink Stand
Rather than buying a cooler to stash your drinks, it's a good idea to create a drink stand. You can repurpose an old table that your parents may not use and paint it the colors of your high school uniform or mascot. Make sure you stock plenty of straws, water, mason jars, and maybe some alcoholic beverages for the older folks attending. Or your friends, if they are of drinking age. Just make sure that nobody drives back home under the influence.
11. Have A Candy Buffet
Are your friends' big fans of candy? Were you guys given a limited supply of candies because adults told you your teeth would rot away? Well, now that you've graduated, you don't need to listen to them. It's a great idea to have a candy buffet bar and let your friends have a pick of their favorite selection of candies to celebrate your remaining innocence (Just kidding).
12. Hang Up Some DIY Paper Hot Air Balloons
If you're someone who grew up on Dr. Seuss, then why not create some themed decorations after one of his books. You can make use of colorful cardboard paper to make this DIY decoration. It's a more creative direction than your regular birthday balloons.
13. Include A Hot Dog Bar/Stand
If your drive-by party is scheduled for the evening, instead of keeping a buffet that will go cold, you can include a hot-dog stand. Whether the hot dogs are ordered beforehand or made by hand, just make sure that you have a good time and keep enough condiments around. You can ask your drive-by guests to approach the stand with their masks and choose a hot-dog of their liking.
14. Hand Out Party Favors
One way to ensure that your guests have a great time is by giving them some party favors filled with high school memories. It could be a customized keychain with their initials on it or your college/high school mascot. Be as creative as you can!
15. Send Off Paper Lanterns
Find the nearest field to your home and celebrate your graduation in the most Disney-est way possible and let go of some lit lanterns. This will create a wonderful ambiance and make for absolutely gorgeous photo backgrounds!
Keeping all our tips and ideas in mind, you should be able to plan out the most beautiful and memorable graduation party while still maintaining a safe distance. We know that you want to include your friends on this day, but if any of your friends are too scared to participate, that's fine too. It is all about revisiting old memories and wishing each other success in future endeavors. It is essential to ensure everyone who attends is at ease, and safety precautions should always be followed. Do let us know all of your thoughts on this article in the comment section below!
The following two tabs change content below.