7 Common Eyeshadow Mistakes And How You Can Avoid Making Them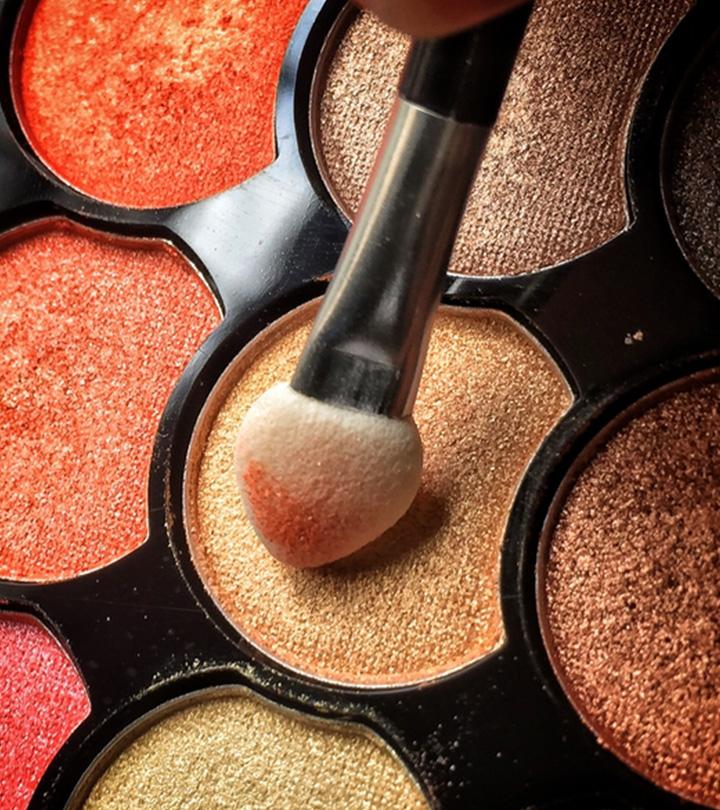 No one is a born makeup artist. There may be women who love doing makeup but lack the skills. But step-by-step learning perfects everything flawlessly. So don't dwell on it too much if you make mistakes. As someone who loves doing their makeup, even the slightest blotch while doing makeup can send a chill down their spine. Worried that you're making it obvious? Well, there are tonnes of common eyeshadow mistakes that you might be making that you can easily learn to avoid if you follow certain rules. So if you want your eyes to look smokey, flawless, or even if you want to add a dash of color, we have certain tips and tricks that will really help you out. Here are a few of them:
1. Applying Eye Makeup After You've Applied Foundation
If you apply your eyeshadow after you've already applied your foundation and concealer, then eyeshadow particles can tend to fall on the made-up area under your eyes. This can create quite a mess, making it harder to remove or alter the makeup once you have already applied it. We understand the concept of that process though. You don't want to smudge or mess up your winged eyeliner by applying foundation later. In such a case, if you still want to apply the eyeshadow before you apply your concealer and foundation, then you should make sure your under-eyes are protected. You can do so by applying loose setting powder.
2. Skipping An Eye Primer
Many people make the rookie mistake of skipping out on eyeshadow powder. Don't be that person! While it isn't that big of a deal, it can sometimes cause major problems depending on the shade or type of eyeliner you are using. For example, if you apply a bright or intense blue eyeshadow on your eyelids, the pigment might not show through as easily unless you've already applied a primer. Another example is when you apply a dark matte color on top of your eyelids without adding primer. If you do this, there will be some odd bald patches that will become visible in your eyelid creases or at the corners of your eyes.
3. Setting Your Lid With A Nude Powder Eyeshadow
A lot of people will set their cream or liquid eyeshadow primer with a pale or even a nude eyeshadow. This is a bad idea as powder shadow will add unnecessary color to the look of your lid. The nude or beige powder will water down the richness and depth of bright pink or even a black eyeshadow. Instead of that, why not purchase a translucent powder? The powder is finely-milled and doesn't have as much pigment in it. It is also meant to get absorbed into your skin rather than sitting atop it. Applying nude powder eyeshadow can also become cakey and weird if the weather is hot or if you become sweaty all of a sudden.
4. Applying Dark Eyeshadow All Over
Depending on the look you are creating, the type of eyeshadow you use really does make a difference. If you want to open up and brighten your eyes, it's a good idea to use white eyeliner/eyeshadow at the inner corners of your eye and darker eyeshadow at the outer corner. This will help balance out the shadows on your eyes and also highlight the areas that you want attention brought to. Remember that the trick to wearing eyeshadow is making sure that you don't go too overboard and ensure that your face is evenly made up.
5. Making Use Of A Shimmery Shadow As A Base
Shimmery eyeshadow is an absolutely terrible base to apply to your eyes if you want your eyeshadow to stand out. As sad as it is to admit, a shimmery base does not make for a great base because of it's rough and uneven texture. It puts your entire makeup at risk as it is very likely to end up in patches by the end of the day. As a result of this, shadows will not look as pigmented if you apply them on top of shimmer or glitter. This can also make your eyeshadow look very muddy and diluted. However, if you're going for a bright and saturated color or applying glitter on top of shimmery eyeshadow, then it's perfectly alright to use a shimmery shadow as a base for your eyeshadow.
6. Using Liquid Or Creamy Products Over Powder Ones
Makeup products of a liquid or creamy nature must be applied well before powder products. This is because powder can help you set the creams in place. If you apply powder before cream, it can end up looking really cakey. Or worse, the powders will start to mix and flake off throughout the day, leaving a trail of dusty layers and patchy looking skin.
7. Applying Eyeliner And Mascara Before The Eyeshadow
Well, if you're going for a "smokey" makeup look, or if the eyeliner is just a base for the eyeshadow, then you should go ahead and apply your eyeliner before your eyeshadow. However, if you do this, then your eyeshadow will definitely end up covering the rest of your makeup and hiding it. However, if you apply mascara before eyeshadow, your eyeshadow will flake off and fall onto your mascara-laden eyelashes instead. This will end up making your entire look very ashy looking, but not in a good way. Trust us, you don't want to look like you've gone through some trauma when in fact, you are actually thriving.
In the end, perfecting the right eyeshadow look for you will take time and is not as easily achievable as one might think. Even if you have mastered a stable hand and are creative with kickass eye makeup looks, the above hacks can actually sharpen your skills and make you feel like a complete pro. You can make use of YouTube to find some interesting videos by makeup artists and try it on the side if you want. Do let us know if any of these tips and tricks were of help to you in the comment section below!
The following two tabs change content below.