8 Text Convos That'll Rekindle Your Belief In Love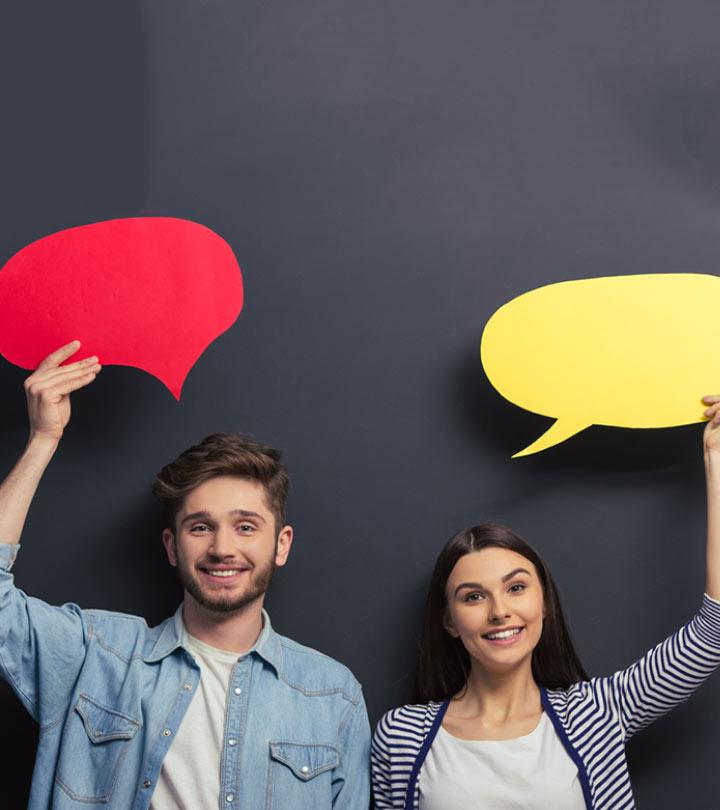 Not all couples tell each other every day how much they love each other. It is not that all couples exchange gifts, roses, hugs, kisses, and chocolates every day. Yet, there is an intangible bond between them that is strong and goes on for ages. They have faith in each other. They have faith in the love between them. And sometimes, this love is expressed in languages we don't realize. Here are 8 text conversations between a man and his woman that will not only make you understand the different languages in which love is expressed but will also rekindle your belief in it.
1. When He Goes Out Of The Way To Make You Happy
It is all annoying when your guy looks like he is pulling a stunt or ignoring your messages. But when you realize he did it all to give you a bigger surprise, you forgive him for that little mischief of his. It is always in the texts that they try to be naughty, teasing you as much as they can. But they turn up when least expected, and it's such a pleasant surprise!
2. When You Ditch Him To Be With Your Friends, And He Is Sulking
Aww… isn't he a sweetheart? You get to watch a movie, and he is doing the dishes. These are the kind of little gestures that speak louder than actions. They strengthen the bond, and next time there's a fallout, you won't drag it far cause you will remember that he was a sweetheart the last time you went out, and he did the chores for you.
3. When He Knows You So Well
He so knows why you send him those unusually romantic messages, and you know that he knows. You empty his wallet, and he isn't even chiding you for that. Well, with a guy like that in your life, you wouldn't have to rekindle your belief in love because you wouldn't have lost faith in the first place.
4. When He Does Everything Except What You Had Asked For
And the problem is you still find it cute. Particularly, if this is how the conversation goes. So, the next time you ask him to bring tomatoes, potatoes, and onions, don't be annoyed if you find eggs, bacon, and cheese in the shopping bag. Of course, I am sure you are going to find it cute after 5 minutes of anger and tantrums. He is going to do what he wants to anyway. It is just that he will ask you before that.
5. When You Are Pissed, And He Is In The Mood For Something Else
Getting naughty is a whole new ball game when it comes to texting. Neither of you knows what the other person is up to and whether they are in the mood for it or not. At times like this, when you are doing the dishes and your guy wants you to think of something dirty, the whole pile of dishes in front of you is the only dirty thing you can think of. And after he is home, when he is going to take his sweet revenge for throwing a picture of the dirty dishes on his face, that's when you will forget all the nonsense you had to put up with.
6. When You Want Him To Pamper You, But He Is Being A Total Nut
You want his heart to melt because you are showing him your puppy dog eyes, but he is being a total nut. You know he is teasing you, and he loves it when you start complaining like a kid. Now, when you go over to Ben's, he is going to pamper his little, annoyed, sulking kid with lots of food. And this doesn't stop him from teasing you the next time, though. But doesn't he reward you with more love and affection after that?
7. When He Puts Up With The Crazy You
Sometimes, you cross all limits of being crazy. Although your girlfriends who are equally crazy get you, your guy needs some time to understand your idea of "crazy" because he is just wired so differently. And then in no time, although the equations are completely outside his comprehension levels, he will begin to understand that you will pester him like a mother to pee before he sleeps and that's the way you say "I love you" to him. Isn't it adorable that he is okay with you mothering him all the time?
8. When He Finds You Beautiful The Way You Are
And that's what every girl wishes for! Where you can be yourself in the most natural form you could ever be, and no one's judging you for that. If this comes from the love of your life, will you ever stop believing in this magic that can exist between two people? Will you ever need instances and examples to rekindle that belief in love?
It is texts like these that make you fall in love with each other all over again. There are millions of things you say to each other without actually saying them, and these are just a few examples from those millions. How do you express your love in texts without saying "I Love You?" Comment below and let me know.
The following two tabs change content below.