8 Important Questions That Every Bride Needs To Ask Her Makeup Artist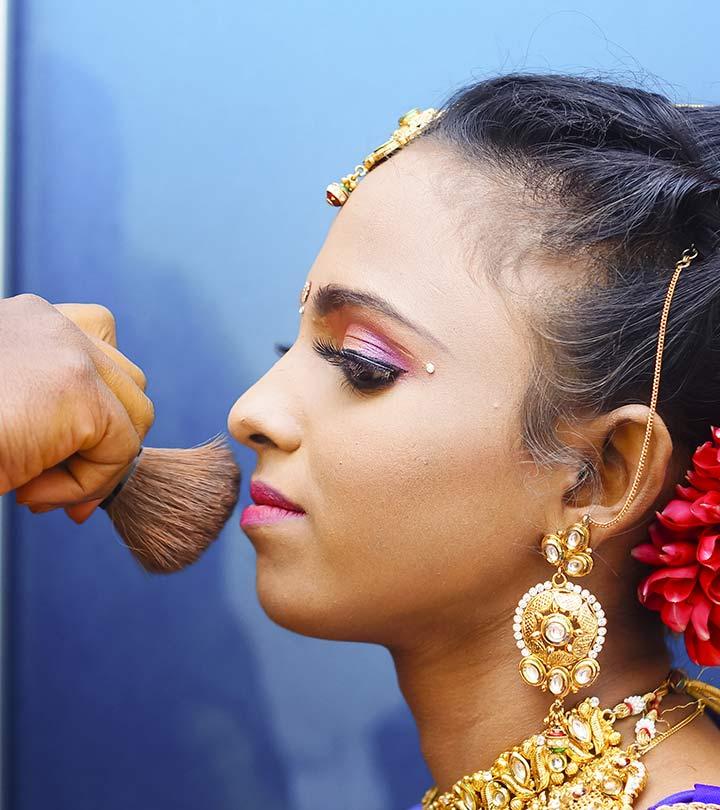 Behind all the excitement, glow-ups, and good wishes, the whole process leading up to tying the knot can quickly turn into a nightmare at times. You need to be able to follow a schedule and fixed timings if you have to make it through the ceremony with your sanity intact. If you have hired a professional makeup artist for the first time and are unsure about how to proceed, look no further. Hiring anybody to dress you up on your big day can be quite a difficult task, and we don't blame you for being hesitant or having a few doubts before you begin. It is natural to suspect their credibility no matter how highly-rated their work is, because there are some conditions that they may not end up fulfilling according to your demands. So rather than frown and fret about a thing that may not be in your control, you can ask your friends or look up questions that are important for you to ask on the internet beforehand and avoid last-minute conflict. Here are some of our own suggestions:
1. "Can We Do A Trial Run Before The Wedding?"
It's totally okay to want your makeup artist to do a trial run on you before you hire them for the wedding or before the big day itself. If you are a little unsure about your final look, we would advise you to ask your makeup artist to practice the look on you once, so that you can make any new changes before the big day. That's because the sample pictures that inspired you to try that look might not suit you so well. It is best to try it out so you can transform your makeup in a better way. It will also give you a heads up if you are having an allergic reaction from the makeup products.
2. "Do I Need To Bring The Flowers And Hair Jewelry Myself?"
You should ask your makeup artist beforehand if you should be arranging for all the hair accessories that are going to be used to pin your hair up. Rather than turning up at the location empty-handed, contact your makeup artist and ask her if you should be carrying anything to the appointment beforehand. As you have so many different things to do already, you can request the artists to prepare for it before time.
3. "What Make-Up Brands Will You Be Using?"
You should let your makeup artist know about any makeup brands that you may favor prior so that she can either get that product or find one that looks similar. If you have your own favored makeup, you can carry it along to your appointment and ask her to use it instead. If she is recommending a few brands herself, run a background check about the products if it is well suited for your skin. You can do that by going through various reviews.
4. "Can You Use XYZ Celebrity Look As Inspiration?"
Don't feel embarrassed to pull out a picture of your favorite celebrity look and show it to your makeup artist as inspiration. There are tonnes of brides who take their favorite celebrity look to their makeup artist and ask them to emulate it and there is no shame in admitting that you want to look like Megan Markle or any other celebrity bride. Just make sure the results are attainable and within your budget.
5. "The Make-Up Will Not Bleed Or Crack During The Day, Right?"
You should also ensure that your makeup artist uses makeup that is long-lasting but not super drying. Many long-lasting lipsticks will dry your lips and some can even cause cracks. Instead of facing this, it's a good idea to speak to your makeup artist ahead of time and find out whether the makeup will require too much retouching. Even if there is a lot of retouching required, it's better than dealing with cakey, flaky, and generally terrible-looking makeup.
6. "How Much Time Will It Take, Approximately?"
You'll have to plan your makeup in such a way that it doesn't take too long to reach completion. You don't want to delay other important sessions while you're getting ready. Ask your makeup artist to give you an approximate amount of time it would take her to apply the makeup. Once she's done, add an extra 10-20 minutes to give yourself enough leeway and prep time to get to other parts of the ceremony.
7. "May I See Pictures Of Your Previous Clients?"
It's totally okay to ask your makeup artist to provide you with earlier references of her work or with pictures of other clients that have made use of her services. If your makeup artist has an Instagram page or any other reference material like a website that she can show you, that would be great. Since this is your big day, you want to be sure about who you're choosing and it's probably a good idea to get references from everyone whose services you are making use of. While going through that process, it will also help you shortlist potential makeup looks for yourself.
8. "Will You Be Available For An Emergency Make-up Situation?"
There may be a time where your makeup is just refusing to behave and because of this, you will need some emergency help with your makeup. Maybe you can find out if your makeup artist has an emergency number you can reach, in case there is a change of plan or any other emergency that may pop up out of nowhere. Sometimes, especially in the hot summers, you plan way ahead of time and get your makeup done way too early. While doing other work, the chances are the humidity will end up botching a few parts, and nobody wants ugly bridal pictures that will last a lifetime. It is crucial to keep your makeup artist's number handy. If she is not available, she might send an assistant for a quick fix.
In the end, you want your big day to be as grand and perfect as you've been dreaming of since you were a child. So it's totally okay to be a little unsure about certain small things. However, just don't get so crazy that you go "Bridezilla". Do let us know what your thoughts are in the comment section below!
The following two tabs change content below.