7 Ingredients In Your Pantry That Can Help Get Rid Of Split Ends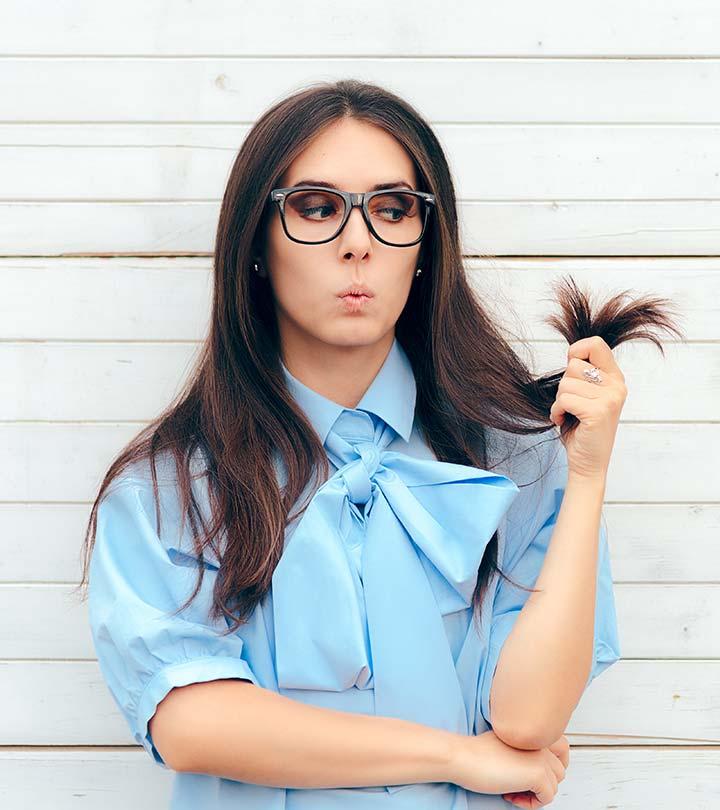 Nearly each one of us has had to deal with split ends at some point of our lives. For women with long tresses, dry and brittle ends splitting into multiple sections is the sad reality. Watching the tips of our hair tear away when we hold it up truly is a feeling of utter despair. It's no less than heart-breaking in fact. Your loved ones would advise you to chop off your gorgeous locks, but the thought of cutting off your lovely hair truly makes you sad. Your hair is precious and has to combat so many issues every day like dust, heat, chemicals, pollution, and more. Due to this, split ends are a common problem that many people end up facing. Split ends are the result of fraying of hair caused by the reasons mentioned above.
Well, what if we told you that you could get rid of split ends without having to trim your hair short? There are plenty of natural ingredients that you can find in your own home that can help you get rid of those pesky split ends. If you're wondering which ingredients to look for, we have a list of seven that will be of great help to you:
1. Egg Yolk
One of the most effective remedies for split ends is using an egg yolk hair mask. Eggs can not only get rid of the split ends in your hair, but they can also give your hair a healthy shine and cure issues related to frizzy hair. Egg yolk has an adequate amount of protein, and that strengthens your hair strands and prevents split ends. The egg is also an excellent conditioner and moisturizer for your hair, and it's always better to mix the egg yolk with other ingredients. You can make an egg mask by mixing egg yolk with two tablespoons of almond oil, honey, and olive oil. Once these ingredients are mixed and applied, leave the hair mask on for about forty-five minutes and then wash it off with lukewarm water.
2. Coconut Oil
Coconut oil is a common and age-old way to prevent getting split ends. Coconut oil can help remove the dirt present on your scalp as well as smoothen your hair. Coconut oil can help combat every problem from hair fall to dullness with ease. All you need to do is massage warm coconut oil onto your scalp and wash it off after a few hours. Leaving it overnight is the best option! However, if you leave it on for too long, it might lead to dandruff accumulation.
3. Honey
Honey can work wonders when it comes to maintaining healthy hair, body, and skin. It acts as a humectant, and this prevents any loss of moisture. This will help save you from a dry scalp. It can also help prevent split ends as honey can strengthen your hair follicles. Honey can also help keep your scalp clean as it has antibacterial properties. However, if you use honey and water, it can make your hair quite messy. Instead, you can prepare a hair mask by mixing honey with olive oil, curd, and egg yolk. Apply the mixture on your scalp and hair and leave it on for around twenty-five minutes before you wash it off.
4. Chamomile Tea Bags
When it comes to dealing with frizzy and dry hair, chamomile is a great ingredient to use. Chamomile has antiseptic properties and removes dead cells to let your hair grow properly. If you use chamomile regularly, you will be able to prevent split ends in your hair. One way to use chamomile is by using tea bags. You can boil the chamomile in water like you would to make tea and once the water is cool, rinse your hair with the chamomile wash. You can also drink chamomile tea for strong hair and sound sleep.
5. Black Lentils (Dal)
Are you even surprised to hear this? Black lentils are a great source of iron, phosphorus, proteins, and fiber, among other things. Folic acid helps transport oxygen from your blood to your hair follicles. This will help improve the quality of your hair. Take half a cup of black lentils and turn it into a coarse powder. Mix one tablespoon of fenugreek seeds into the powder and blend it with a half cup of curd. Once this paste is made, apply it to your hair and keep it on for about an hour. Wash off the mixture with shampoo and water. If you didn't know about it before, now you know that it has more uses than just filling your stomach.
6. Papaya
Papaya is another great source of folic acid. Folic acid helps improve the blood circulation in your scalp and in your hair. Papaya also contains Vitamin A, which helps enhance the production of sebum. Sebum is a natural oil that is present in your body. Papaya also helps keep your hair follicles and scalp moisturized. Papaya hence prevents split ends and promotes hair growth. You need to blend yogurt and raw papaya together and apply it to your hair. After forty minutes, you should wash it off with cold water.
7. Aloe Vera
Aloe Vera has proven to be one of the best cures for split ends and damaged hair. Aloe Vera contains anti-inflammatory and antimicrobial properties that not only clean your scalp but also keep your scalp cool. This will promote healthy hair growth. You need to extract the gel from three aloe vera leaves and apply it to your scalp and hair. Leave the gel on your hair for around forty minutes before you rinse it off. You can wash off the gel with a mild shampoo.
Split ends are born out of many reasons like letting your hair grow wild, dry weather, excessive hair dyeing, etc. Some of these also include overwashing your hair, excessive exposure to heat, chemical treatments, and more. With the tips we have mentioned in this article, we guarantee that you will notice a change in the texture of your hair. Do let us know if you found these tips helpful in the comment section below!
The following two tabs change content below.