8 Natural Solutions For Hair Fall You Can Try At Home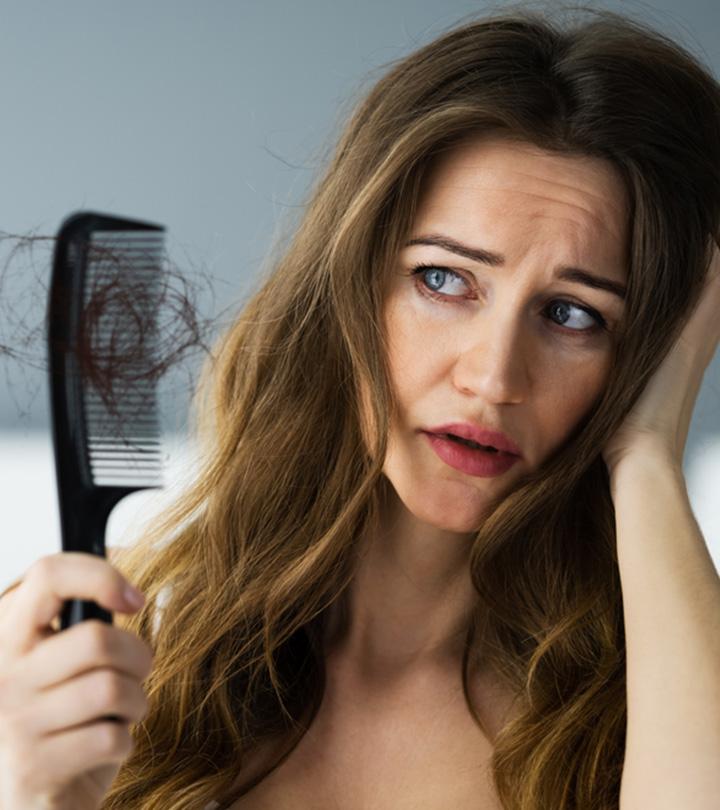 In today's era, with so much pollution and grime around us, it's no wonder that our hair keeps falling so much. In addition to that, the stress of work, home, and everything else, definitely does not help with anybody's case. So, what do you do? With the beauty industry coming up with so many products, it can get your mind in a tizzy. If you are looking for natural alternatives to reduce hair fall, you will be glad to know there are many options you can try at home. Don't worry, we got you covered! In this article, we will look at 8 natural ingredients that can help reduce your hair fall and give you smooth and shiny hair!
1. Coconut Oil
Coconut oil has been used by Asian communities such as India for centuries for treating hair fall. We are sure you remember your mom and grandma talking about the multi-purpose benefits of coconut for hair as well as skin. Coconut oil contains proteins that help get inside your hair shaft and decrease the protein loss associated with damaged hair. If you have dry hair, you can massage your scalp and hair with lukewarm coconut oil and leave it in. If you are one of those people with oily hair, then you can put coconut oil and leave it overnight or a couple of hours before taking a bath. By using coconut oil regularly, you ensure your hair is free of dandruff and this keeps your hair shiny and smooth.
2. Onion Juice
While the smell of onion can put you off, the trial may be worth it once you see the benefits it has to offer. We know for sure that onion is good for eyes and other metabolism purposes. But it is also great for the health of your scalp. In a study conducted to see the effect of onion juice on patients with alopecia, the patients showed signs of hair regrowth in just two weeks (1). If you are experiencing major hair loss, you can give this a try by squeezing the juice out of a few onions and putting it on your hair, and leaving it for 15 minutes.
3. Ginseng
Used in Chinese and Korean cultures for centuries, ginseng has many health benefits. One of the supposed health benefits that it offers is it helps in rapid hair growth (2). This herb plant has 11 varieties that are filled with healing and other health properties. The fleshy roots are the main storehouse of all nutrients. You can buy ginseng supplements or you can mix ginseng extract with oil and apply it to your hair and leave it on for 5 minutes before washing it off. Read the instructions given behind and check for any possible side effects before purchasing it.
4. Aloe Vera
Nicknamed the "Juice of the Gods" due to the juice it secretes from its leaves, aloe vera has been used by Ayurvedic healers for centuries to treat hair fall and help maintain luscious hair. Studies have suggested that aloe vera helps in cleaning out the extra oil and bacteria from your hair (3). Compared to other ingredients, aloe vera is gentle and does not harm your hair in any way. It is not hard to plant aloe vera in a pot. That way, you can save on expensive aloe vera skin and hair products and extract the gel for application. There are no side effects, no allergic reaction, and completely suitable for all scalp plus hair types. Rub a little bit of aloe vera gel and keep it for 30 minutes before washing it off.
5. Hibiscus Oil
Did you know that maybe the hibiscus in your garden could be beneficial in more ways than you know? Used by Chinese and Ayurvedic healers for centuries as a remedy for hair fall, limited studies show that extract taken from the hibiscus leaf may help strengthen your hair follicles and regrow your hair (4). Take some hibiscus oil, massage your scalp and leave it on for 30 minutes.  Not only is it famous for preventing dryness, but it also heals budding bald patches. If your hair is starting to thin and you need fast results, hibiscus oil is the way to go to bridge that gap.
6. Green Tea
While green tea has caught the world by storm for the numerous health benefits it offers, one of them happens to be for hair. It is mainly used for losing weight but other external benefits like better hair and skin are definitely underrated. Since it holds great promise, why not give it a try? Boil 2 bags of green tea in hot water and let them steep for 5 minutes. Once it is cool, you can apply the liquid to your hair after a wash.
7. Rosemary Oil
One of the most popular oils for hair growth, rosemary oil has been shown to play a role in hair growth in patients with androgenetic alopecia or hair loss (5). It is known to cure very serious hair conditions and infections. You can mix a few drops of rosemary oil in a carrier oil and apply it to your hair. Another way to go about it is to mix it with your shampoo and conditioner and see the results.
8. Lemon
They say when life gives you lemons, make lemonade. Lemon juice may help enhance the quality and growth of your hair. In this case, put lemon juice on your hair and leave it for 15 minutes before washing it off to give you beautiful and luscious locks. If you are not up for preparing that whole mixture, there are plenty of products that you can stock up on for long-term use.
With so many natural, organic, and home remedies at your disposal, you can try any or all of them to see which one works best for you. With all these ingredients easily available at any supermarket, all you need to do is buy one and use it. But remember, it will take some time before you see any noticeable results. Give these solutions a try and see those locks shine!

Sources
Articles on StyleCraze are backed by verified information from peer-reviewed and academic research papers, reputed organizations, research institutions, and medical associations to ensure accuracy and relevance. Read our editorial policy to learn more.
The following two tabs change content below.