21 Surprising Things You Can Make In A Rice Cooker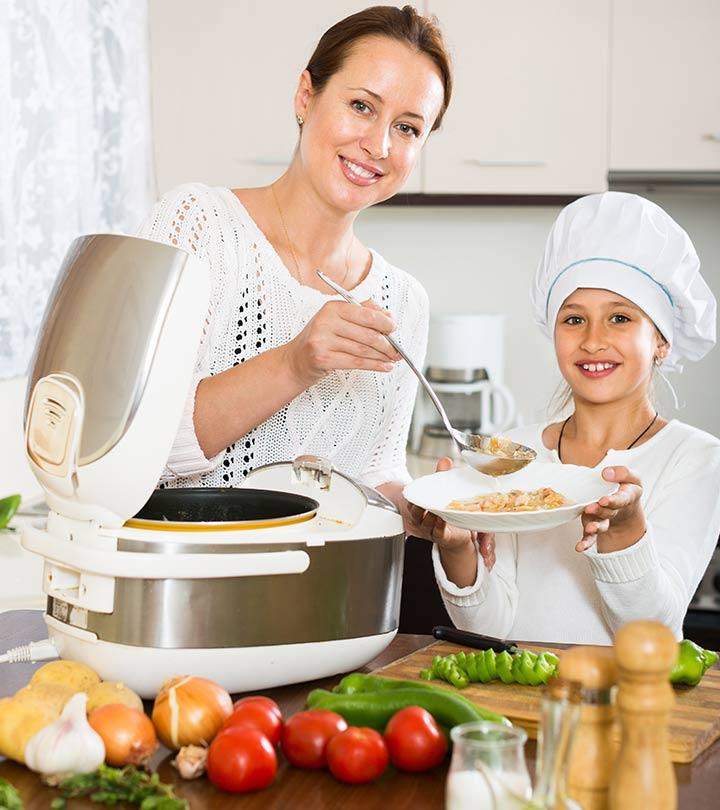 Rice cookers are not just simple, boring unitaskers capable of steaming and boiling rice alone. Rather, they are magical vessels that can help you make a relishing meal within 15-25 minutes. Now, you can entertain your guests, delight your tantrum-throwing kids, refresh your husband returning from a tiring day at work, or even explore the possibilities of throwing up a treat for yourself. Here is a list of 21 delicacies you can actually make in your rice cooker ranging from breakfast to dessert ideas.
1. Caramel Apple – Cheese Upside Down Cake
Who doesn't love cakes? Just see the magic cake that your rice cooker produces! Cut an apple into equal slices and layer them in the non-stick base of your rice cooker. Pour the cake batter on top of the slices and switch on the rice cooking mode. You need to whisk cracker crumbs (1 cup), sugar (1cup), rum (2 tsps), eggs (2), flour (3/4 cup), vanilla essence (1tsp), and a pinch of nutmeg powder along with cream cheese (8 ounces). Your cake is ready! Get away with the hassles of baking in a traditional oven.
Tip: Whisk the cheese two to three times in a food processor so that it becomes extra soft.
2. Pineapple–Nut Cake
Use the same cake batter, and replace the cheese with butter. Add pineapple tidbits and your choice of nuts (almonds are a great option). Your rice cooker will come up with another mouth-watering delicacy. Close the deal with a rich dollop of fresh cream on top.
Tip: Decorating with sugared pineapple slices with jam centers looks great.
3. Banana Bread
Mix flour (2 cups), mashed bananas (1 cup), salt (¼ tspn), baking soda (1tspn), brown sugar (¾ cup), butter (½ cup), and eggs (2) for the batter. Cook for 90 minutes in the rice cooker. Check after every 30 minutes, and do not worry if you have to run the cycle twice.
Tip: Topping it with walnuts will make it awesome.
4. Giant Pancakes
Pancakes can be a great breakfast or a great dessert. Mix flour (1 cup), egg (1), milk (¾ cup), butter (2 tbsps), sugar (1 tbsp), baking powder (1 tsp), and cook for 15 minutes. Grease the cooker and then mix the batter in the rice pot itself.
Tip: Replace sugar with honey for a healthy meal.
5. Choco Lava Cake
Once the cake batter is ready with lots of cocoa in it, pour only half of it into the rice cooker. You may add then a huge pound of melted chocolate right in the center before adding the remaining batter. Cook and top with chocolate sauce and berries.
Tip: If you do not need a molten feel, you may add choco -chips.
6. Poached Pomegranate Pears
Cooked/poached pears in sugary syrup without losing the essence are a great idea. Cooking pears in unsweetened pomegranate juice (1 ½ cups), port wine (1 cup) and sugar (¾ cup) is simply great.
Tip: Garnish with almonds.
7. Chocolate Scones
Mix flour, choco-chips, sugar, eggs, and butter to form a loose batter. Cook it in to a dough. Roughly roll it and cut it. Use the greased rice pot of your rice cooker and flip it to the desired crispness. Serve hot.
Tip: Add oatmeal to the dough to add crunchiness.
8. Tapioca Pudding
Shred tapioca and mix it with milk, sugar, and nuts before it finally goes inside the rice cooker. Top it with cherries.
Tip: Use coconut/almond milk instead of regular cow milk.
9. Oatmeal/Honey Steel Cut Oats
Soak oatmeal overnight in the rice cooker bowl and cook it with salt/ sugar, and your choice of fruits/nuts/herbs/spices. Within 30 minutes, your awesome breakfast is ready. Use two cups water with regular oatmeal and three and a half cups with steel cut oats.
Tip: Adding crunchy veggies to salty oatmeal can be an alternative option.
10. Hummus
Soak chickpeas overnight and boil them in a rice cooker. Add flavoring of your choice, like garlic, to top it. Grind them to a consistency, and you are done.
11. Hard Boiled Eggs
Hard boiled eggs are a wholesome breakfast option. Cooking eggs in a rice cooker mostly delivers hard boiled, easy to peel eggs.
Tip: If you are going for too many eggs at a single go, use a cloth to layer the eggs so that they do not bounce and crack.
12. Vegetable Frittata
Microwave your desired veggies and whisk eggs with the necessary spices in your rice cooker bowl after layering it with a tinge of butter. Healthy frittatas are ready for breakfast!
13. Spaghetti With Veggies
Cook your spaghetti in a rice cooker. Add vegetables of your choice with the desired spices before you turn on the cook option again.
Tip: Broccoli, tomato, beetroot, and whole grain spaghetti are good choices.
14. Cheese N Mac
Cook macaroni with lots of water and a spoon of oil in a rice cooker. Drain and keep aside. Melt cheese with oregano and a flash of dry garlic powder before you toss in the done macaronic. Mix and serve the homely cheese n mac.
15. Veg Pasta
Pastas can be a great meal. Cook the pasta in the above manner with your choice of vegetables. Season, and you are done.
Tip: Adding tomato puree to the pasta while tossing it with veggies gives you the flavor of rich juicy tomatoes with the tangy taste.
16. Soup
Mix your choice of veggies, meat, and corn starch in your rice cooker, and cook to your desired consistency. Season with basil, garlic, and pepper. Your open soup pot is ready to be polished off!
Tip: Add sweet corn and other items you still prefer crunchy in the end to avoid them being overcooked.
17. Beans
Dried beans and lentils of any variety have to be soaked overnight before they go into the rice cooker. The cooking time for each variety differs. Soya beans take the longest cooking time. Once done, mix with your favorite sauce.
18. Chicken Pulav
Cook rice and chicken shreds together with onions and beans in a rice cooker. Add salt and turmeric. Season it with fried cumin, cinnamon, and parsley.
19. Stews
Cook peeled and cut potatoes and onion with a piece of finely chopped ginger, chillies, and curry leaves in coconut milk. Add turmeric and salt to taste. Add a spoon of coconut oil and serve hot with bread.
Tip: Add lamb, chicken, or your choice of meat to make the stew.
20. Shrimp And Broccoli
Heat oil. Add cleaned, deveined shrimps and broccoli to the rice pot along with a zest of lemon and pepper. Stir fry till it is done.
Tip: Add red chillies if you want it real hot.
21. Sausage Jambalaya
Sauté onions, bell peppers, bay leaves, thyme, etc. Add rice, broth, tomatoes, and sausage. Cook it till tender for 30-45 minutes.
Tip: Add brown rice instead of white.
Your rice cooker is the best option to make many dishes and get rid of handling many kitchen equipments. It is the best solution for hassle-free cooking. Once the switch is on, you may go ahead with washing, or scrubbing, or preparing files for the next day, whatever is the top priority!
The following two tabs change content below.