10 Tips To Survive A Summer Wedding And Stay Cool-Headed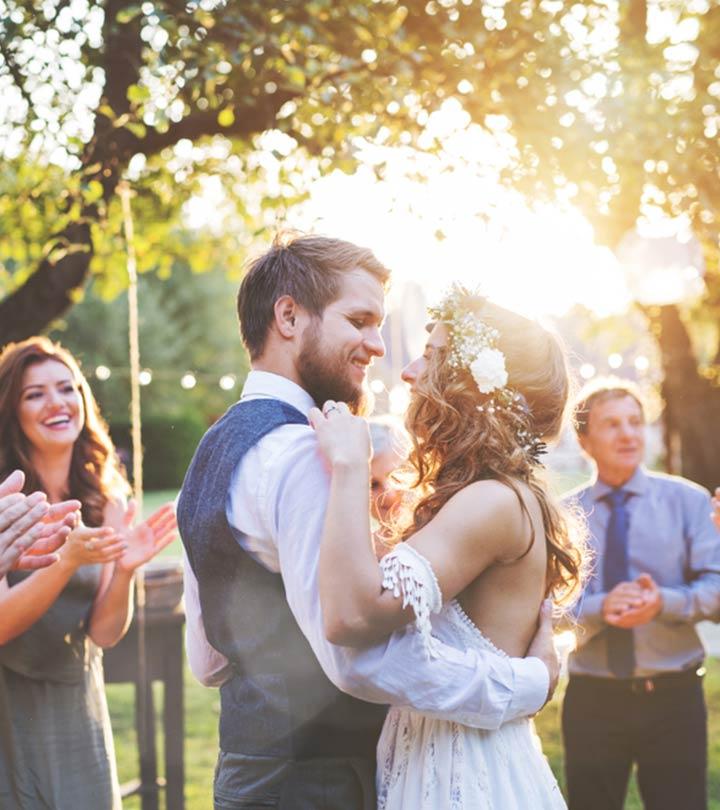 A summer wedding may not be considered ideal, but there are plenty of perks to it. Who doesn't want bright, lovely, and sunshine-filled pictures on their wedding day? If you are from a tropical location and cannot survive living in chilly weather, a summer wedding is a perfect time to celebrate. However, summer weddings do require some type of extra planning. It is important for you to have arrangements ready for your guests. You will also need to be a little more vigilant about how you plan your own outfits and what functions you will want to celebrate. So here are ten tips that will help you survive your summer wedding and make sure you stay cool-headed throughout:
1. Make Sure You Are Hydrated
One of the most important rules of the summer season is that you should stay hydrated. This is a piece of very valuable advice as you will most probably be running around and losing a lot of water due to sweating and heat. Hence, it is important that you keep sipping on the water for the entire duration of your ceremony. And if you plan on drinking alcohol, you should drink a glass of water for every glass of alcohol you drink. This will ensure that you stay hydrated and don't end up with a massive hangover the next day.
2. Buy A Couple Of Hand Fans
Although this is a simple addition to your wedding, it is an essential one. Having a hand fan at your disposal will ensure that you don't end up too sweaty. Giving your guests hand fans will also ensure that they don't curse you later (we're just kidding)! And what's more, you can personalize these hand fans to include both you and your partner's initials. If you don't want to get hand fans, you can even invest in some air coolers. Air coolers are a great option as they work indoors and outdoors and cover quite a decent area. You can even request your caterers or event planners to arrange them for you.
3. Consider Having An Outdoor Wedding
What better way to celebrate your big day than being one with nature? It's always a good idea to celebrate your wedding outdoors rather than indoors so that there's more space to breathe. If you are celebrating this big day outdoors, you need to ensure that there is adequate shade for your guests. If not, you can consider having an evening wedding as it will be a lot cooler for your guests and yourself. After all, who wants to eat in extreme heat?
4. Opt For A Lighter Outfit
Heavy fabrics and dark colors are a terrible idea during a summer wedding! Instead, you should opt for chiffon, cotton, and georgette as they are breathable fabrics. Make sure that you avoid silk and velvet and shades like maroon, dark red, and black. Keep your outfit layers to a minimum, and consider skipping a heavy dupatta and opting for something else. These simple tips will ensure that your wedding goes smoothly.
5. Stick To Wearing Minimal Makeup
No matter how talented your makeup artist is, she won't be able to rescue you from runny foundation and kajal in a hurry. Instead of sweating through various layers of makeup, keep a few makeup tips in mind. You can wear a foundation that contains SPF to protect yourself from the harsh heat of the sun's rays. It's also important for you to avoid shimmer and instead opt for a matte look. Ensure that your makeup artist is making use of primer and that the products you are using are waterproof. And since it is summertime, you should definitely have fun and play with pastel shades and other fun colors!
6. Make Sure Your Guests Have Adequate Refreshments
One of the refreshments we really look forward to during our summers is lime soda. Nothing beats that refreshing feeling of sipping on some "khatta-meetha" lemon soda. So give your guests a dash of nostalgia by including it in your menu. Make sure that your wedding has a refreshment zone, and keep those summer mocktails and fruit juices pouring. You can even include some yummy cocktail ice lollies to ensure your guests have a good time.
7. Don't Skimp Out On Sunscreen
Sure, we understand that this is one of the most basic rules of summer, but you might be under the impression that since you will be under shade, you'll get to avoid the sun's rays. However, we are here to tell you that this is not true. Before you decide to apply makeup, make sure that you have applied light sunscreen on your face, arms, neck, and any part of your body that may be exposed. If you have the budget, consider adding sunscreen to each of your guests' tables so that they can apply some as well. If you are a sucker for details, you could even slip some mini sunscreen bottles in your guest's welcome kits!
8. Opt For Artificial Flowers
There's no denying that flowers are a crucial part of a wedding's decor. However, the summer heat can cause your flowers to wilt easily, and hence it is a better idea to opt for artificial flowers. Artificial flowers will work well during both daytime and at night as well. Not only do these flowers look better, but they are also super cost-effective.
9. Pick A Light And Refreshing Menu
Sure, you might have the appetite of a lion after your lengthy wedding nuptials, but a summer wedding is not time to have a super heavy five-course meal. Instead, we'd advise you to stick to eating foods that are lighter, more refreshing, and seasonal. You can offer up some grilled chicken and fish as well as salads on your menu along with seasonal fruits like mangoes.
10. Pick A Summer-Appropriate Hairdo
During summers, it's a good idea to stick to updos that ensure your hair is kept off your face. If you are someone who has curly hair, then you probably understand that summer weddings can cause havoc to your curls and make your hair super frizzy. So go on and scroll through online mood boards for some super cool hairstyles that you can show your hairstylist on the day of the wedding.
If you take the right precautions and plan things out well, you will survive your summer wedding unscathed and while maintaining a chill head. Your summer wedding is sure to be a success, and you can enjoy it comfortably by following these methods. Sure, there are a lot of challenges like sweating your makeup away, suffering from dizziness, or the heavy weighing down of your bridal outfit. A few necessary changes accordingly and you are set for a chill wedding. Do let us know all of your thoughts on this article in the comment section below!
The following two tabs change content below.