The Story of Your Life, As Told By Your Bras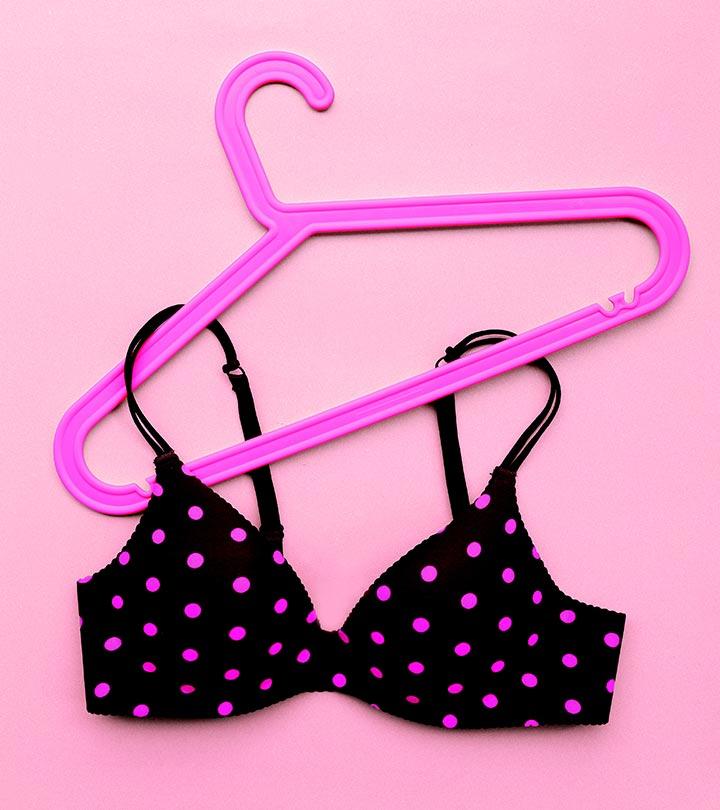 Did you know that bras originated in ancient Greece? The history of the much loved, and even the much hated, brassiere (if you're feeling fancy) can be traced back to this very era, where women used to wear a primitive bra, referred to as 'apodesmos' to support their breasts.
This bare necessity has defined every single woman's life journey – growing with us as we grow and changing as we change. They have given us support when we needed it and taken our confidence levels to a whole new plane. Sure, at times those under-wires may have been a curse too. But at the end of the day, bras are indispensable.
Here's a look at the story of a woman's life as told by her bras.
1. The Training Bra
This bra is single-handedly responsible for ushering you into the world of boobage and associated lingerie. The plain and trusty training bra might have seemed like a challenge to slip into – the elastic bands always got stuck halfway through the chest and rolled up. But you couldn't really blame them. After all, at that time, your chest was just a chest (translation: flat as an ironing board) and it was difficult for the bra band to pinpoint a place to settle.
Nonetheless, this "training" bra has actually seen you through a lot of training – training to get accustomed to those squishy things developing on your chest area, training to fight puberty acne and training to get over your first ever, real heartbreak!
2. The Practical Skin-Colored Bra
Yes, you've done it! You've finally crossed the training stage and become a part of the real world, young lady! The practical skin-colored bra was the first real bra you ever had. And it was in the somewhat disturbing hue of human skin, of course, because mom got it. Duh!
You can never beat a mom's argument on how well a skin-colored bra goes under clothing of every color. That said, this hook-and-eye closure wonder, despite its unflattering color and coverage, still made you feel like a diva inside in comparison to that dull training bra.
3. The Push-Up Bra
Things just keep getting wilder and naughtier under them clothes! Big-boobed or not, the push-up bra was your foray into the lingerie shopping domain. You were finally old enough to pick out your own bras without your mum chaperoning you. And the glitzy lingerie store at the mall was beckoning enough with its collection of bras in funky prints, delicate lace and of course that wonder bra – the push-up bra! For the first time in your life, it made you envious of your own cleavage and opened up a world of deep-neck clothes you could never wear before.
4. Bralette
A cousin of sorts, of your trusty training bra but way hotter, the bralette became your go-to piece of lingerie during that wild college phase. And so did its sister, the bandeau bra. These bras helped you carry off those high-waist jeans, which were so popular during the 90s in the chicest way possible.
Putting an outfit together that looked fashionable as hell and didn't take a lot of effort was never this easy. This innerwear that could double up as an outerwear was the best crop top substitute when you missed laundry day.
5. The Fancy Bras
Post college and into the work-sphere, you quickly realized that your bras would have to evolve again to meet your new powerhouse personality. The added cash became a reason to invest in grown-up lingerie that came in luxurious materials and matching sets (finally!).
Lacy boy shorts and balconette bras in satin spelled elegance like never before. And when you slipped them underneath your work clothes and hit office for the first time, you knew that even the worst of days could never stop you from feeling sexy on the inside.
Yes, you finally became an adult.
6. The Ubiquitous Black Bra
Once you get over the fancy lingerie and realize that it wasn't really that comfortable to begin with, your hunt for that one bra that can go with everything commences. And that's when you stumble on that black bra.
This bra is functional, pretty and so easy to care for that you end up wearing it almost every day. Washing it regularly takes a backseat and you never give up on wearing it despite that little tear on the side.
7. Back To Basics Bra
Congratulations! You've come to one of the final chapters in the story of your life as told by your bras. And just like everything else, in bras as well, what goes around comes around.
Halfway through your adult life, it dawns on you that most bras are lame. Nothing beats the comfort of the training bras of wore. So, you ditch your drawer full of lingerie and go back to the basics, which (thankfully) happen to come in a prettier avatar now that you are older.
So what's next? We believe the flesh-colored bras will likely make a comeback. Or even maternity bras could become your daily uniform for 6 months if a baby is on the horizon. Whatever it is, a bra won't leave your side till you leave it.
The following two tabs change content below.