11 Clothing Combinations That Make You Look Frumpy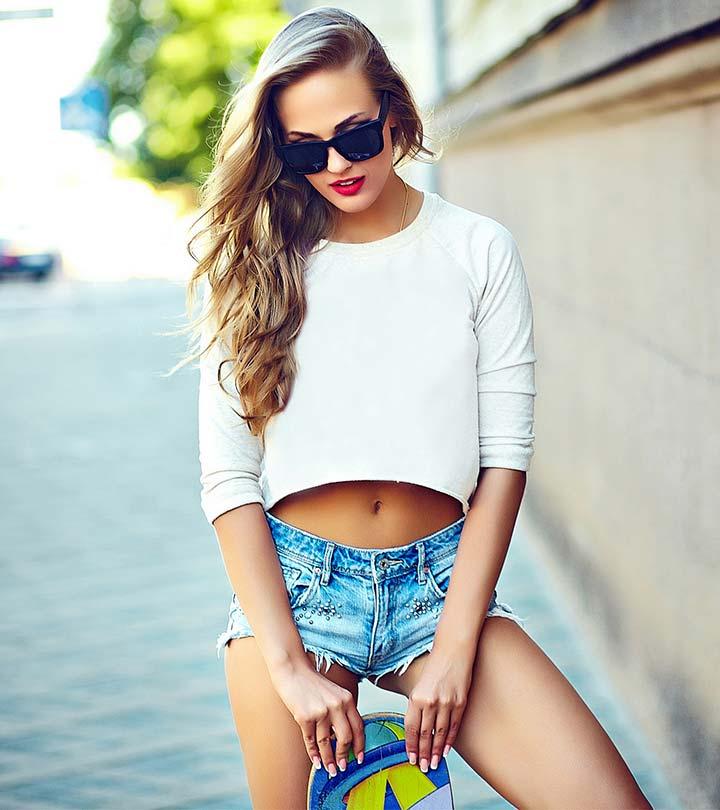 We live in a world where the emphasis lies more on appearance rather than what lies on the inside. 'Image' is the buzzword no matter where you go, and to keep up a positive image you have to dress right.
Unfortunately, the fashion world is full of way too many varying styles. And mixing and matching them to your heart's content can lead to a lot of clothing disasters. What's worse is that disasters can make you appear tasteless and also have the potential to damage your image!
Now you definitely don't want to be a part of the tasteless brigade, do you? Well then, here are eleven everyday fashion mistakes you should avoid!
1. Business Formals With Ballerinas
Or even loafers, espadrilles or any other flat shoes for that matter do not go with business formals at all! The reason is that such shoes can make your ankles look broader while your legs look like pillars! Sophistication is key for business formals, which is why heels are what you should wear, be it stilettos or even kitten heels.
2. Jeans With Long Tees
A tight and long tee paired with jeans is one of those disasters you want to stay away from. This combination can make your torso look too long, which is especially awkward if you're a tall person. If your tee is too long, tuck it in. If you don't like tucking in, opt for tops with looser silhouettes.
3. Carrying Big Bags To Events
Larger sized bags are surely practical but they are the wrong option for a social event – formal or informal. Carry smaller sized bags such as mini satchels or clutches instead to look effortlessly classy.
4. Short Skirts With Booties
You may think that your booties will look great with your new short skirt, but the reality will be totally different. Booties with skirts can make your legs look shorter. The best kind of shoes to wear with short skirts are heels. However, if you're not comfortable with them, you can opt for flat shoes and even a pair of calf or knee-high boots in winter.
5. Pairing Loose With Loose
Too many loose clothing items together spoil the outfit! Pairing a loose item with another loose one can make you appear ill-figured and hide your best features. Hence, if you're going for a loose top, match it with tight bottoms and vice versa. Bonus tip: keep your body shape in mind when choosing clothes.
6. Shorts With Tights
This one might have been a popular fad ages ago but it sure as hell was one of the bad ones! Shorts are summer outfits anyway so why wear them in winter with tights of any kind? Skip this awkward combo and reserve your trusty shorts for sultry weather.
7. High-Waist Tulip Skirts
We have nothing against low-waist tulip skirts; especially if you have skinny legs. But high-waist tulip skirts are not something you should wear, no matter what your leg type. These skirts do look good but only as long as you're standing straight. Once you sit down, they create an illusion of a big, bulging belly, even if you have fab abs! If you really want to wear skirts, stick to all-time wardrobe classics such as pencil, skater, etc. taking your body shape into consideration.
8. Oversized Shoes
Buying a shoe size bigger than your normal one is fairly common when purchasing heels. But these when worn just look ugly. Period. Always purchase your right size. To make sure you get shoes in the right size, shop for them in the morning. Your feet tend to swell and expand towards the end of the day, which can lead you to buy ill-fitting shoes.
9. Turtlenecks
Avoid these at all costs unless you have a very long neck! Turtlenecks can give your figure a boxy look and make your neck seem much shorter than it actually is. The same thing happens with choker necks, which are all the rage these days! If you want to keep your neck warm and toasty though, opt for scarves instead.
10. Ill-Fitting Jeans
What's worse than ill-fitting shoes? Ill-fitting jeans! Due to wear and tear, your favorite pair of jeans can become loose and shapeless quickly. So, if the new pair you're about to buy feel loose in the trial room, get a size smaller as these will gradually make your figure seem shapeless.
11. Bra Straps That Show
Unless you're wearing a bralette and layering it appropriately, your bra straps are not meant to show. Keep your straps hidden by snapping them together with the help of a paper clip and flaunt your shoulders in that tank top.
The above image-saving style tips are very easy to follow, and can prevent you from being a subject of unsavory comments. So, adopt them and keep your image positive as always!
The following two tabs change content below.