Dear Girl Who Loves To Wear Jewelry But Doesn't Know How To: 10 Simple Tips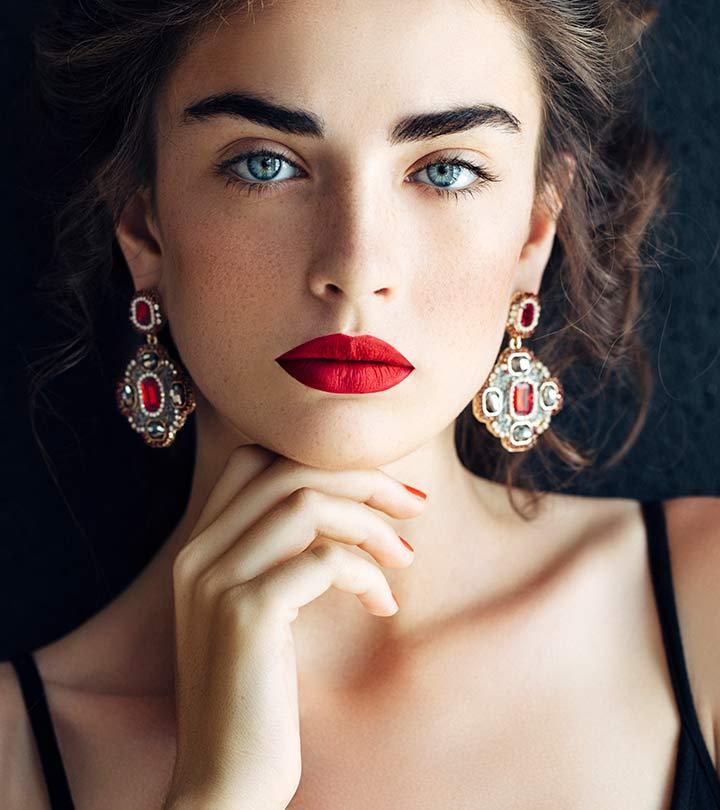 Less is more. More is more. Red Carpet. Ethnic layout. Minimalistic. Elegant. Clunky. This list of adjectives is nowhere close to being exhaustive to describe jewelry.
We grow up in a culture where jewelry is conspicuous, irrespective of our social status. Jewelry is even a way of declaring our social status. From that first set of earrings or bracelet to wedding sets, jewelry is a mandatory possession in the form of gifts, inheritance, economic mobility, and in recent times, financial and materialistic independence by women.
There are so many pieces of jewelry to accessorize our clothes that it can sometimes be overwhelming, especially if you are striking out on your own – because, well, we did not all descend from royalty with their inherent grooming knowledge. But no reason you can't play their game!
We've put together a simple guide to picking out timeless and checklist pieces to build your own treasure chest.
1. Accessory, Not Costume
Would you wear solid red lips, cat eye, five coats of mascara, AND a blush at the same time? (If you do, stop it and memorize the tips in this article!)
If you don't, why would you burden your costume and appearance with one piece too many? Learn to strike the right balance between your outfit, jewelry, makeup – and most importantly, the occasion!
2. Tee It Up!
Shirts are the perfect foil for different neck pieces. If you're wearing a turtle neck or a high neck, experiment with bib necklaces. And combine long, layered necklaces with flowing, button-down shirts. A choker on a boat neck. A round necklace around a fully buttoned-up, collared neck.
3. Put A Ring On It
Nothing calls attention to last night's relaxing manicure like a noticeable ring on one of your fingers. Rings are versatile. They can be the only accessory you wear with boyfriend jeans and a white shirt. Or as part of a jewelry ensemble. This could also be a great accessory if you prefer a sober look, but would like a standout piece. The ring could have the only color in your outfit, or a large stone to call attention to but not detract from the whole look.
4. Boho In SoBo
Nothing puts you in holiday mood like a maxi dress. Pair it with some bohemian jewelry to stand out from the crowd. Throw in a nose ring.
5. Go Big Or Go Home
What's better than chunky, oxidized silver jewelry and flowing ethnic wear? Nothing! We agree. Experiment with a kamarbandh when wearing shorts or short skirts. Some clunky pieces to offset the sailor stripes on your tee. Create your own personal style.
6. Pop Of Bling
If you prefer a more sober palette for your dresses, and even your makeup, some standout pieces can add an element of style to your appearance. A ring with a large stone or gem. Earrings that reflect light. Watches with a colored timepiece. The idea is to draw attention to you, but also be consistent with who you are.
7. Grapefruit Is Not Just For Diets
No, we're not asking you to carry around the fruit as a statement. But can you imagine how gorgeous that shade would look on Indian skin? Orange-pink jewelry is trending right now, and the cooler months are the perfect days to pair these pieces with color block or monochrome t-shirts, shirts, and dresses. Imagine a stunning choker or beaded necklace to offset a boat neck. This color would look especially awesome.
8. The Bangles
When we think bangles, we imagine the entire set of 6 or 12, and immediately question how we can incorporate them into our everyday wear. Think one clunky bangle on just one hand, or three delicate silver bangles – again on just one hand – to complete an ethnic-chic look.
9. Jhumka Gira Re…
With cotton dresses – long and short. Denim dresses. Flowing, maxi skirts, and a bandeau top. It's an empty tableau where these versatile pieces are concerned. You can adjust the size of the jhumkis according to the apparel and the occasion.
10. Think Abstract
Plain gray tees and dresses are perfect to show off some abstract and geometric jewelry. This color can beautifully offset some pieces that you would like to call your signature style. Because gray is almost a nude color, you can even combine a few pieces – like jhumkis and bangles, or a big, bold necklace and a ring.
Jewelry has evolved in so many ways since our grandmothers' time. Back then, jewelry was meant to be seen and gasped at, but now, we are adopting a minimalistic attitude towards it – a hint of elegance, a touch of culture. As with everything else, we can create our individualistic style in jewelry. Experiment with some of the tips in this article to get started, and you will begin to understand what works for you. There's no right or wrong, but what you wear must resonate with you, or the discomfort will show.
The following two tabs change content below.
Creativity has no limits. And words have no barriers. Together they can create magic, bridge all gaps.I work with words....
more