6 Ways To Look Hip In Traditional Silk Sarees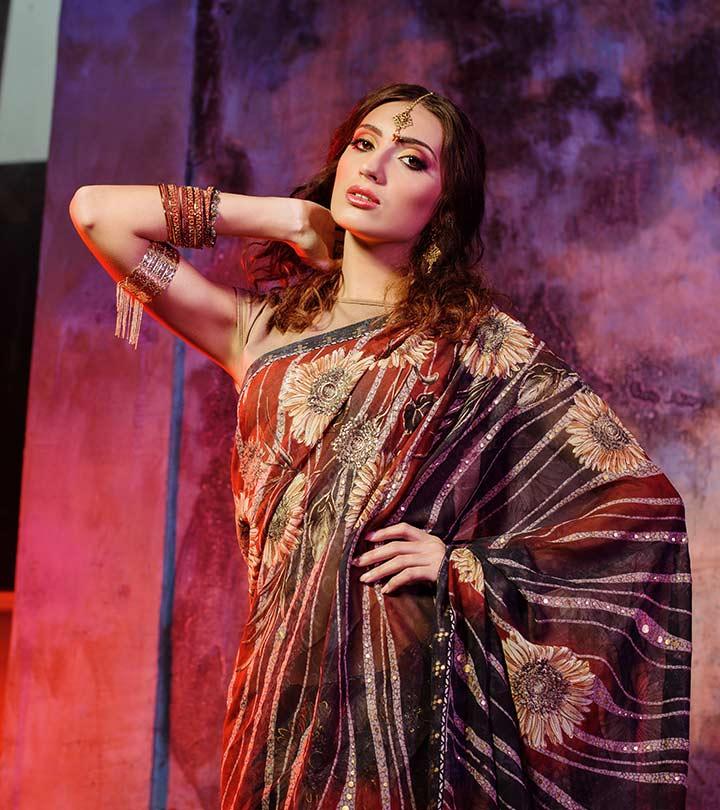 Gone are the days when the traditional drapes were the only way to wear a silk saree. These days, designers keep introducing new and exciting ways to wrap the nine yards, ensuring that every time you wear a saree, it's a different experience!
And the quintessential silk saree is well worth the spotlight and all the designer attention, for this piece of cloth is the only one in the world that can bring out a woman's femininity and beauty in all its glory. Plus, it looks sensuous and elegant to boot!
So, this shaadi and festive season, ditch the traditional draping styles and try out these six fun and new ways to flaunt your inner diva in a saree!
1. The Dhoti Pant Style
The dhoti pant saree draping style is a celebrity favorite and everyone – from Sonam Kapoor to Karisma Kapoor – have donned this look for the red carpets. This style looks great with a light, minimalistic, almost plain saree as bold (or even small) prints and heavy embroidery can make it appear confusing.
We suggest you choose a plain silk saree with an edgy border, just like Karisma Kapoor here and wrap it up in the dhoti style to stand out in a cocktail party crowd! Or you can also go for this modern and elegant drape for a pre-wedding ceremony. Don't forget the stilettoes and a bling clutch as accessories!
2. The Crazy Cool Palazzo Style
Palazzos have taken the Indian traditional wear scene by storm! So much so that you can find the fairer sex, from ages 6 to 60, teaming up these wide flared pants with all sorts of kurtas. But what if we told you, you can drape your saree this way too? Give your saree an edgy twist by draping it the palazzo style!
This is the perfect choice for ladies who find the traditional drape too much to handle and simply love Indo-western outfits. Chic and fresh, draping your saree the palazzo way will get you envious stares from girls and appreciative gazes from the guys. We recommend trying out this style for a family function or a festival.
3. Mix It Up With A Quirky Blouse
Sonam Kapoor is the unbeatable queen of quirky blouses – from kitschy to royal, this fashionista has done it all! And it's time you took a cue from her and moved beyond the barely there borders of backless blouses.
These days, cold shoulder and ruffled blouses are the rage, and are fully capable of transforming a boring saree look into one that grabs eyeballs instantly! Choose lace as your preferred fabric for the blouse. The final look you'll get will be straight out of a desi Disney fairytale!
As for the occasion this style will go down well with, we suggest fancy dinners, kitty parties, and even Diwali card parties.
4. The One-Sided Winged Pallu
More conventionally known as the 'spread out pallu', this style is the way to go if you want to keep things simple and as traditional as possible without appearing boring. And Deepika Padukone is here to show you how! She drapes her pretty black and gold saree with a trailing pallu, giving it a sort of Grecian goddess vibe.
When trying out this style though, keep your hair slick back as open hair can steal the thunder from the pallu. Big and bold jhumkas will add to your look, and so will smoky eyes and killer heels!
5. The Pant Style With A Dramatic Flair
This one is a mixture of two very bold styles in one and, hence, perfect for the adventurous girl who knows how to blend the androgynous vibe with pure femininity! If you want to know how that works take a cue from Katrina Kaif's fun and vibrant runaway ready, red saree look!
Her dramatically long, waterfall-like pallu makes a bold statement. Especially with that pant-styled drape! Roman in its appearance, we suggest you keep the accessories to the bare minimum for this look and let the pallu do all the talking. Though a bold red bindi will certainly do no harm! Try this style on for sangeet night and other functions.
6. Team It Up With An Ethnic Jacket
And a long one at that! Also, if it can cinch at the waist, then that's like soney pe suhaga! And if it can't, when will that jeweled kamarbandh come in use?
Teaming up a solid colored plain silk saree with a heavy embroidered long jacket, just like Raveena Tandon, is the simplest way to look uber cool and sexy! Despite its conservatism, this saree style defines and accentuates your curves, especially that tiny waist when you throw a belt on. A cocktail ring and dangling earrings are all the accessories you need for this look.
So, the next time you wear a silk saree, remember to slay it like a goddess by trying out one of these Instagram-worthy looks. Who knows, you may even start a trend!
The following two tabs change content below.