Your KREA Hair-Straightening Brush is the fastest, safest tool in India today, to straighten your hair in under 4 minutes! I'm sure you want to find out how KREA is best used to get the pin-straight hair you desire. So let's get started.
1) On clean and dry hair, spray some heat-protectant spray
2) Section hair into 1-inch-thick sections. Holding a section, place the brush as close to the scalp as possible
3) Glide down slowly with light pressure making sure hair is laying flat against the bristles, till the tip
Repeat on the rest of the hair sections. You'll be done before you even know time has passed! For longer-lasting results, spritz some hairspray on the finished results.


It is not often that celebrity hair stylists who get to use the most expensive and exclusive styling tools are overwhelmed by a new product. But that is exactly what happened when we put KREA in their hands and asked them to try it out for a month. The feedback was amazing, and now KREA has become a standard fixture at high-end salons across the country (2947 KREAs were bought by salons across 6 metro cities as on 27th Dec, 2016). Here's what renowned hair styling experts have to say about KREA.
---
Honestly, I was expecting this to be a PR exercise we often see and gave the sample piece to my assistants. I was totally curious when they starting finishing off their work faster and easily. That's when they told me that the new brush is actually making them straighten hair much faster and better. Thanks to the tourmaline, it was giving my clients a better, natural shine than before too. We are happy to not just endorse KREA but can say that it is now a part of our hair styling arsenal at stores across metros.
- Joseph Kutty (Scissor Hands) Feb 14, 2017

---
It is a good product. It does not heat the plastics like other brands and works very well. KREA has been given to us for one month and we are happy with the service it gave our clients. It is something that has the potential to put us out of business if we let people use it at home. On a more serious note, it is a very appealing product, something that should have come to India much before.
- Sanjana Reddy ( SR Essense) Apr 12, 2017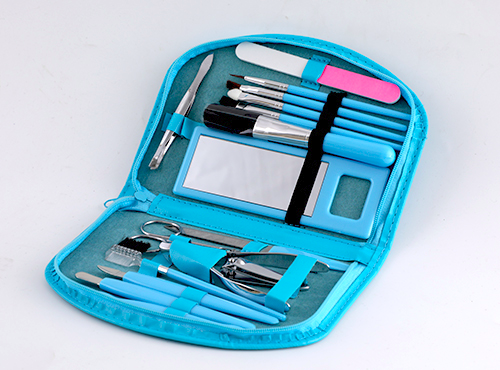 When you purchase KREA, you not only gift yourself the easiest way to straight hair but also get a All-In-One Grooming Set worth Rs.2000/- absolutely free!!
With this designer set in hand you will always be ready for a manicure or pedicure on the go. It brings much more convenience and beauty to your life. This easy to use set comes with all basic tools you need for hand, feet and facial grooming and also comes with an attractive case.
WHAT DO YOU GET??
Hand & Feet Care Tools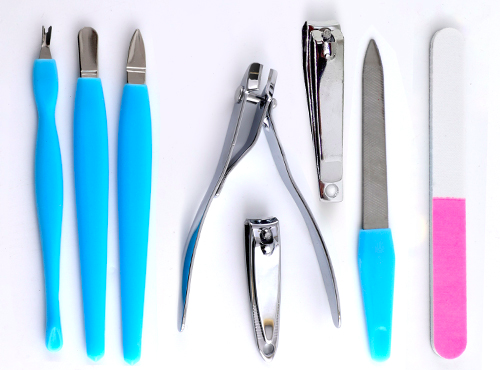 The secret to beautiful hand and feet is good care and maintenance. A classic manicure/pedicure is ideal to keep your nails looking at their absolute best. This amazing complete manicure kit / pedicure kit includes all the tools you need for a complete treatment.
2 Nail Clippers
Cuticle Pusher
2 Nail Filers
Toenail Nipper
Dead Skin Fork
Nail Cleaner
Facial Care Tools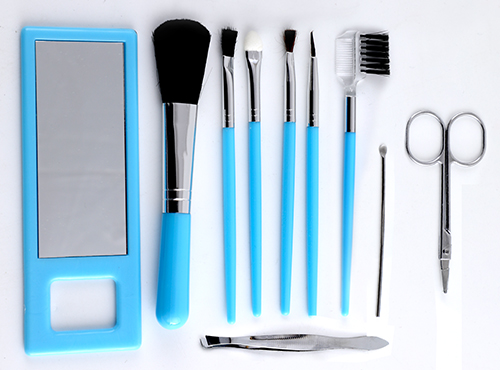 Not just your hand and feet, but this kit also has the essentials required for your complete face grooming too. Made from premium quality material, you can easily use these tools to groom your face and rock the straight hair look!
Ear Cleaner
Tweezers Deluxe
Beauty Scissors for Eyebrow and Nose Hair Trimming
Blush Brush
Eyeshadow Blender
Lipstick Blender
2 Blending Brushes
Eyebrow Shaper
Vanity Mirror
BENEFITS OF OWNING THIS GROOMING KIT
Complete Grooming At Your Fingertips - With this kit in hand you will not have to worry about any grooming issues. This 18 in 1 kit has everything that you need to make you look absolutely flawless with your straight hair.
Portable & Lightweight - A professionally tailored grooming kit, lightweight in design making it your perfect travel partner, offering exceptional foot, hand and facial grooming tools
Easy To Use - This is a designer home grooming set where you get 18 tools along with a nice place to store them. This easy to use set comes with all basic tools you need for your overall grooming along with an attractive case.
Made From Premium Quality Materials - We guarantee that you will love this Grooming Kit. it is crafted using top quality stainless steel, making it durable, offer flawless performance and last a lifetime
A Perfect Case For All Your Tools - Not just the 18 grooming tools, you also get a case which perfectly sits all your tools and makes it comfortable for carrying it anywhere you want! This case also provides a rich look to your Grooming Set.
BUY NOW To Get Savings Of Rs.7000/- (KREA Worth Rs.10,000 + 18 In 1 Grooming Kit Worth Rs.2000/- @ Just Rs.4999/-) Offer Valid Till .. HURRY!
BUY NOW & Get Assured Delivery Before
ATTENTION: Due to high recent demand we can no longer guarantee supply. As of we currently have product in-stock and will be delivered within the next 4 days.
DELIVERY & SHIPPING PROCESS
Zero. We are offering FREE delivery across India by courier.
Your product will be delivered within 5 business days from the date you have placed your order and made the payment.
Yes, we deliver to any location within India.
As soon as you place the order on, you will receive a confirmation message on your registered mobile and also email alert on your mail ID.
Your sealed pack KREA Brush, will immediately get dispatched from our warehouse through our logistic partner and be sent to your shipping address mentioned in the order details. You will be able to track your order from this point to delivery.
Our logistic partner will call you on your registered mobile number before attempting delivery.
In the case of Cash On Delivery ( COD) orders, our logistic partner will inform you to have the cash amount at hand before attempting delivery.
We service to all major pin codes and cities to serve maximum customers of ours.
There is no installation/ assembly required for the product, your brand new KREA is good to use as delivered.
FAQs
Brushing is an intuitive way for anybody to style their hair! And for this reason, KREA is the ideal device to help you style your hair both at the front and the back. In addition, the KREA brush has a unique 3D surface that is much wider than that of a regular hair straightener. This is how the brush can style very large strands at one stroke and drastically reduce the straightening time (If you usually take 30 minutes to straighten your hair, with KREA it just takes 2 – 4 minutes). That's how quick KREA can be – so give it a try!
For best results, hold the hair strands from the other side as you brush.
You can use KREA both inwards and outwards. The ceramic coating and protective structure of the brush enable you to use KREA just like any other regular brush. You don't even have to worry if your scalp would get burnt. Because it simply won't!
In order to enjoy stunning results with KREA, remember this three simple rules – USE ONLY ON HAIR THAT IS DRY (ensure you DON'T use the brush on moist or moisturized hair); BRUSH SLOWLY IN A PULLING MOTION (the pace of brushing must ensure the hair absorbs the heat properly, and hence your pace must be the same as that of using an iron); ENSURE YOUR HAIR GETS RIGHT INTO THE INNER AREA OF THE BRUSH (ensure your hair penetrates the hot purple teeth of the brush, and brush slowly such that your hair absorbs the heat).
You sure can! This is why KREA beats the competition without any effort. Though the duration depends on your hair type, the average straightening time with KREA is about 4 minutes (which is about a tenth of the average duration with a regular hair straightener).
Absolutely not! The ceramic surface heats up to only the optimal temperature (which you can also control manually) , which is a safe temperature for the hair and scalp. For safety purposes, the ceramic structure is also surrounded by plastic bristles that are heat insulated. There also is a springy black insulator placed on each of the teeth, which allows you to brush your hair all the while touching the scalp without having to worry about burns.
Krea is one of the lightest and most energy efficient hair straighteners in the market today. These are the technical details.
Heater Type: MCH - Korean Tourmaline
Rated Power: 50W
Rate Frequency: 50/60 Hz
Rate Voltage: 100-200 V (Can be used with any 2-pin plug points)
Temp Indicator: LED Digital
Net Weight: 400 Gms
Dimensions: 30x6.3x4.1 cms
Yes. The brush is made of top quality tourmaline ceramic material.
It takes only 30 seconds to heat up for optimal use.
The cable is 9 feet long and comes with 360 degrees swivelling for easier usability.
The optimum temperature for straightening hair is 180 degrees celsius. But KREA gives you the flexibility to change temperatures between 80-230 degrees celsius and save your custom set temperature with an LED display and controls.
NEVER! The KREA brush is safer than most other straighteners in the market.
In its current form, the KREA brush suits most hair types. Though the duration might change with respect to different hair characteristics, KREA will dramatically reduce the straightening time and provide a pleasant hair straightening experience.
NO. Always remember that the brush must be used only on dry hair. The hair must also be clear of moisturizers and any other chemicals that aren't supposed to be used with heat.
Just like any other electrical appliance, KREAis not supposed to be used in a wet environment.
The KREA brush must be cleaned only when it has cooled off and is disconnected from the socket. You can use a damp cloth (or a toothbrush) to clean it.
Yes. You can use the brush to shape your hair inwards and outwards.
Yes, KREA comes with a ONE (1) Year replacement warranty. Please contact us in case your product becomes defective or malfunctions due to faulty workmanship within 1 year from the date of purchase.
Warranty details:
If you want to claim warranty, please submit the proof of the purchase you have made. This must be in the form of your purchase details.
Please note that this warranty is not applicable to any accessories that are supplied along with the product.
Only the original purchaser can avail this warranty, and this warranty is not transferable.
Replacement products, for the remaining time of the warranty period, will be covered by a limited warranty.
Note that your warranty is void if:
The product is damaged, dropped, or has come in contact with water.
Any specific part of the product is tampered with or opened.
The product is used for any industrial, trade, hire or professional purposes - or anything else apart from what is stated in KREA's marketing literature.
The product has been damaged due to any foreign objects, or by accident.
IMPORTANT: Note that the defective product or parts alone will be replaced under this warranty.