Royal Indulgence Lodhradi Detoxifying Mask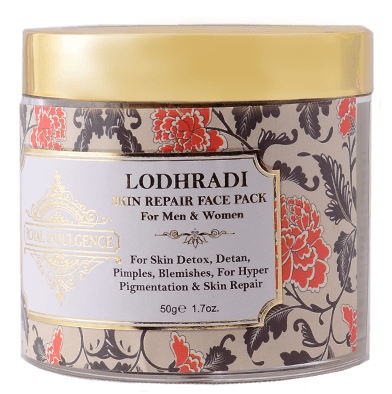 The Royal Indulgence Lodhradi Skin Repair Treatment is a highly potent, herb-infused formula based on the sacred knowledge from Ayurvedic scriptures for guaranteed detoxifying, damage repair, and a sustained youthful glow.
You can be assured that on regular usage your skin will remain glowing, youthful and full of life, just like you! What exactly are you in for?
Skin Damage Reversal- Brand New Skin In 15 Uses!
This ancient detoxifying treatment packed with herbal benefits fights free radical damage with its antioxidant rich ingredients. This won't just reverse damage making you look 10 years younger but also gives you brand new, supple, baby skin that will remain unaffected by pollution, exposure to dust, and hormone fluctuations!
Fewer Passes Per Section: It requires less number of passes to straighten each section reducing the straightening time per section.
Instant Radiance Right From Your First Use!
A unique combination based in Visha Chikitsa Toxicology acts as a counteractive solution to the toxin build-up in your skin and oxidizes free radicals to give you a flushed radiance IMMEDIATELY, the first time you use it.
Three Potent Herbs Undo Damage in Just 30 Days!
A double-duty detoxifying and exfoliating formula harnesses the healing, purifying, and brightening powers of highly potent herbs Lodhra, Dhanyaka, and Vacha to give you a flurry of benefits as listed below:
- Boosts collagen and 'lifts' skin
- Reduces appearance of fine lines and wrinkles
- Reduces appearance of pigmentation
- Reduces appearance of acne scars
- Reduces acne and recurrence of acne
- Reduces darkness and uneven complexion
- High on Vitamin C content, which has skin lightening and brightening properties
- Cleanses clogged pores and invigorates complexion
- Improves blood circulation and increases oxygen to skin cells
- Heals irritation due to environmental pollutants
- Heals inflammation and swelling, reduces appearance of tiny bumps on forehead and skin.
Burn Your Troubles Away!
We call it the beauty burn.The first time you use the pack you will notice a mild to moderate burning sensation on your skin while the herbs deep cleanse clogged pores and remove impurities. Do not be alarmed by this! It is a regular and completely natural reaction to the intense detoxifying action that this Ayurvedic formula causes. It is also responsible for invigorating lackluster skin, and giving it instant radiance. This burning sensation will reduce and stop after your first few uses.
So Safe Even A Baby's Skin Can Handle It!
It is formulated through a secret composition of the three herbs Lodhra, Dhanyaka and Vacha which is privileged information among traditional Ayurvedic practitioners of the Kerala Ashta Vaidyan lineage. It took 33 iterations over a period of 10 years to finally achieve a perfect formulation that is safe for even the most sensitive skin types
The herbs are combined using a unique blending technique in a controlled environment to ensure best quality and efficacy that is unparalleled across the cosmetics industry. This product is cruelty- free and 100% vegan.