The Simplest Route To Crack Free & Super Soft Feet!
Get India's safest & super-effective foot callus remover - NOW at 33% discount!

Close
CLAIM YOUR OFFER: PediKlear Rechargeable Now @ Flat Rs.1000/- Off (Only Till Stocks Last)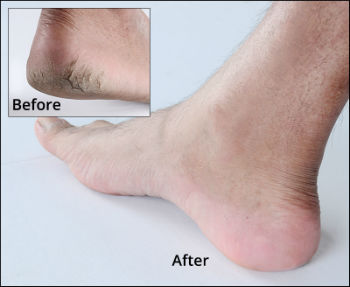 About 80% of the adult population has cracks on their feet, the result of a number of factors:
India is a pretty hot place, in most parts. The lack of oil glands in the heels means any dryness is going to lead to, you guessed it, cracks.
India can be pretty cold, in some places. Cold air too dries out your skin (Notice your hands and arms in the winter? It's the same for your feet)
Even if you wear socks and shoes all the time, keeping feet crack-free is a question of proper hydration and constant care. So lose some electrolytes in a workout without regaining all of them… you're fine, but your heels pay the price.
Stand around a lot on the job? Say hello to cracks.
Like wearing sandals, chappals or any footwear that exposes your feet to the elements? Say hello to roughness and cracks.
Sit around in an a/c environment all day? Welcome serious dryness, and hence, cracks!
If you're not sure of whether or not you have cracks, or are beginning to get them, do this simple test.
Take off your footwear and run your hands over the ball of your foot, ie, your heel. If you feel roughness, and can see jagged, discoloured skin, or even full blown cracks…
There's your answer.
The problem?
Cracked Feet = Cracked Person (In The Public's Mind)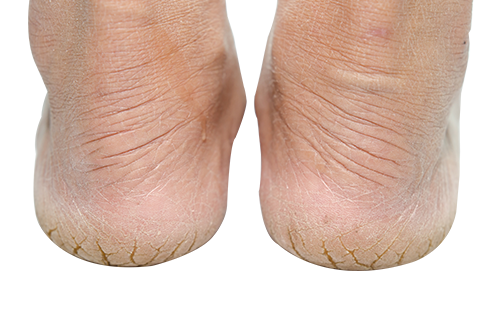 Having cracks on your feet isn't just a minor hindrance. It's like having long and dirty nails, or food stuck to your teeth. Simply put, there is no situation in which it looks good. There is no situation where it is needed.
These days men can no longer get away without taking proper care of themselves - and luckily, in a professional setting, most of the times there is no problem thanks to socks and shoes.
But it is in the personal front where things get a little different. Because people judge you by your heels.
It's the little things that make the most difference. Anyone can clean up well, have a trimmed beard, sharp suit and slick hairdo… but if someone were to catch a sight of your cracked heels, the only thought they would have is this: "He doesn't even care about his own body, so how could he…"
There are many ways to finish that sentence, but none of them are good news for you.
No matter whether a professional or romantic setting, an evening with friends or a family reunion, there is no situation in which cracked feet are helping your confidence, your persona and your outcome.
The Solution
The answer to your (and literally every other person's) problem is a tool so simple, even a 5 year old could use it!
But we don't recommend this for 5 year olds.
We do, however, highly recommend it for anyone with cracked heels, who's looking for the simplest, safest and quickest solution to the cracked heels problem.
Dear Indians, this one's for you. Presenting: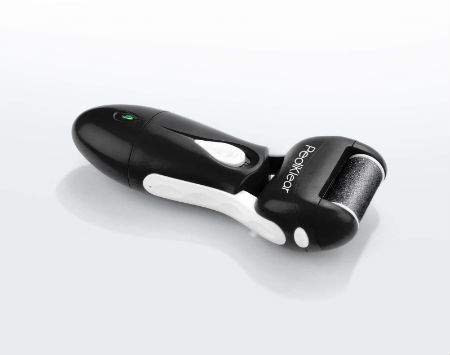 The All New PediKlear Rechargeable Callus Remover.
It's completely rechargeable, it's a piece of cake to use, and if it doesn't clear up your heels like new, we'll refund your money and send you a handwritten note of apology.
But let's just compare the PediKlear to a common method of tackling cracked heels: pedicures and moisturizers.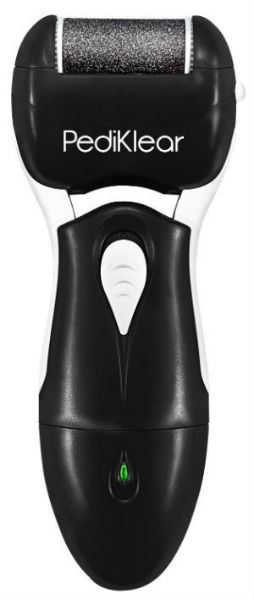 Do pedicures work? Of course they do. If...
You are regular with your treatments. You need a pedicure once a week if you have an active lifestyle - the kind that an on the go person does. Every two weeks is recommended if you're away from the clutter and pollution of city life. Once a month if you're mostly a stay at home person. That's 48/24/12 pedicures a year. Regularly.
You have the money. Pedicures aren't cheap - even the most reasonably priced one will run you several hundreds of rupees, every time you get one.
You have the time. It takes time to get to the salon, it takes time to soak and wash your feet... and the pedicure has only then just begun. Then, there's the ride back home. And making time in the first place...
You have a dedicated salon. What if you're on the go? Travelling to see family? Travelling for your job? What if your lifestyle requires you to be constantly moving from one place to another? Getting quality pedicures, at a good rate, and from a specialist you trust isn't easy in these circumstances.
What about moisturizers? Do they work? Of course. But...
You see that really rough skin and cracks around the feet? Even the most effective and expensive moisturizer isn't going to get through that skin and have a lasting effect. For moisturizers to be effective, you must first get rid of the cracks! Not the other way round.
Crack Free In Just 2 Mins: PediKlear's Rechargeable Incredible Speed Destroys The Competition.
With PediKlear, every session literally takes 2 mins. That's 120 seconds for the most beautiful feet you've ever had. How?
The Tech Behind The Magic.
PediKlear's not-so-secret weapon comes in 2 parts:
1. An Ultra-Powerful Motor
PediKlear's powerful motor is what you get when you combine battery efficiency with the ability to rotate at a head spinning rate of 40x per second. Pair this motor with the right roller, and the results are nothing short of astonishing! Speaking of rollers...
2. PediKlear's Hardened Mineral Surface Roller
Precision engineered to destroy rough, callused skin and deep cracks, PediKlear's Hardened Mineral Surface Roller features a rugged exterior that comes into contact with your feet, and removes the rough skin in seconds, right in front of your eyes. It is not only built to to last, and the safest way to get rid of cracks on your feet… the roller is simply the fastest way to beautiful, baby-soft and crack-free feet.
Combine the two elements together, and you have the PediKlear difference: Get & Maintain The Most Beautiful Feet In Just 10 Mins/Week.
Upgrade Your Foot Care Game With PediKlear's Rechargeable Battery!
The one feature that makes PediKlear the hottest foot care device on the market today: fully rechargeable batteries.
So you can truly be on-the-go with PediKlear, anywhere and at anytime.
PediKlear Rechargeable comes in-built with a durable accumulator. Simply plug in the adapter and connect it to your PediKlear device for 10 hours.
Basically, plug it while you sleep, and have it be ready for use in the morning! That's how effortlessly PediKlear Rechargeable handles power management.
Once charged, you can use PediKlear for up to a full 30 minutes. Average use with batteries usually need not exceed 10 minutes of roling. But with PediKlear Rechargeable, you THRICE, 3X the usage - completely battery-free!
Also, you'll majorly save on battery costs. Buying a new pair every time they run out, will cost you in the thousands over years. You can entirely avoid those costs, with PediKlear Rechargeable!
In short, it's time.
It's time to truly change, and recharge your foot care routine!
How Else Is PediKlear Rechargeable Better?
Good question. We've got a great answer:
No pedicure can match PediKlear in 3 distinct ways:
Regularity: The PediKlear is a simple device that runs on batteries. You switch it on, you use it on your feet. You moisturize. You are done. No scheduling appointments or waiting at the salon. In fact, there's no salon! Use anywhere you like.
Money: PediKlear costs about the same as one expensive salon treatment. So what's different? You buy it just once. It's built like a rock and it's waterproof (more on that in a moment).
Safety: No blades, no razors, no scrubbing, no scraping. Pediklear's hardened mineral roller simply makes external contact with your cracked heels.
Alright, That Sounds Pretty Great! How Does It Work?
It's simple. And genius.
The hardened Mineral Surface Roller on the PediKlear tackles the most important problem keeping you from beautiful and soft feet - the cracks.
When the device is switched on, The Mineral Surface Roller rotates at the speed of 40x per second - not too fast, not too slow. This rotating head whittles away the dead, dry and callused skin on your heels, and right before your eyes, it leaves your skin crack free and baby smooth.
No matter how deep or dark the cracks, the only way to recover smoothness and beautiful feet is to directly remove the dead, rough, hard, discolored skin. That's what PediKlear does.
Waterproofing! The PediKlear Difference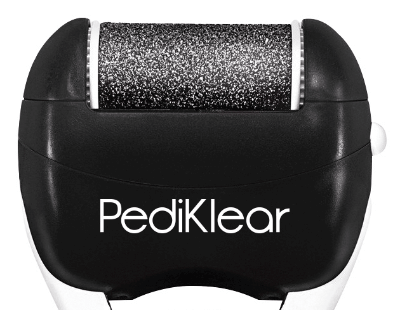 One of the most convenient lifestyle features of PediKlear is the fact that it is waterproof. And this has two distinct meanings:
One: Use it in the bathroom, without any fear of getting the device wet.
Two: Use it ON WET FEET, and the effectiveness remains excellent. That is to say, it works perfectly. So use it after showering, use it right after soaking your feet, use it after you have moisturized and… use it, wipe your feet and use it again! The PediKlear will still deliver stunning results.
7 Reasons Why Your Feet Need PediKlear Rechargeable Right Away!
It's Completely Rechargeable!

No more buying two AA batteries every time they run out. No extra chore of buying batteries, and no extra expenditure that adds up eventually! Simply charge it while you sleep, for 10 hours. And you'll get a full 30 minutes of usage, when you wake up!

It's The Quickest Route To Soft Feet!

No waiting in queues at the salon, that's if you can manage to make time and handle the traffic! PediKlear will give you model like feet with just 2 minutes of your time, and is available whenever you need it!

Get Renewed Confidence!

Never worry about what kind of impression your cracked feet will make at a job interview, at office or when you're out and about! With PediKlear, your feet will look gorgeous in whatever footwear you choose to wear that day!

Waterproofing - The PediKlear Rechargeable Difference!

PediKlear's waterproofing capabilities means you can use it in the bathroom, after a shower, or after luxuriously soaking your feet! It will still deliver stunning results!

The Safest Way To Gorgeous Feet!

No scrapers, shavers, and scrubbers… no pain! PediKlear delivers the most beautiful feet you've ever had with absolutely zero discomfort!

The Price Is Right!

FOR THE SAME PRICE OF PEDIKLEAR PREVIOUSLY - you get a new and improved rechargeable version of PediKlear! It's like you won't even spend ONE extra paisa more for the new features. Buy PediKlear once, and all the costs of parlours, salons, professional pedicures and batteries, right out the window!

100% Money Back Guarantee!

PediKlear is the simplest way to the softest feet, but if by any chance and for whatever reason PediKlear doesn't meet your expectations, we'll give you a full refund, no questions asked! It's that simple!
The "No Questions Asked" Money Back Guarantee
PediKlear comes with a "No Questions Asked" 30-day return policy. We are serious about our customers' satisfaction and will strictly adhere to the policy of FULL REFUND if you wish to return the product within 30 days of purchase. No Questions Will Be Asked.
If you have other questions and clarifications, please call right now (as you're reading this!) and we'll clarify them for you.
With our guarantee clarified, there's only one thing left to say:
ATTENTION: Due to high recent demand we can no longer guarantee supply. As of we currently have product in-stock and will ship within 24 hours of purchase.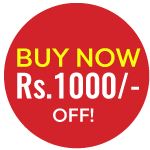 x
Watch Apoorva Share Her Thoughts On Pediklear Rechargeable & Why She Loves It!
Frequently Asked Questions
Is PediKlear Callus Remover Safe To Use?
PediKlear Callus Remover is 100% safe to use. It features a mineral surface roller that is gentle, yet highly effective in removing the dead, rough and callused skin that leads to cracks. The device is CE certified which means that it is compliant with use in the European market. It is a much better alternative to dangerous tools such as scrapers, shavers, files, and even pumice stones.
Is PediKlear rechargeable?
While the all-new PediKlear Rechargeable is rechargeable (10 hours charge), the previous version of PediKlear requires batteries to run.
Is the charging cable provided with the order?
Yes! PediKlear comes with its own charging cable right in the package that will be shipped to you.
Will the battery last me for life?
Yes, the device as a whole should last you for life. If you specifially want the battery to be repalced, or for other major changes, please contact us at support@incnut.com
Does PediKlear come in other colors?
We have two variations for you to choose from, but they also come with different specifications. The all-new PediKlear Rechargeable is black and white, and also is rechargeable. PediKlear Regular, is blue and white, and requires batteries to run.
Can We Pay Through Cash On Delivery?
We use SSL certified and secure online payment gateways that are compatible with all banks/cards. If you are not comfortable making an online payment, you can choose cash on delivery.
How Long Will The Product Take To Ship?
The product will reach you within 3 working days, wherever you are in India. We ship immediately upon receiving your order.
Are There Any Side Effects To PediKlear Callus Remover?
The only effect with PediKlear is the gorgeous feet you're going to have very soon!
Do You Deliver To My State/Locality/Area?
How Much Do You Charge For Shipping?
PediKlear comes with FREE shipping!
How Can I Maintain My PediKlear?
Use the supplied brush to dust away any particles when you are done. A gentle wipe with a wet/dry cloth may also be occasionally used.
How Long Will The Roller Last?
The roller will last 4 months of regular use.
Will this work for heavily calloused feet?
Yes! PediKlear will certainly work for any kind of hardened, dry skin on your feet, which is exactly what a callus is. Simply be persistent, patient, and safe - you'll be callous free in no time!
What about the 30-day money-back guarantee?
PediKlear comes with a "No Questions Asked" 30-day return policy. We are serious about our customers' satisfaction and will strictly adhere to the policy of FULL REFUND if you wish to return the product within 30 days of purchase. No Questions Will Be Asked.
What is the shipping process?
As soon as you place the order on, you will receive a confirmation message on your registered mobile and also email alert on your mail ID.
Your PediKlear will immediately get dispatched from our warehouse through our logistic partner and be sent to your shipping address mentioned in the order details. You will be able to track your order from this point to delivery.
Our logistic partner will call you on your registered mobile number before attempting delivery.
In the case of Cash On Delivery (COD) orders, our logistic partner will inform you to have the cash amount at hand before attempting delivery.
We service to all major pin codes and cities to serve maximum customers of ours.
There is no installation/assembly required for the product except to put in the necessary batteries. Have fun using PediKlear!.
How much pressure to use on my feet?
PediKlear requires relatively less pressure to achieve the same results as a harsh manual foot file or pumice stone. Use enough pressure to feel the rollers, where it gently weighs down on your skin. That's the ideal pressure to use PediKlear with.
For your safety, PediKlear will suto-pause rolling if it senses you're putting too much pressure against your skin.
Will it scrape my skin away?
PediKlear is designed to auto-pause its rolling action when too much pressure is applied. A fail-safe method to prevent any unnecessary scraping from happening.
Please do not redo areas of your feet that have already been cleared of dry skin and/or calluses, as this could scrape way more skin than necessary.
Will this work for deep cracks?
PediKlear is designed to tackle the toughest of dry skin, cracks, and calluses. Even deep cracks can be evened out by PediKlear's powerful, but safe rollers. For deep cracks, simply use until majority of the crack(s) is reduced. If you're unable to get rid of it completely, use PediKlear every other day on it - and you should have smooth feet in no time!

-->