The Solution
Now picture yourself walking gracefully into a room full of people. You have made an effort with your appearance and it doesn't go unnoticed. Immediately, your presence is noted and all eyes are on you - but you don't stop - you're full of confidence and looking your best as you go around the room meeting and greeting people.
The gathered public - some friends, some not so close - are stunned by your grace and poise, and your personality captivates them. And that's because you know that every part of you is perfect, right down to your gorgeous heels in your favorite, stunning, footwear. Your confidence is sky-high, and the people around you know it. You take control of the room, while the other women around become conscious once more of their insecurities.
As for the men: the looks on their faces itself is worth it! And if you have a husband or partner, even better, for his awe-struck gaze will tell you everything you need to know about who you are...
To get the beautiful feet you desire, as well as the confidence that comes with them, the solution is a tool so simple, even a 5 year old could use it!
But we don't recommend this for 5 year olds.
We do, however, highly recommend it for anyone with cracked heels, who's looking for the simplest, safest and quickest solution to the cracked heels problem. Dear Indian women, this one's for you. Presenting:

The All New PediKlear Callus Remover.
PediKlear is a device about 6 inches long and 3 inches across, pick it up and you will notice it's light but well put together. Within this compact body is housed a powerful battery operated motor. One one end, the device takes 2 AA batteries, and on the other end, away from the handle, is affixed the special Mineral Surface Roller where all the magic happens. Using it is as simple as changing the TV channel, and if it doesn't clear up your heels like new, we'll refund your money and send you a handwritten note of apology.
But let's just compare the PediKlear to a common method of tackling cracked heels: pedicures & moisturizers.
Pedicures are useless if not done regularly. A pedicure is only as effective as the number of times you get it done. It is not a permanent solution. And if your heels are exposed to the pollution, dust and clutter of city life, then you're going to need a pedicure a week to keep your heels smooth, gorgeous and crack-free. Missed one session because you're busy with work, visiting family, or have other commitments? The unsightly cracks are going to come right back.
With PediKlear, maintaining a routine is extremely easy. The battery operated PediKlear requires no setting up to get started. All you have to do is take off your shoes, press the switch on the PediKlear and apply it to your feet. What's more, feel free to do this early morning or late at night, or anytime you wish in the entire day. All it takes is two minutes, and you're done. If you're travelling, take the compact and lightweight PediKlear with you, and never miss a session.
Pedicures don't come cheap. Getting even the most reasonably priced pedicure means a cost of at least Rs. 500/- every time you get one. With a recommended 2 pedicures a month for the average woman (once a week for the on-the-go city woman), maintaining soft, beautiful and crack-free feet comes at a cost of Rs. 12,000/- a year... At a minimum.
With PediKlear, you buy it once, and you forget about costs. Use as many times as you like, the included rollers will give you 4 months usage each. And replacing them costs 1/10th the price of a pedicure.
There's often travel involved. Getting to and from the salon takes work in itself. There's traffic, there's waiting and then there's the fact that you might not always be free before the salon closes, or even opens on the morning. And if the salon close to your home doesn't do your pedicure the right way, you're looking at an even longer travel time to find someone who does.
With PediKlear, you don't ever have to leave your house or wherever you are. No taxis, no walking, no driving, no waiting in traffic, no waiting at the salon, no waiting while your feet soak in the water. Just pure performance, right from when you switch it on.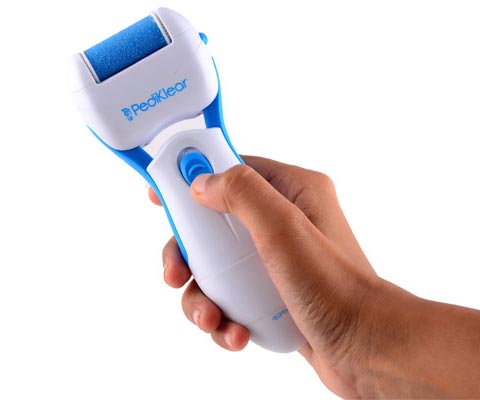 Home pedicures take time. But what if you're considering doing all of your pedicures at home? Know that you have to have time on your hands to make it happen. First, the water has to be heated. Then you soak your feet until the cracks, rough and callused skin lose some of their hardness. Then, you pick up a pumice stone and get to work...
With PediKlear, all you have to do is switch the device on, use it on all the parts of your foot that have cracks, calluses, and hardness, and watch the device do its magic in under 2 minutes. Then switch off the device, dust off your feet and you're done. Before the water has even become warm.
Home pedicures take effort. Putting water in a tub or bucket and soaking your feet is the easy part. What really gets tiring is the fact that you have to take a pumice stone, or scraper or any similar tool and rub away at the cracks - and this is not going to happen in just a few minutes. If you misjudge how long you have to soak your feet, you're going to scrub for a long time without seeing any results. And that's not to talk about how much the arms hurt from all scrubbing!
With PediKlear, there are no such aches and pains. It's high-watt motor ensures that with a gentle press to the affected areas of the feet, the cracked skin gets blasted off, leaving only smooth, soft and clean skin in its place. No scraping or rubbing required.
Not all pedicures are safe. The problem with scrubbers shavers and scrapers is that they are pretty much a stone-age technology, and that means we cannot always control their effect. Scrub too hard, and you're going to leave your heels feeling raw and painful, so much so that walking will become a problem. Scrapers and shavers have their own issues, make cuts too deep, and you're looking at extremely painful, sensitive and possibly infected skin. On the part of the body you need the most to even go and get a glass of water.
With PediKlear, there is no question of such problems arising. PediKlear is the safest way to get the most beautiful feet, with its specially formulated Mineral Surface Roller that makes only external contact and removes cracks, calluses and hard skin in front of your own eyes. No side effects, guaranteed. PediKlear is also CE certified which means it is complaint for sale in the European market.
Pedicures aren't portable. Getting a pedicure at your favorite salon or at home is one thing, but what if you're staying in a hotel? Or at a friend's house. Or away for a family function? Setting up a pedicure takes time, equipment and space - one or more of these things is often not available to us.
With PediKlear, all you have to do is take the device and use it on your feet, and you'll always have soft, smooth and crack-free feet. There is no step 2. No matter which city, state or country you're in.
Quality is not assured each time. With pedicures, guaranteeing the quality is not always possible. You may have a favorite salon, but if your favorite beautician isn't available on the day, you're going to have to explain just the way you like to get things done - and that doesn't mean you'll get it. If you're away from your preferred salon (or away from home), then results will always be a mixed bag. You may get a great pedicure, or you may have spent a few hundred rupees with nothing much in return.
With PediKlear, you know what you're getting each time - great looking, soft and crack-free feet in just a matter of minutes.
What about moisturizers? Do they work? Of course. But...
You see that really rough skin and cracks around the feet? Even the most effective and expensive moisturizer isn't going to get through that skin and have a lasting effect. For moisturizers to be effective, you must first get rid of the cracks! Not the other way round.
Alright, That Sounds Pretty Great! How Does It Work?
It's simple. And genius.
The hardened Mineral Surface Roller on the PediKlear directly attacks the most important problem keeping you from beautiful and soft feet - the cracks.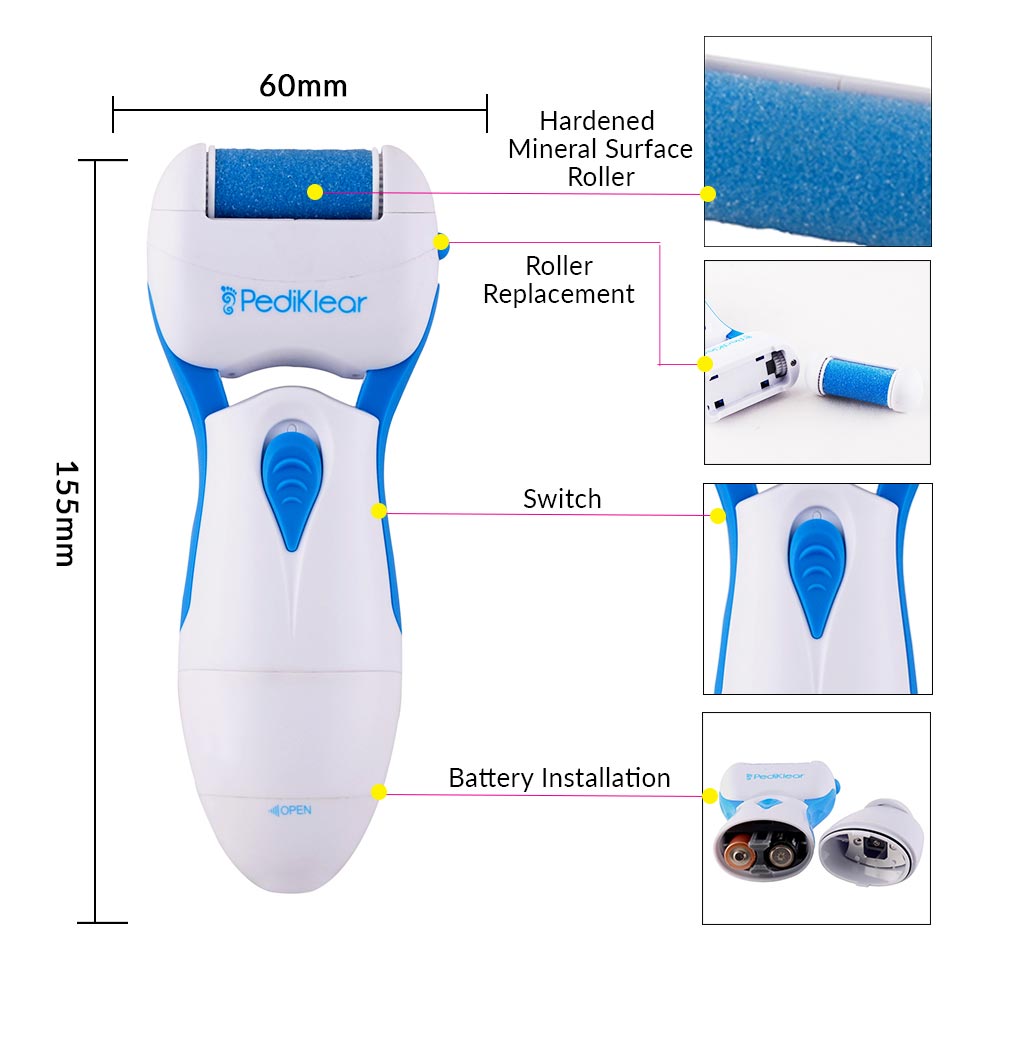 When the rotating Mineral Surface Roller makes contact with the skin on your heels and feet, it's specially formulated surface offers 5x the resistance of an ordinary pumice stone, thereby giving much better effectiveness against even the deepest cracks, hardest skin and hardened calluses.
No matter how deep or dark the cracks, the only way to recover smoothness and beautiful feet is to directly remove the dead, rough, hard, discolored skin. That's what PediKlear does, and thus, right before your eyes, your skin becomes soft and super smooth.
In fact, we urge you to see for yourself the astonishing results offered by PediKlear.
Go out and buy the most expensive foot crack cream in the market, and pick a salon of your choice - where the treatment is as effective as the pampering. Give yourself a glorious pedicure treatment once or twice a week, and note the results this has on your heels, and how they look and feel after 2 weeks' treatment.
Now compare with PediKlear: Just 3 days usage - a total of not more than 10 minutes - and the application of a basic moisturizing agent: coconut oil, vaseline, or any cream based lotion. All done within the comfort of your own home, at the time of your choosing, and with nothing else than your own hands, and of course, your PediKlear.
The difference, as you will notice, is night and day. With PediKlear, every time you use the product, the dry and callused skin at the base of your heels will be vaporized, and smooth soft and supple skin will readily absorb any moisturizing agent you use - keeping heels feeling soft and looking great. Whereas with the pedicure, no matter how expensive your foot cream, the cracks themselves will begin to reappear just a few hours after your pedicure, especially if you leave your home and expose your feet to the outside elements. The only cure? Another long, time-taking and not-so-cheap "treatment" at the hands of a beautician.
Gorgeous Footwear: A PediKlear Side-Effect!
PediKlear is 100% safe to use. In fact, it is leaps and bounds better than using scrapers, shavers or any chemicals that may have adverse affects on your heels - making the skin raw, painful, inflamed and even causing infection.
That means PediKlear has no side-effects… except one: Enabling you to wear your favorite footwear better than ever before!
Here's how it works. Suppose you use PediKlear for a year. You will have gorgeous and smooth-to-touch feet at all times - with just a few minutes of your time, and a few rupees for every time you use it.
On the other hand, with the going rate of Rs. 500 per pedicure, and just 2 pedicures a month, your foot-care costs could run up to Rs. 12,000 a year or even higher! Save that money, and you have another reason to go shopping for your favorite thing - shoes!
Waterproofing! The PediKlear Difference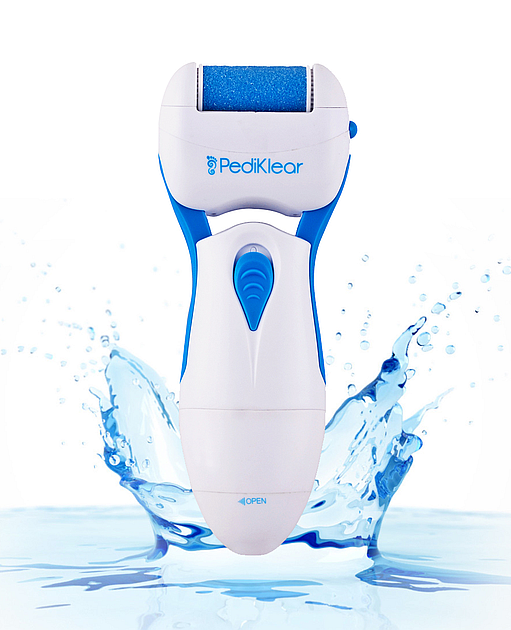 One of the most convenient lifestyle features of PediKlear is the fact that it is waterproof. And this has two distinct meanings:
One: Use it in the bathroom, without any fear of getting the device wet.
Two: Use it ON WET FEET, and the effectiveness remains excellent. That is to say, it works perfectly. So use it after showering, use it right after soaking your feet, use it after you have moisturized and… use it, wipe your feet and use it again! The PediKlear will still deliver stunning results.
"Approved And Recommended By Experts"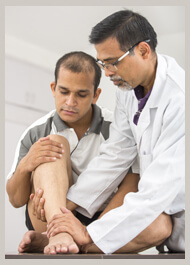 I came across PediKlear online and picked one up for my wife who was complaining about the rough skin and cracks on her feet. It has worked wonderfully for her, and is safer than any scrapers, files or chemicals that are used to clear cracks in the feet. As an external application product only, pediklear has no side effects and gives wonderful results too.
Dr. Arnav Chaudhary, Podiatrist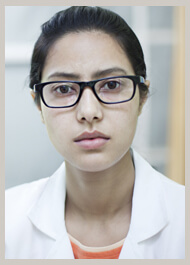 " PediKlear is the first product I have found that actually works better than a pedicure. As a doctor, it's not often that I have the time to visit a parlour or soak my feet etc. With PediKlear, none of that is required.. Just 30-60 seconds and my moisturizer, and I'm done!"
Dr. Deepa Kulkarni, Skin Specialist
Important: PediKlear Is CE certified and compliant for sale in the European market.
Our "No Questions Asked" Money Back Guarantee!
PediKlear comes with a "No Questions Asked" 30-day return policy. We are serious about our customers' satisfaction and will strictly adhere to the policy of FULL REFUND if you wish to return the product within 30 days of purchase. No Questions Will Be Asked. Simply get in touch with us atsupport@incnut.com and 040-39560308. This contact information can also be found on the top and bottom of the page.
If you have other questions and clarifications, please call right now (as you're reading this!) and we'll clarify them for you.
With our guarantee clarified, there's only one thing left to say:
You Are Worth It.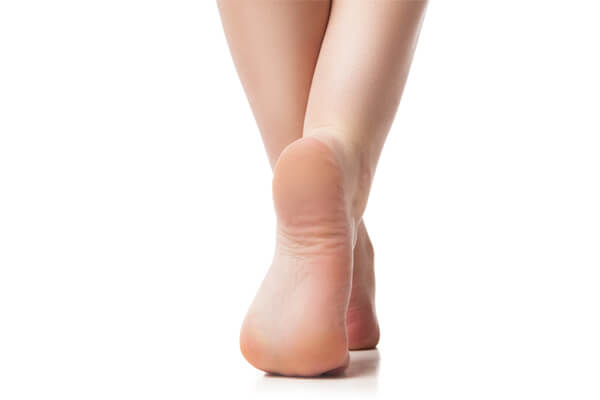 Because you deserve to be free, once and for all, of the frustration that comes with having rough, hard, and cracked feet.
Because you deserve the pleasure and confidence that comes from putting your smooth and luxurious new feet in your footwear.
And because, most of all, every woman deserves beautiful feet!
Our Happy Customers Share Their Stories :)
"Excellent. Used for 3 weeks. Better result than parlour pedicure. Removes dead skin from the feet and smoothens the skin. Easy to use. Especially useful for very dry skin"

Reema Arora

Delhi
Fav. Footwear: Heels
"I didn't think pediklear could do anything to change what soaking, scrubbing and moisturizing for weeks couldn't solve. I was wrong."

Ramani Panuganti

Vishakapatnam
Fav. Footwear: Flats
"I originally bought this online after reading all the positive reviews. My feet were badly cracked and I wanted to see if the product actually helped me wear my heels and flats without being conscious. After only a couple of days my heels became better, the cracks were much smaller and there was soft skin! Amazing!"

Revathi Menon

Kozhikode
Fav. Footwear: Block Heels

6 Reasons Why Your Feet Need PediKlear Right Away!
It's The Quickest Route To Soft Feet!
No waiting in queues at the salon, that's if you can manage to make time and handle the traffic! PediKlear will give you model like feet with just 2 minutes of your time, and is available whenever you need it!
Get Renewed Confidence!
Never worry about what kind of impression your cracked feet will make at a job interview, at office or when you're out and about! With PediKlear, your feet will look gorgeous in whatever footwear you choose to wear that day!
Waterproofing - The PediKlear Difference!
PediKlear's waterproofing capabilities means you can use it in the bathroom, after a shower, or after luxuriously soaking your feet! It will still deliver stunning results!
The Safest Way To Gorgeous Feet!
No scrapers, shavers, and scrubbers… no pain! PediKlear delivers the most beautiful feet you've ever had with absolutely zero discomfort!
The Price Is Right!
Costs of pedicures, expensive treatments and a variety of creams run into the thousands, and then there's the fact you have to keep paying for continuous results. Buy PediKlear once, and all those costs go right out the window!
100% Money Back Guarantee!
PediKlear is the simplest way to the softest feet, but if by any chance and for whatever reason PediKlear doesn't meet your expectations, we'll give you a full refund, no questions asked! It's that simple!
Get a PediKlear Callus Remover Today Only For Rs. 1,699/-
ATTENTION: Due to high recent demand we can no longer guarantee supply. As of we currently have product in-stock and will ship within 24 hours of purchase. Hurry! Order Before !
Free Shipping!
1 Year Warranty
Quick & Easy Refund
No Questions Asked Money Back Guarantee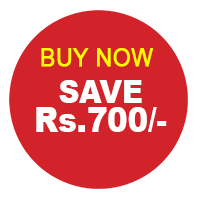 x
Frequently Asked Questions
Is PediKlear Callus Remover Safe To Use?
The PediKlear Callus Remover is 100% safe to use. It features a mineral surface roller that is gentle, yet highly effective in removing the dead, rough and callused skin that leads to cracks. The device is CE certified which means that it is compliant with use in the European market. It is a much better alternative to dangerous tools such as scrapers, shavers, files, and even pumice stones.
Can We Pay Through Cash On Delivery?
We use SSL certified and secure online payment gateways that are compatible with all banks/cards. If you are not comfortable making an online payment, you can choose cash on delivery. However, in light of the recent government mandate, we will not be able to accept the old currency notes of Rs. 500 and Rs. 1000 denominations.
How Long Will The Product Take To Ship?
The product will reach you within 3 working days, wherever you are in India. We ship immediately upon receiving your order.
Are There Any Side Effects To PediKlear Callus Remover?
The only effect with PediKlear is the gorgeous feet you're going to have very soon!
Do You Deliver To My State/Locality/Area?
We deliver across India.
How Much Do You Charge For Shipping?
PediKlear comes with FREE shipping!
How Can I Maintain My PediKlear?
Use the supplied brush to dust away any particles when you are done. A gentle wipe with a wet/dry cloth may also be occasionally used.
How Long Will The Roller Last?
The roller will last 4 months of regular use.
P.S. - Not taking action is doing yourself a disservice. You wake up tomorrow with the same cracked feet. Get that out of your life, click the buy button above.
P.P.S - Indian women actually have one more thing in common… For most of us, the focus is face and hair. Truth is, feet are essential to grooming and beauty. Time to do something about it. Click the buy button above.