Say Goodbye to Dull Skin: Aveeno Positively Radiant Skin Brightening Daily Scrub Review
For brighter, clearer skin without any redness or irritation About The Product
Exfoliation is a crucial part of your skin care routine and even though people are on the fence about using physical scrubs, the Aveeno Positively Radiant Skin Brightening Daily Scrub is a regular-use exfoliant that works effortlessly to remove blackheads, whiteheads, and even out the skin tone. It helps reduce acne and dark spots, is suitable for all skin types, and offers visible results within a week's use. It is not too harsh and is gentle for sensitive, acne-prone skin types. Go through our detailed review of this pocket-friendly product that has worked on most skin types.
Specifications
Product Name: Aveeno Positively Radiant Skin Brightening Daily Scrub
Brand: Aveeno
Ingredients: Soy Extracts and Glycerin
Price At The Time Of Review: $8.84
Weight: 5 oz
Best For: Exfoliation Of All Skin Types
Key Benefits
This scrub removes the dead skin cells and offers an instant bright look. It also removes dirt, oil, grime, and product residue from the skin as well as the pores. It leaves the skin feeling squeaky clean.
It improves my skin tone and texture with regular use and helps achieve an even canvas for my makeup looks.
Unlike regular physical exfoliants, this face scrub has small microbeads that are not too grainy and glide smoothly on the delicate facial skin. This makes the product suitable for all skin types, including sensitive skin.
It does not cause redness or irritation and reveals smoother skin after every use.
The moisture-rich formula of the scrub ensures that my skin does not feel tight or dry after use.
Directions For Use
Wet the facial skin, apply a small amount of the product on the face.
Use circular movements to scrub for a few minutes.
Rinse the face and pat dry using a soft towel.
Safety Information
Aveeno does not just shy away from using harsh microbeads but it steers clear of harmful chemicals too.
It is formulated without soap and oil and is safe for all skin types.
It does not contain parabens, phthalates, sulfates, or dyes.
Quick Facts
This daily physical scrub gently exfoliates to offer bright skin and improved tone and texture.
$8.84 for 5 fluid ounces
Aveeno is based in New Jersey, USA, and was founded by Albert Musher, but is now owned by the consumer goods and pharmaceutical company Johnson & Johnson. Aveeno uses the goodness of natural ingredients to cater to all skin types, while looking out for the environment through their sustainable practices and choices. They pay close attention to the needs of sensitive skin and promote awareness of everyday skin requirements and sensitivities.
Aveeno Positively Radiant Skin Brightening Daily Scrub Review: Features And Extras
The Aveeno Positively Radiant Skin Brightening Daily Scrub gently removes impurities for softer, even-toned skin.
The moisture-rich soy extract in the scrub evens the tone and texture of the skin and also enhances natural radiance of the skin.
The hypoallergenic scrub does not trigger reactions or allergies.
The water and glycerin in the formula also ensures the skin remains hydrated and supple.
It is a dermatologist-approved product safe for all skin types.
Aveeno Positively Radiant Skin Brightening Daily Scrub Review: Does It Work?
Yes, the brightening daily scrub works on all skin types, even on dry, sensitive skin. It leaves the skin brighter, smooth, and supple. The gentle microbeads of this physical exfoliant gently buffs away dead skin cells, dirt, oil, and bacteria. It helps improve the skin tone and offers a youthful glow and a natural flush that is nothing like the angry redness of harsh scrubbing.
It does not clog the pores, instead clears away the debris and residues to reduce the pore sizes. The creamy, gel-like consistency with smooth exfoliating beads does not irritate the skin. The product has a mild, pleasant scent that does not trigger sensitivities. It works a bit like a cleanser too, as it lathers up a bit to cleanse while exfoliating the skin. This clarifying scrub can be included in either the morning or night time skin care routines to achieve brighter, softer, and healthier skin.
Value For Money
This brightening scrub for acne-prone skin is a good purchase for your money. It is not a big splurge but offers excellent results even at its pocket-friendly price. It also lasts long as a little product goes a long way. It has an efficient packaging with an easy-to-carry long tube with reinforced closure that keeps the product safe from being exposed to external light and pollution.
The Final Verdict
If you are on the lookout for a gentle physical exfoliant that does not damage your skin or the environment without burning a hole through your budget, the Aveeno Positively Radiant Skin Brightening Daily Scrub is your go-to buddy. The gentle microbeads do not cause micro-tears, but sloths off dead and dry skin cells to reveal healthy, bright skin. You can use this product on the upper arms, neck, and chest areas for regular scrubbing and exfoliation. It is free of harmful chemicals that might aggravate acne or sensitive skin. The dermatologist-approved formula has a fresh fragrance for a refreshing beginning or end to your day. However, avoid using this product on damaged or broken skin or extremely active acne.
Editor's Rating: 3.5
We understand the reservations you may have against a physical exfoliant, but this product has done away with all the shortcomings of one. A good scrub can be the single most important factor standing in the way of radiant, smooth skin. We hope this in-depth review will help you decide in favor of the product and make you give it a chance. It does not cause miraculous changes, but with continued use, it offers multiple benefits that work in your skin's favor.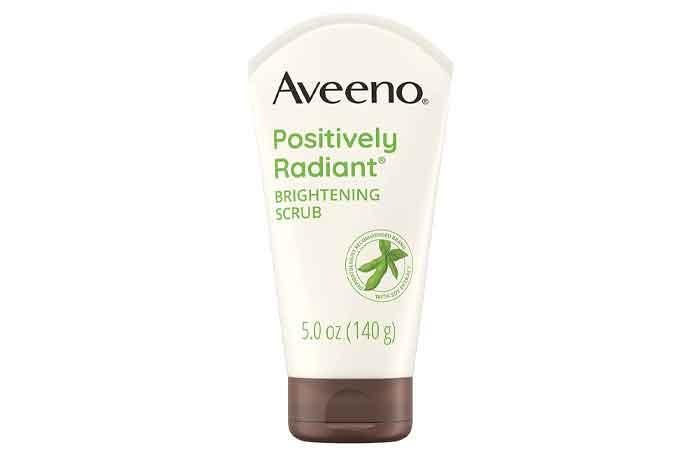 Aveeno Positively Radiant Skin Brightening Daily Scrub
Buy On Amazon