The Best Cleanser for Oily Skin Types: Bioderma Sebium H2O Purifying Cleansing Micelle Solution Review
This micellar water for oily skin types understands the assignment and nails it too! About The Product
It all comes down to clean, healthy skin. No matter what budget-burning skin care and makeup products you use to look flawless, you must first get your basics right. This involves getting the very first step of your skin care routine on point. Therefore, it is especially important for oily skin types that tend to attract external dirt and grime and also release its own share of excessive sebum and oils. Mere cleanser or face wash may not be enough to tackle your oily skin, and that's when a good micellar water turns in handy. The Bioderma Sebium H2O Purifying Cleansing Micelle Solution is a two-in-one product that cleanses, purifies, and soothes the skin. It is easy to use and does not require too much time either! So, go through this detailed review that we have turned in after trying the product on ourselves and maybe give it a chance yourself!
Specifications
Product Name: Bioderma Sebium H2O Purifying Cleansing Micelle Solution
Product Brand: BIODERMA
Product Ingredients: Fatty Acid Ester Micelles, Zinc Sulfate, Copper Sulfate, and Zinc Gluconate
Price At The Time Of Review: $16.99
Weight: 16.7 fl oz
Best For: Combination to oily skin types
Key Benefits
The Bioderma Sebium H2O Purifying Cleansing Micelle Solution is a gentle cleanser that removes makeup, purifies the skin, and helps get rid of excess oil and sebum.
The D.A.F. patented complex promotes the skin's resistance and tolerance levels and also strengthens the skin barrier.
The fatty acid ester micelles gently cleanse and soothe the skin without irritating it or causing it to break out.
The zinc and copper sulfates purify the skin, regulate oil secretion, and offer anti-inflammatory benefits.
The zinc gluconate mattifies the skin by regulating seborrhea and controls the oily T-zone, common to oily and combination skin types.
It leaves the skin soft and smooth after every use.
Directions For Use
Soak a cotton pad with the product.
Press the cotton pad on the skin.
Gently wipe without harsh rubbing or rinsing.
Safety Information
The Bioderma Sebium H2O Purifying Cleansing Micelle Solution has been formulated by dermatologists, especially for oily and combination skin types.
It is formulated without oils, soaps, parabens, alcohol, or artificial colorants.
Quick Facts
Uses: This daily-use micellar water gently purifies and nourishes the skin to offer a squeaky clean, matte canvas for subsequent skin care steps.
$16.99 for 16.7 fl oz of product
BIODERMA was founded in 1977 and is owned and operated by a French Pharmaceutical Company that specializes in scalp and skin care products. They are widely known for their gentle and effective products. The brand functions in accordance with ecobiology whose principle is to preserve and strengthen skin health. The brand believes in respecting the skin's natural pH balance and formulates products accordingly.
It has a not-too-pleasant medicinal fragrance but is not overpowering either.
Bioderma Sebium H2O Purifying Cleansing Micelle Solution Review: Features And Extras
This non-rinse micellar water functions as the perfect soap-free, non-greasy formula to clear makeup, remove dirt from the pores, and oil and sebum from the skin.
It is made of water and surfactants to gently remove impurities. The surfactants have two ends, a head and a tail.
The head is hydroliphic, which attracts water and repels oils, while the end is lipoliphic, which attracts oils and repels water.
When added to water, the surfactants' molecules assemble into little groups called micelles. The water-loving heads are pointed outwards, towards the water, while the water-hating tails face inward away from it.
When applied on cotton pads, which love water too, the oil-loving ends point towards the skin and dissolve the oil, makeup, and sebum from the skin.
This micellar water can be used in both your a.m. and p.m. routines to cleanse the skin, even if you are not a makeup user. It requires no harsh rubbing or struggle to remove the residues from your skin.
It also lends a soothing, matte effect to the skin and also reduces and delays the secretion of oil and sebum.
The non-comedogenic formula has a runny, blue-ish color and has been approved by dermatologists too!
The hypoallergenic formula does not trigger reactions or allergies.
Bioderma Sebium H2O Purifying Cleansing Micelle Solution Review: Does It Work?
This micellar water for acne and combination to oily skin does the work perfectly well. It balances oil production, especially in the T-zone, but does not dry the skin. It leaves the skin calm and clean with a healthy non-dry, matte effect. Its cleansing effect helps reduce acne and the formula is safe for sensitive skin types too.
It does not clog the pores, instead clears away the debris and residues to reduce the pore sizes. The watery consistency is easy to use with cotton wipes and runs smoothly on the skin. The product has a mild scent that does not trigger sensitivities.
Value For Money
This is one of the best micellar waters for acne and oily skin. It is a good purchase for your money. It is not much of a splurge but offers excellent results. It has an efficient, leak-proof packaging with reinforced closure that keeps the product secure while traveling and also makes it easy to use on the go.
The Final Verdict
If you want to make life easy without compromising on your skin health, invest in this Bioderma Sebium H2O Purifying Cleansing Micelle Solution. It makes makeup removal and skin cleansing so much easier than having to double and triple cleanse your skin after a day of wearing makeup! For all of you struggling to maintain your oily, acne-prone sensitive skin, this is a godsend product that you must give a try! The micelles effectively remove impurities and residues from deep within your pores and also offers a soothing effect. This is the perfect formula to balance oil and sebum without drying out your skin.
Editor's Rating: 4.5/5
This non-comedogenic micellar water has just one little complaint against it, it requires a bit more product than usual for removing stubborn waterproof makeup. It is a superhit product otherwise. It is perfect for both indoor and outdoor skin care, even if you are in the mountains, out on a hike, or at the airports. It takes 3-5 minutes and leaves your skin squeaky clean without the need for water at all!
It works effectively without triggering reactions or sensitivities; however, be extra careful while removing your eye makeup and you are all set. It shows such good results that some users have also called it "magic in a bottle"!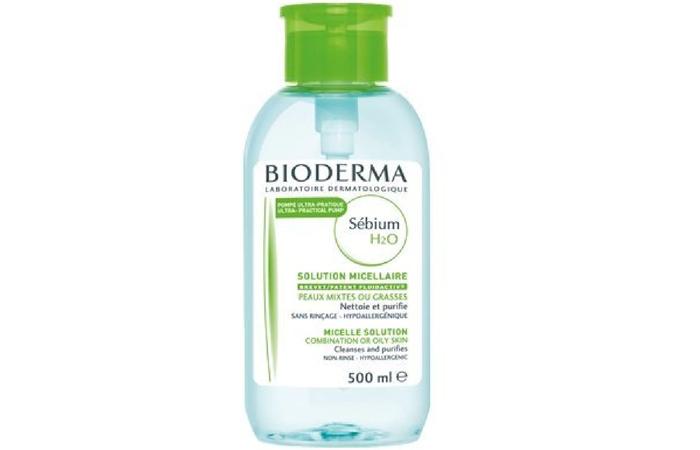 Bioderma Sebium H2O Purifying Cleansing Micelle Solution
Buy On Amazon
Recommended Articles
The following two tabs change content below.