We Tried The CeraVe AM Moisturizing Lotion SPF 30 And Here's What We Think About It
Give your skin the best treat of the season with this potent lotion from CeraVe.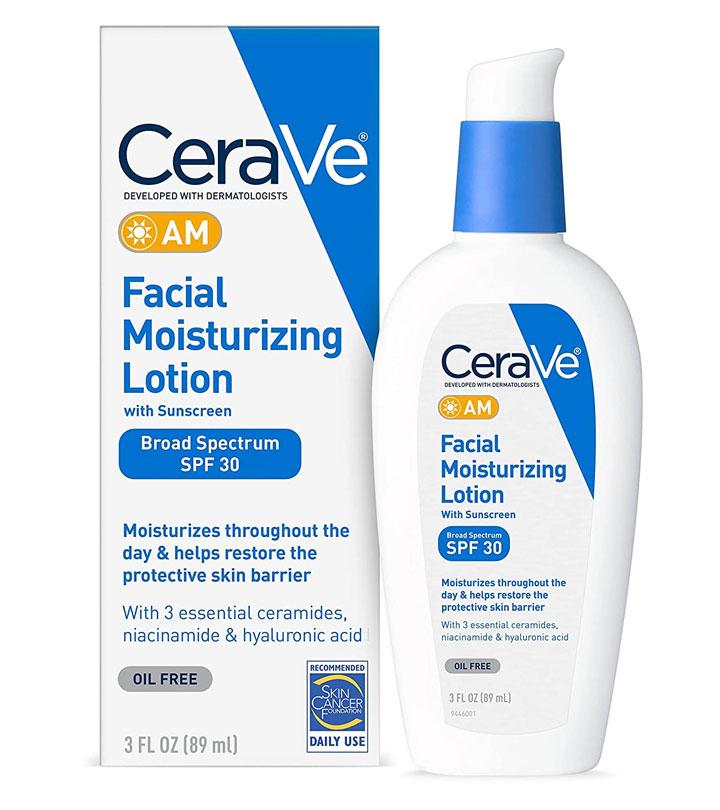 About The Product
A non-comedogenic sunscreen and a lightweight moisturizer are primary skincare essentials in any daily routine. But, what's better than investing in a product comprising both benefits? The CeraVe AM Facial Moisturizing Lotion SPF 30 hydrates your skin while offering broad-spectrum UV protection. This 2-in-1 lightweight lotion strengthens your skin barrier, reduces blemishes, and protects the skin against skin-burning and skin-aging UV rays. Being dermatologist-recommended, this product is safe and suitable for all skin types.
In this review, we will be focusing on the CeraVe AM Facial Moisturizing Lotion SPF 30 and figure out if purchasing it is supremely beneficial for your skin and if it is worth your investment.
Specifications
Name: CeraVe AM Facial Moisturizing Lotion SPF 30
Brand: CeraVe
Key Ingredients: Ceramides 1,3,6-II, Niacinamide, Hyaluronic Acid, and Zinc oxide
Price At The Time Of Review: $12.29
Weight: 3.0 ounces
Best For: All skin types
Key Benefits
The Cerave AM Facial Moisturizing Lotion with the benefits of broad-spectrum SPF is a daily-use product recommended and approved by the Skin Cancer Foundation. Apart from being non-comedogenic, the product claims to have many skin benefits. Let's take a look:
Contains essential ceramides 1, 3, 6-11 that restore, strengthen, and maintain the skin's natural barrier.
Infused with hyaluronic acid and niacinamide that moisturize the skin and calm and reduce skin redness.
Formulated with the InVisibleZincTM technology and broad spectrum SPF 30 to protect your skin against UVA and UVB damage and other free radical damage.
Fragrance- and oil-free formula that is safe for daily use.
How To Use
At first, twist the bottle's pump to the left, then press down several times until the product comes out. After that, only one pump should suffice.
Apply the product on your face with your fingers 15 minutes before going out in the sun.
Reapply it after every 2 hours.
Safety Information
The lotion is allergy tested and is free of oils and fragrances, making it suitable for all skin types, especially sensitive skin.
It is developed by dermatologists and is tested and approved by the Skin Cancer Foundation, proving its effectiveness.
Quick Facts
Strengthens the skin barrier
Moisturizes and soothes the skin
Suitable for face, neck, and body
$12.29 for 3 ounces
CeraVe is a dermatologist-developed skincare line founded in 2005. The brand utilizes three essential ceramides in developing all its products to restore and strengthen the skin's natural barrier and enhance the skin tone.
CeraVe AM Facial Moisturizing Lotion SPF 30 Review: Features And Extras
The CeraVe AM Facial Moisturizing Lotion with Broad Spectrum SPF 30 is a unique creamy lotion that addresses both hydration and sun protection concerns. To know what makes this product so special and effective, let's look at its primary features:
It is formulated with CeraVe's patented MVE technology which releases ceramides and other emollients in your skin throughout its wear time and improves your skin texture.
The InVisibleZincTM technology in the formula comprises micro-fine zinc oxide particles that spread easily on your skin and offer even sun protection without developing any chalky residue.
The lotion offers broad-spectrum protection against UVA and UVB rays, thus it is effective in delaying the appearance of signs of aging and revealing bright and healthy skin.
It is infused with moisturizing hyaluronic acid that helps nourish your skin, improve skin elasticity, and reduce aging signs. This 2-in-1 product is also enriched with niacinamide that refines your skin texture and calms your skin.
The primary ingredient in the lotion, three essential ceramides(1,3,6-II), seal in the skin's natural moisture, maintain the skin barrier, and enhance the look of your skin.
The lotion is non-comedogenic, so it will not clog your pores. It is also allergy-tested and dermatologist-developed and is completely safe and effective for all skin types.
CeraVe AM Facial Moisturizing Lotion SPF 30 Review: Does It Work?
The CeraVe AM Facial Moisturizing Lotion is exactly what you need to achieve the skin of your dreams. It has a lightweight, creamy formula that offers instant hydration and lifts the look of your skin. The ceramides in the formula work to improve the glow and shine of the skin, whereas hyaluronic acid improves the skin's elasticity and makes it appear plump. The formula's niacinamide calms any skin redness, reduces acne, and refines the skin texture. With the application of this product, your skin will feel refreshed and relaxed. It also provides broad-spectrum protection with its SPF 30 saving your skin from the harmful effects of the sun. Additionally, the lotion is free of any oils and fragrances, so your skin will not feel sticky and it will not bother your senses. But, it does have a few downsides that you may like to note. The formula is not easy to blend. You will have to massage it hard to get it all absorbed into your skin. Since it has SPF benefits, you would want to reapply it after two hours. It also piles on reapplication. Sadly, the product may pill when you layer it and leave white spots on your skin. It even may leave a slight white cast on people with darker skin tones.
Value For Money
This CeraVe lotion offers the benefits of two products in one. It is priced at $12.29 which is quite reasonable considering the benefits your get. It is a high-quality product with long-time skin benefits. The lotion offers 3.0 ounces of lotion which will last you several months. Therefore, it is a worthy product.
The Final Verdict
The CeraVe AM Facial Moisturizing Lotion is a decent formula. It moisturizes your skin while combating UV rays. The formula enhances your skin texture, boosts skin elasticity, and maintains the strength of your skin barrier. The product also has the approval of the Skin Cancer Foundation, which proves its effectiveness and safety. It is ideal for daily use. It saves your time and money as you get the benefits of two in one. But, since the product piles when layered, it can't make a good base for makeup. Instead, apply it as a standalone product and enjoy its benefits.
Editor's Rating: 4
We love the way this lotion benefitted our skin. The MVE technology ensures to enliven your skin at all times with its moisture-boosting properties. This product refreshes your skin and keeps it protected. Whatever your skin type is, this potent formulation will help it improve. It brightens your skin and eliminates the signs of aging. Since it is lightweight, you will love it even more and its non-greasy texture will make you reach out for it whenever you are shopping for skin care.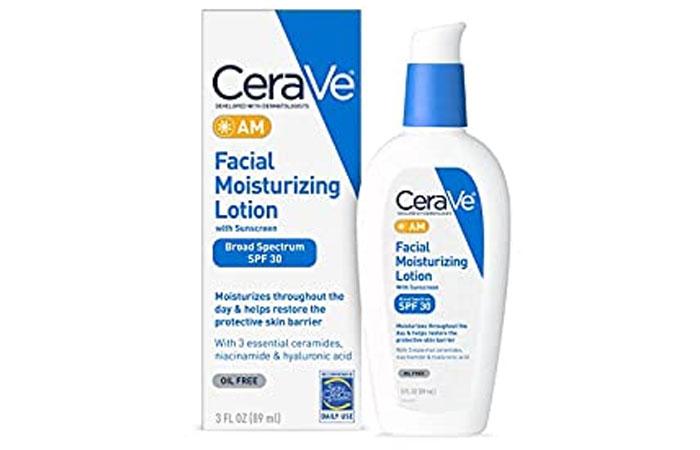 The following two tabs change content below.