My Experience with CeraVe Daily Moisturizing Lotion: A Real-Life Review About The Product
You give your skin a new life with hydration and nourishment. Moisturizing your skin is important regardless of skin type because it helps protect, nourish, and enhance your skin tone. Without sufficient moisture, your skin will appear dry, which can lead to dull, irritated, itchy, and aging skin. If you are not sure how to choose a moisturizer, we are here to help. The CeraVe Daily Moisturizing Lotion will take your moisturizing game to the next level. It is created by dermatologists for your face and body and contains essential ceramides that help strengthen, repair, and protect your skin barrier.
Specifications
Product Name: CeraVe Daily Moisturizing Lotion
Brand: CeraVe
Ingredients: 3 Essential Ceramides and Hyaluronic Acid
Price: $15
Weight: 12 Fluid Ounces
Best For: All skin types. This lotion can be used all over the body, including the face, elbows, feet, and other dry areas of the skin.
Key Benefits
Nourishes The Skin Intensely
One of the most significant advantages of using this best drugstore body lotion is its ability to provide intense hydration to the skin. The CeraVe Daily Moisturizing Lotion contains a potent blend of hydrating humectants and emollients like hyaluronic acid and glycerin. These ingredients prevent water loss and prevent the skin from drying out.
Strengthens The Skin Barrier
The secret to maintaining healthy skin is a strong and well-built natural barrier. It defends the skin against potentially damaging elements like UV rays and pollution. The three essential ceramides repair and enhance the skin's protective barrier.
Soothes Dry, Itchy, And Irritated Skin
This drugstore body moisturizer soothes itchy and irritated skin. With the help of its patented MVE, Multi-Vesicular Emulsion, delivery technology, it provides all-day nourishment to the skin and relieves dry skin.
Non-Greasy And Lightweight
Unlike other heavy-duty moisturizers for dry skin, this best drugstore body lotion for crepey skin is lightweight and non-greasy. It quickly absorbs into the skin without leaving a sticky residue, feeling like a heavy layer or compromising hydration.
One major key benefit that we cannot miss out on stating in our CeraVe Daily Moisturizing Lotion review is its versatility. This multi-purpose lotion can be used on the face as well as body to prevent dryness. The lightweight and non-comedogenic formula makes it ideal for all skin types, including dry, oily, and sensitive skin.
Directions For Use
Cleanse your skin.
Dispense some amount of this drugstore lotion onto clean hands and gently massage the product on your skin while it is still damp.
Apply more as required.
Use it twice every day for the best results.
Quick Facts
The CeraVe Daily Moisturizing Lotion is simple and quick to apply. It is non-greasy and lightweight that absorbs quickly into the skin without leaving a residue or being sticky.
$15
CeraVe is a dermatologist-developed skin care brand owned by L'Oréal. The products are well-known for their gentle, non-irritating formulas suitable for all skin types, including sensitive and eczema-prone skin. From cleansers to sunscreens, they have a wide range of face and body products that target acne, dryness, and other skin concerns.
CeraVe Daily Moisturizing Lotion Review: Features And Extras
CeraVe Daily Moisturizing Lotion is an excellent choice for anyone with dry and itchy skin. This drugstore moisturizer with a mild formula, versatile usage, and smooth application is a staple in many people's skin care routines.
It contains three essential ceramides, which are lipids found in the skin. They help strengthen and maintain the skin's protective barrier.
It is formulated to prevent skin dryness and irritation by reducing moisture loss.
This product contains hyaluronic acid, which helps increase the skin's hydration levels. It plumps and smoothens the skin and prevents early signs of aging.
It is ideal for sensitive skin as it is fragrance-free, preventing allergic reaction.
This body lotion holds the National Eczema Association (NEA) Seal of Acceptance.
The non-comedogenic formula prevents pore clogging, making the product suitable for acne-prone skin.
CeraVe Daily Moisturizing Lotion Review: Does It Work?
Although there are many moisturizers on the market that promise to hydrate and nourish the skin, the CeraVe Daily Moisturizing Lotion delivers on its claims. Although the lotion is lightweight, it effectively hydrates the skin and soothes dryness and itching. This dermatologist-developed product targets sensitive and dehydrated skin with high-quality ingredients that deliver visible results within a few weeks of use. You can mix this drugstore body lotion with a few drops of body or face oil to get the best of both worlds.
Value For Money
The CeraVe Daily Moisturizing Lotion is priced at $15 for 12 fluid ounces of the product. It is also available in another bigger pack for those who adore this product and never want to run out of it! This is the best drugstore body lotion with a great value for money. Also, this popular skin care product has gained a loyal following over the years for its nourishing, dryness relieving, and soothing properties.
The Final Verdict
CeraVe Daily Moisturizing Lotion targets dryness on all skin types. It is an excellent choice for people looking for an affordable, non-greasy body and face lotion. However, we highly recommend that you patch-test any skin care product to avoid allergic reactions.
Editor's Rating: 4.8
We hope this CeraVe Daily Moisturizing Lotion review gives you a detailed insight on the versatile product. This lotion is excellent for achieving optimum hydration and relief from dry and itchy skin. The powerful blend of ceramides and hyaluronic acid with MVE technology provides all-day hydration and healthy skin. Anyone can use this product, even if you have oily or acne-prone skin.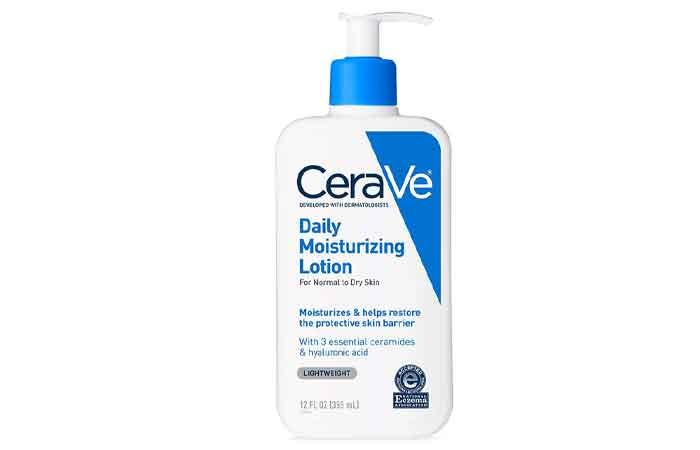 The following two tabs change content below.