Get Voluminous Hair With The John Frieda Volume Lift Weightless Conditioner: A Review
The secret to strong, thick tresses could be as simple as using the right conditioner.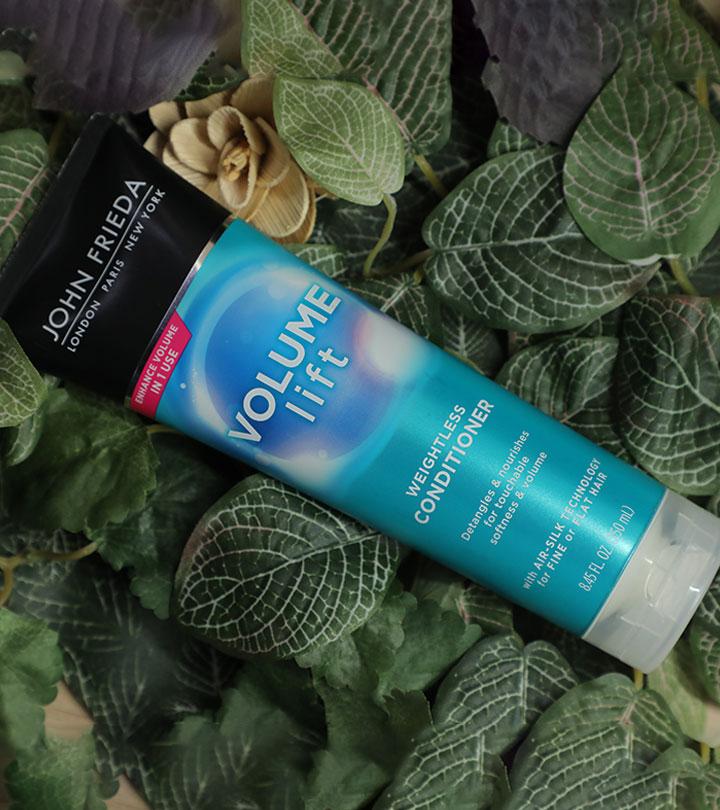 About The Product
Your hair needs the right amount of nourishment to feel voluminous and revitalized. Using a shampoo to treat your tresses is not enough. You need the perfect hair care regimen to develop your strands and aid their growth. Your hair care routine must have a conditioner to help your tresses achieve adequate moisture without product buildup. If you are looking for safer formulations for your precious locks, we have got you covered.
In this review, we will discuss the John Frieda Volume Lift Weightless Conditioner. This conditioner for fine hair offers extra moisture to your tresses, protects them from damage, and detangles your strands with ease. The conditioner is particularly beneficial for thin and damaged hair.
Specifications
Name: John Frieda Volume Lift Weightless Conditioner
Brand: John Frieda
Key Ingredients: Linalool, Behenamidopropyl Dimethylamine, Glycerin, Isopropyl Palmitate, Rubus Chamaemorus Fruit Extract, and Dipropylene Glycol
Price At The Time Of Review: $12.55
Weight: 9.3 ounces
Best For: Fine, thin, and color-treated hair
Key Benefits
The John Frieda Volume Lift Weightless Conditioner is specially formulated to nourish and detangle your tresses while improving the hair texture. Here's what makes this conditioner one of the bests in the market.
It is enriched with potent ingredients including linalool, glycerin, and dipropylene glycol that offer an adequate amount of strength and hydration to the tresses.
The linalool relaxes your scalp and offers anti-inflammatory benefits. The glycerin seals in moisture in the strands and keeps them healthier.
The dipropylene glycol mitigates brittle strands and acts as a thickening agent. It adds fullness to the tresses and maximizes volume.
The conditioner is safe for color-treated hair. It rejuvenates the strands and combats limpness.
How To Use
First, use the John Frieda Volume Lift Weightless Shampoo to gently clean and remove oil, sweat, dirt, and product buildup from the tresses.
Thoroughly rinse off the shampoo.
Take a sizable amount of the conditioner and apply it throughout your wet tresses.
Gently massage the conditioner on your tresses and scalp.
Keep it on for 2 to 3 minutes.
Rinse off the conditioner with normal water.
Safety Information
Keeping your hair free of harmful chemicals and toxins is of the utmost importance. We understand the need for healthy formulas. So, here are a few things about the product to consider.
The John Frieda Volume Lift Weightless Conditioner contains soothing ingredients that do not strip away moisture from your tresses.
The formula is devoid of toxic chemicals, parabens, and sulfates. However, it contains added fragrance which may not be suitable for those with weak skin and hair barriers. Make sure to check with your doctor before committing to the product.
The formula contains cetearyl alcohol and isopropyl alcohol, which may not be suitable for every scalp type. It is recommended to perform a patch test 24 hours before use, to make sure the formula does not irritate your scalp.
Quick Facts
The fine hair conditioner contains a unique air silk technology that offers a balance between volume and care without weighing the tresses down.
The anti-thinning technology in the formula maintains hair density and offers a thicker, stronger feel.
The glycerin in the formula moisturizes the strands and keeps them healthier.
$12.55 for a 250 ml bottle.
The brand John Frieda was established in 1975 when celebrity hairstylist John Frieda opened his first salon in New Cavendish Street. Since then, the brand offers tailored solutions to specific hair issues. It offers customized hair care products for every hair type and helps in combating hair-related issues with simple and effective formulas.
John Frieda Volume Lift Weightless Conditioner Review: Features And Extras
The John Frieda conditioner comprises hair and scalp-friendly ingredients that do not trigger any underlying hair and skin conditions. The ingredients soften the tresses, add volume, and enhance shine.
The formula contains behenamidopropyl dimethylamine that helps nourish and detangle your locks, without pulling or tugging.
This thin hair conditioner is color-safe. It contains isopropyl palmitate that adds smoothness to the tresses and works best on color-treated hair.
The rubus chamaemorus fruit extract in the formula moisturizes your locks and offers soothing benefits.
The formula is lightweight and does not weigh the hair down. Its anti-thinning technology also prevents hair fall.
It is free of parabens and sulfates.
John Frieda Volume Lift Weightless Conditioner Review: Does It Work On My Hair?
Yes, this John Frieda conditioner works on every hair type, especially on fine and thinning hair. People with thinning hair will benefit from the potent formula that strengthens the tresses and adds volume at the roots. It moisturizes the tresses thoroughly without weighing them down. The air silk technology also helps in nourishing and detangling quickly. The anti-thinning technology minimizes hair fall and promotes better shine and bounce.
It also works on color-treated hair. The formula improves the texture of chemically-processed hair and makes the tresses softer. It moisturizes the drier strands and reduces the possibility of brittle hair. Many hair care enthusiasts have appreciated the product for its weightless formulation, zero product buildup, and lovely scent.
Value For Money
The John Frieda Volume Lift Weightless Conditioner does what it promises. It thickens your hair, enhances softness, and helps in quick detangling. The product is quite affordable as well. It charges $12.55 for a 250 ml bottle. Having said that, the brand does not negotiate between quality and quality. The formula is enriched with ingredients that truly cater to finer and thinner strands and effectively rejuvenate your hair.
The Final Verdict
Choosing a hair care product for fine and thinning tresses can be daunting. Any wrong ingredient may trigger further thinning, breakage, and whatnot! However, this conditioner is an exception. Upon testing the product, we came to the conclusion that it thoroughly nourishes and rejuvenates the tresses. The lightweight formula does not feel heavy on the strands or create unnecessary product buildup.
This potent conditioner significantly reduced hair fall and offered great volume. It also enhanced shine and minimized detangling issues. However, the product triggered frizz and flyaways on the reviewer's hair.
This conditioner for thinning hair performed well on color-treated tresses as well. It smoothened and moisturized the strands without stripping the color away. The formula also enhanced the color and added more gloss to the tresses.
Editor's Rating: 4
Everyone should have a customized hair care regime to keep their tresses nourished and protected. If you are someone with fine, thinning, and brittle hair, we hope this detailed review of the John Frieda Volume Lift Weightless Conditioner helps you make an informed decision about purchasing the product. The product rejuvenates thinning hair without any irritation or allergic reactions. This conditioner for fine hair will protect your hair shafts from damage and make your tresses softer and easier to manage without compromising on the volume.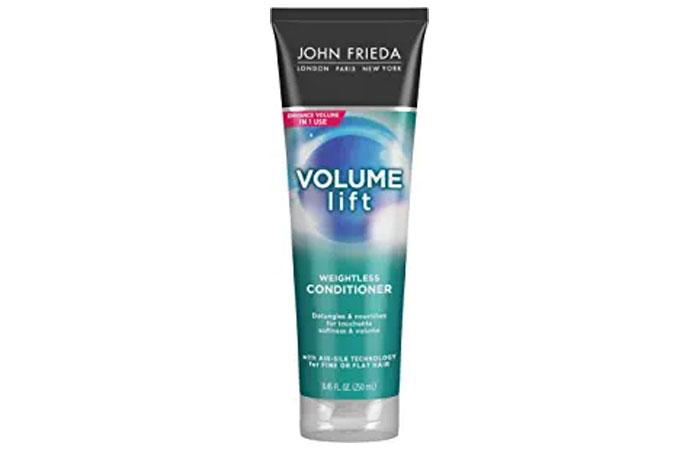 The following two tabs change content below.