Tried & Tested: Why Mario Badescu AHA Botanical Body Soap Is The Best Choice For Your Skin
This skin-friendly AHA-based formulation understands the assignment. About The Product
Taking care of your skin can never go out of style. It is important to choose skin-friendly products and use them in the right ways to keep your skin soft, supple, and clean. While we purchase facial products just fine, the problem begins when we need to cater to major skin care issues in the rest of the body. If you are looking for safer formulations for your body, especially to get rid of acne, aging signs, and spots, we are here to help you out.
In this review, we'll talk about the Mario Badescu AHA Botanical Body Soap. This AHA body wash removes body acne, exfoliates dead skin cells, and boosts your skin's moisture content. It also corrects hyperpigmentation and prevents skin irritation, while keeping your skin revitalized and protected.
Specifications
Name: Mario Badescu Skincare A.H.A Botanical Soap
Brand: Mario Badescu
Key Ingredients: H.A, ginseng, grapefruit, linden hydrate, and oatmeal
Price At The Time Of Review: $13.30
Weight: 8 fluid ounces
Best For: Normal skin, dry skin, acne-prone skin, and sensitive skin
Key Benefits
The Mario Badescu Skincare A.H.A Botanical Soap is specially formulated to improve uneven skin texture and combat issues like acne and blemishes. The following points state why this glycolic body wash is right for you.
The AHA body wash is enriched with potent ingredients that rejuvenate the skin. Oatmeal soothes the skin, while ginseng offers antioxidant benefits. The grapefruit extract increases the skin's moisture content and combats premature aging signs.
This body wash with glycolic acid gently exfoliates the skin while reducing fine lines, wrinkles, and hyperpigmentation. It offers a refreshing feel to your skin while clearing out clogged pores.
The product has soothing properties that rejuvenate and revitalize dull and troubled skin. The linden extract offers adequate hydration and calms the skin.
This body wash contains oatmeal extracts, which protect the skin against harmful UV rays and reduce inflammation. The formula also reduces dark circles, and spots, and smooths out the skin's surface.
Directions For Use
To use the body soap, take a generous amount of the product on a sponge, loofah, or a soft cloth.
Gently scrub the sudsy formula all over your wet skin for gentle exfoliation and adequate hydration.
Rinse off the product with lukewarm water.
Use it daily to notice improvements in skin texture and skin-related issues.
If you have drier skin, use this body soap 2-3 times a week followed by an AHA-based serum and lotion in order to seal the deal. If your skin is too sensitive, make sure to consult your dermatologist before using any AHA-based skin care solution.
Safety Information
Keeping your skin free of harmful chemicals and toxins is of the utmost importance. We understand the need for healthy formulas. So, here are a few things about the product to consider.
The Mario Badescu AHA Botanical Body Soap contains soothing ingredients that exfoliate gently, without being harsh on delicate skin.
The formula is devoid of toxic chemicals, paraben, phthalate, talc, or added preservatives.
It contains sulfate as a surfactant which is well-known for its cleansing properties. However, it can cause irritation in some people. So, perform a patch test 24 hours before use, and if that goes well, you can use this body soap safely.
Quick Facts
The formula contains glycolic acid that clarifies and exfoliates the skin while brightening its tone.
The linden extract and oatmeal hydrate the skin and soothe it from within.
The alpha hydroxy acid provides protection from redness and inflammation.
$13.30 for an 8-fluid ounce bottle.
The brand Mario Badescu was established in 1967. It offers solutions related to acne, anti-aging, and your skin's overall health. Mario Badescu specializes in offering customized skin care regimens and caters to every skin type. Its philosophy is to provide simple and effective skin care solutions to women of every age. At present, Mario Badescu has a line of 200 skin care products around the globe.
Mario Badescu A.H.A Botanical Body Soap Review: Features And Extras
The Mario Badescu AHA body wash comprises skin-friendly ingredients that do not trigger your skin conditions. The ingredients penetrate the skin to help control body acne and blemishes while hydrating it.
This body wash contains glycolic acid that gently exfoliates the skin while reducing fine lines, wrinkles, and fading hyperpigmentation.
It offers a refreshing feel to your skin while clearing out clogged pores.
The product has soothing properties that rejuvenate and revitalize dull and troubled skin.
This alpha hydroxy body wash is suitable for every skin type, especially dry and dull skin. It evens out the skin's texture, reduces flakiness, and speeds up the overall cell turnover.
The formulation is paraben-free, phthalate-free, talc-free, and gluten-free.
The product is also vegan and cruelty-free.
Mario Badescu A.H.A Botanical Body Soap Review: Does It Work?
Yes, this alpha hydroxy body wash works on every skin type, especially on dry skin. It leaves drier skin types feeling brighter, smoother, and softer. It thoroughly cleanses and exfoliates the skin with its glycolic acid formula. The natural botanicals help dry and dull skin combat acne while achieving a luminous glow. It also foams up well and keeps the skin from drying out further.
It is an effective product for people with troubled skin and dry skin. This chemical exfoliating body wash clears out body breakouts and reduces the issues of strawberry legs and arms. The non-sticky formula provides instant hydration to the skin and its antioxidant properties neutralize free radicals and enhance the skin's natural texture.
Even though it is mostly suited for dry skin, it also benefits people with oilier skin types. The formula works wonders on the constant breakouts in oily and acne-prone skin and controls excess sebum while keeping your skin moisturized. The calming gel formula of the Mario Badescu body soap is suitable for normal, acne-prone, and sensitive skin types as well. The product forms a soapy lather all over the body. It can be used on areas that have developed acne, scars, and premature aging signs. The formula is best preferred in the warmer months but is suitable for use throughout the year.
Value For Money
The product does what it promises. It cleanses well and helps in the improvement of the skin's natural texture. The Mario Badescu AHA Botanical Body Soap is affordable, and you receive the benefits that you pay for. The brand does not negotiate between quality and quantity. The formula is made of high-quality ingredients that offer great benefits to the skin.
The Final Verdict
People with dry skin often end up settling for products that are only partially suitable for their skin type. However, this AHA body wash is an exception. The Mario Badescu A.H.A Botanical Body Soap enhances the skin's natural glow and brightens the skin tone from within for you to achieve your "lit-from-within" look.
Upon testing the product, we found that it visually reduced body acne while soothing the sensitive areas of the skin. The sudsy lather offered gentle exfoliation that removed stubborn dirt and dead skin cells without hurting the delicate parts of the skin.
The product offered a brightening effect and a significant glow to the skin without making the skin dry. Not only did the formula reduce body and back acne, but it also made the skin appear cleaner and highly rejuvenated.
However, if you are someone who is easily triggered by different scents, this formulation may not be a good choice for you. If you have excessively dry skin, the formula may take a couple of weeks to show positive results. Some people experience flakiness while using AHA-based formulas. In that case, it is best to steer clear of this body soap.
Editor's Rating: 4
Skincare enthusiasts understand the importance of choosing the right products as per skin type, tone, and texture. We hope this detailed review helps you make an informed decision about purchasing this product. This product helps rejuvenate your skin without triggering sensitive skin issues and allergies. With the help of this body wash, your skin will also remain protected from environmental aggressors and harmful UV rays, which is always a bonus!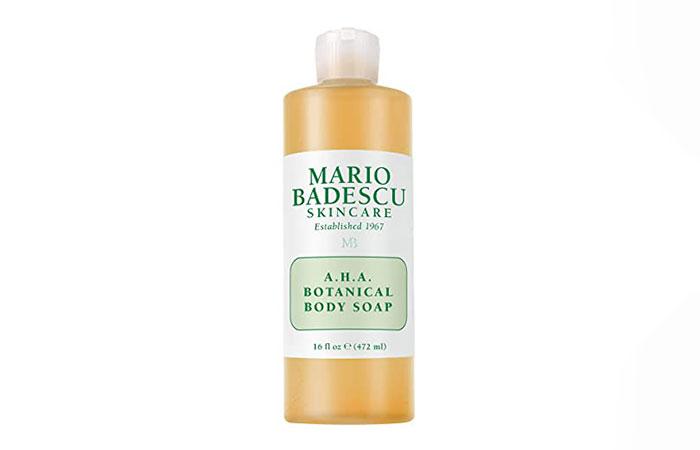 Recommended Articles
The following two tabs change content below.