We Tried The Physicians Formula Bronze Booster And It Gave Us The Perfect Sun-Kissed Glow
Adorn your olive skin with the satin, shiny warmth of the Physicians Formula Bronzer. About The Product
Healthy glowing skin is what everyone yearns for, but with daily hectic schedules, it gets difficult to have it naturally. But, if you have an olive skin tone, only a hint of shine is enough to lift your appearance. The best bronzers for olive skin are what you need to achieve that 'oomph' effect in your skin and what is better than the Physicians Formula Bronze Booster Glow-Boosting Bronzer? It is a triple-action bronze-boosting formula that imparts a healthy-looking tan to your face and makes it look gorgeous. This bronzer also works as a highlighter, not simply because of its shimmery glitters but because it intensively moisturizes your skin, making it shine from within.
In this review, we will be focusing on the Physicians Formula Bronze Booster Glow-Boosting Pressed Powder. It is a drugstore bronzer that can also work to contour and highlight your face.
Specifications
Name: Bronze Booster Glow-Boosting Pressed Bronzer- 1-Light To Medium
Brand: Physicians Formula
Key Ingredients: Kapi kacchu seeds, Serotonin siliqa, and Vitamins C and E.
Best For: All skin types, including sensitive skin
Range Of Shades: 2 (Light to Medium and Medium to Dark)
Package Includes: Mirror and Mini brush
Price At The Time Of Review: $10.45
Weight: 0.0187 lbs
Key Benefits
Physicians Formula has launched its Bronze Booster Glow-Boosting Pressed Bronzer to offer a one-stop solution to people desiring to achieve a sun-kissed glow at all times. Here are the features that make it a cut above the other bronzers in the market.
It is a lightweight formula that glides seamlessly on the skin.
It is free of 150-plus common irritants and synthetic fragrances, making it safe and ideal for sensitive skin.
It imparts your skin with a long-lasting shine and adds a subtle warmth.
It is a supremely blendable formula with a satin matte finish that offers a slight contouring effect.
The bronzer has a beautiful golden effect to it which makes your skin glow without making it look orangish.
The formula's Kapi kacchu seeds and phospholipids nourish your skin and extend the tan effect and ceratonia siliqa enhances the overall glow of your skin. It also has vitamins C and E to improve skin clarity and protect it against harsh aggressors.
The bronzer comes with a compact mirror and a mini soft brush.
How To Use
Swipe the brush on the bronzer. Then, tap the brush on the edge of the case to remove the excess product.
Gently swipe the brush on the high points of your face, like on your cheeks, chin, and temples. Start by applying the bronzer on your cheeks, then move along the temples in a 'C' formation.
If you want to accentuate your face structure and highlight your jawlines, dust the product evenly on your cheekbones to get a chiseled look.
Finish off by dusting the bronzer slightly on the tip of the nose to get a well-rounded summer-appropriate glowy warmth.
Safety Information
Physicians Formula was initiated to launch beauty products free of common irritants.
This bronzer is hypoallergenic and is free of more than 150 irritants, like, paraben, phthalates, SLS, gluten, and synthetic dyes.
The bronzer is also free of any artificial odorants that may cause nausea.
It is not tested on animals.
Quick Facts
Adds a subtle warmth and long-lasting shine to your skin.
Nourishes your skin and enhances the overall glow.
$10.45
Physicians Formula was founded by a leading allergist, Dr. Frank Crandell, in 1937 as an expression of love for his wife, who suffered from lupus. His wife longed for makeup but no cosmetic product could suit her sensitive skin. So, Dr. Crandell started this brand with the idea of 'healthy beauty' in mind and manufactured only hypoallergenic products.
Physicians Formula Bronze Booster Glow-Boosting Pressed Bronzer Review: Features And Extras
The Physicians Formula Bronze Booster Glow-Boosting Pressed Powder is a brilliant formula with a smooth and lasting glowy finish. Some of the unique features that make it so lovable are:
It is a lightweight, powdery bronzer with a warm undertone. It has a perfect satin finish with a hint of shimmer that imparts a natural, sun-kissed glow to your face.
Ii is infused with glow-activating ingredients, a perfect blend of moisturizers, and skin-benefiting vitamins, that lift your skin's appearance and make it appear plump and hydrated. The antioxidants in the formula protect your skin against free radical damage and improve your skin clarity.
The bronze glow stays on the skin for a good 8 to 10 hours, thus saving you from constant touch-ups.
It has an easy-to-glide texture that applies seamlessly to your skin, masks up the uneven patches, and hides your pores in an instant.
The blendable texture of this bronzer helps achieve the correct warm glow.
This bronze booster comes in a bulky but practical packaging. It has a bronzer pan which is placed above another compartment that has a fixed mirror and a mini brush, thus making it a travel-friendly option.
Physicians Formula Bronze Booster Glow-Boosting Pressed Bronzer Review: Does It Work?
Choosing a bronzer that suits your skin type can be difficult, as some do not blend well, while some do not last long. The Physicians Formula Bronze Booster Pressed Bronzer is an absolute exception. It settles on the skin without creating any unappealing streaks and offers hydrating benefits. It has no odor whatsoever, making it suitable for sensitive noses. Unlike many bronzers that are deemed high-quality in the makeup world, this bronze booster does not make your skin look orangish and can be easily removed without leaving any patchy stains. The slight gold shimmers in the bronzer impart your skin with a radiant shine and offer a slight contouring effect. The illuminated tan look which many desire to achieve is just a cakewalk with this versatile product. It offers your face a controlled shine and renders it with the right warmth for many hours. However, you can easily layer it up if you feel the need after a few hours without worrying about developing patchy lines.
Value For Money
As far as drugstore brands go, its price point is steep, but looking at what it offers, you will be forever ready to splurge on this bronzer. It also lasts long and you will need only a little amount of the product to amp up your makeup game every time. In addition, its packaging is practical as you get a moderate-size mirror and an efficient applicator brush. So, you will not mind paying around $10 for this high-quality bronzer with no irritants.
The Final Verdict
The performance of this bronzer is beyond excellence. It will last on your skin for the whole day and give you the right amount of warmth. It will not melt away even when you sweat or create grayish patches if you have dry skin. We most ardently admire this product and recommend it. To achieve a gorgeous tan look, apply this bronzer sparingly on your neck area as well. Plus, it is free of 150 harsh irritants, so you will never have to worry about any kind of skin reaction. All in all, it is an amazing product with only a few flaws. We would like if the brand widens its shade range to cater to different skin tones.
Editor's Rating: 4.3
We love the formula, its staying power, and its feel and look on the skin. The bronzer manages to give your face a subtle sparkle. You can now achieve proper sun-kissed skin even on a cloudy and drowsy day. Although a powder formula, the product does not feel grainy or patchy but delivers a seamless and smooth finish to your skin. It lasts on the skin for the whole day without the need of touching it up. We adore the satin matte look of this bronze booster. The best part, the product does not irritate your skin, since it is free of common irritants.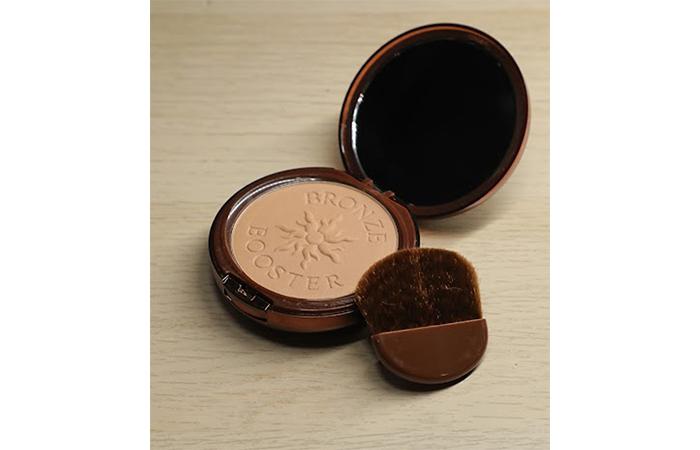 Bronze Booster Glow-Boosting Pressed Bronzer- 1-Light To Medium
Buy On Amazon
Recommended Articles
The following two tabs change content below.