3INA The Longwear Lipstick Reviews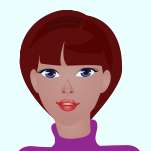 I loved this product and it's very smooth. I'll try this more n more! I like to use daily and it's texture is so good. It defines proper correctness and lips look so good. I enjoy using this product and recommend my friends also. I am using this product from a month and can feel the result.
View More…
3INA The Longwear Lipstick has a creamy formula that will win your hearts for achieving the perfect pout. It swipes gently on the lips, delivering highly pigmented, vibrant colors. The long-lasting formula delivers a silky matte finish. Packed in a sturdy lip gloss container, it comes with a doe-foot applicator that allows precise and smooth application on the lips. Available in 20 shades, this cruelty-free, vegan-friendly formula is all you need to pump up your day.
How To Use 3INA The Longwear Lipstick ?
Start applying the lipstick from the cupid's bow and slowly move towards the outer corners, following the contours of your mouth.
Repeat the same for the lower lip and fill in.
3INA The Longwear Lipstick Benefits And Uses :
Intense color pay-off.
Creamy consistency.
Delivers a silky matte finish.
3INA The Longwear Lipstick Shades (Colors) :
501
502
503
504
505
506
507
508
509
510
511
512
513
514
515
516
517
518
519
520