LEAVE A REVIEW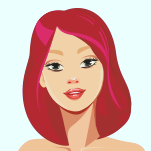 PROS
Long lasting fragrance.
Beautiful feminine packing.
I am doing my major part of shopping online only as I am busy with work and kids. I have learned the skills of online shopping and also I shop on websites who are trustworthy and give me an option of return if not satisfied. This is how when I was shopping for some home stuff there was a pop up on the Carolina Herrera 212 VIP Rose Eau De Parfum. The offer was very convincible hence I chose to buy it. The outer box looks reddish pink with a glossy letter on it. It is one of the best packings that I have seen. The box was sturdy too, thus I can store the perfume back in the box safely. The fragrance now, it has the smell of fresh flowers. There is a mix of floral and woody notes in the perfume. The description on the website was of Jasmine as the top notes, the heart notes smell like the tuberose and the base notes are off cedarwood and sandalwood. Overall I like the perfume for the floral fragrance, beautiful and sturdy packing.
View More…
Other Carolina Herrera Products
View all
No item found