LEAVE A REVIEW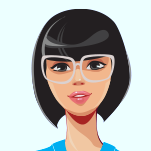 PROS
Effective on dark circles.
Travel friendly serum.
Moisturize delicate skin.
No Paraben.
No colorants.
I was looking for an eye serum as my work demands me to login in at night time mostly that is leading to dark circles around my eyes. In the mornings there is a lot of fluffiness, redness, etc. An eye serum will help to relieve your eyes from the stress and relax the sensitive tissues around the eyes. The continuous usage of the eye serum will help to get rid of fluffed eyes; it can also work on reducing the wrinkles around the eyes. Dermalogica Ultrasmoothing Eye Serum is rich in brown and red algae and golden chamomile. These are the main ingredients that will eliminate the fine lines and wrinkles around the eyes efficiently. This serum is fragrance –free, it is a nongreasy formula that will seep into the skin and be quickly absorbed. The ultra calming complex technology reduces all the sensitivity and puffiness that you have in the mornings, regular use of the serum will help you achieve younger-looking skin, the wrinkles will visibly reduce and make the skin soft and supple.
View More…