LEAVE A REVIEW
No Image Uploaded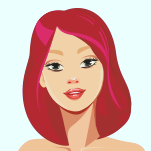 PROS
Strengthens and nourishes hair.
Get younger looking hair.
No stains on hands, face and scalp.
Natural black color.
For men and women.
3 in 1 product.
My mother was looking for good hair colour and I wanted to help her by getting her a good product as she has sensitive skin and very much prone to allergies. She is very scared to use chemical-based products. When a friend of mine suggested the product I thought of giving it a try. Vip hair colour shampoo claims to be 100% natural plant-based hair shampoo. They are nourishing and covers the grey hair completely. This is all in one product it works like a shampoo that provides colouring and also conditions the hair. The conditioning makes hair smooth and shiny. The colour forms a protective layer on the hair and also the plant ingredients promote blood circulation. The best part of the product is that the shampoo does not stain your skin and it is completely Ammonia-free, this hair colour can be used by men and women both, The sachet is travel-friendly and so easy to use that you need not spent too much time in the hair colouring process. You will like the product for its quality.
View More…