LEAVE A REVIEW
No Image Uploaded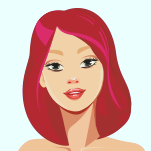 PROS
Travel friendly bottle.
No Paraben.
Gluten-free.
Eco-friendly.
Safe on co loured hair.
Less quantity required.
Paul Mitchell Super Skinny Serum is a hair serum that is safe on coloured hair also. After colouring my hair I wanted to maintain the colour and the smooth texture for a long time. I took the suggestion of my salon lady and decided to buy the serum. It was a bit expensive than other products that I have used earlier. Anyways I purchased the serum and started to use the serum. It is pretty easy to apply and I do not require small quantity. My hair feels silky and shiny. The serum spreads well and does not feel sticky. I apply it two times in a week which makes it good enough to makes my hair softer. I have medium length hair, when I use the serum it makes my hair frizz-free and hair is better manageable.
View More…