LEAVE A REVIEW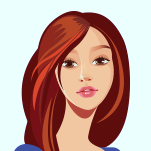 PROS
Makes skin smooth and matt.
Gets absorbed quickly.
Moisturizes skin, without making it oily.
Keeps skin oil free for sometimes.
Hygienic packaging, no product wastage.
I wanted to incorporate a serum in my skin care routine for quite some time and this is the first serum in my skin care routine. This serum is light in texture and white in color, which changes its color to pink once it comes in contact with skin .It spreads very easily and gets absorbed into the skin quickly, and it smells very flowery. I have not used any serum before, but I have read that serum has finer particles than normal creams and so its gets absorbed into the skin quicker and deeper. I am able to feel it, compared to all the day and night creams I have used so far, this serum feels to have very fine particles which goes into the skin like magic. In the pack, they have also suggested a sculpting regime which I am following from the last two weeks.After 3 weeks of regular usage, my skin feels smoother than before and dark spots are reducing visibly. It claims to increase glow, fairness, hydration and elasticity of skin which I feel it is doing to a great extent. It also claims to reduce sebum, wrinkles, pore size and dullness, I saw reduction in sebum but no reduction of lines and pore size. On the whole, it works good to moisturize skin, and works well as makeup base for combination skin.
View More…