Cooling agent

Exfoliant

External Analgesic

Moisturizing

Pore refiner

Replenishing

Skin Conditioning

Skin Hydrating

Skin protecting
View More
Special Ingredients
Potential Negatives

Irritant

Paraben

PEG

Silicone
Additional details
Note: Our analysis counts for the known ingredients out of total ingredients , Some ingredients remain undisclosed from the brands and some we might not have enough information
Biore Deep Cleansing Charcoal Pore Strips Reviews
PROS
Travel -friendly packaging
Suitable for all skin types
Easy-to-use
Cruelty-free
Vegan
This product is really good .when I first saw this I was scared to use it because we have to peel it off after use but I have used it and it is an truly amazing product.fragrance is really good .it is really affordable . Anyone can use it easily. travel friendly product.
View More…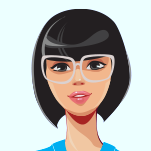 PROS
Travel -friendly packaging
Suitable for all skin types
Easy-to-use
Cruelty-free
It does the job, just apply it on your nose and take it off after 10-15 min. You'll notice the black and white heads coming out, with the strip, always scrub before using it for best result. Use it once a week, or twice if you have really face black or white heads issues. It's easy to carry, and easy to use. Must try. You'll love the result.
View More…
Biore Deep Cleansing Charcoal Pore Strips is all you need to unclog pores and remove accumulated grime, blackheads instantly. Formulated with natural charcoal, this deeply cleanses skin in just ten minutes. It eliminates excess oil from the skin, and deeply built dirt from the pores to prevent blackhead formation. With regular usage, the size of the pores minimizes, leaving skin soft, smooth, and squeaky clean. These cruelty-free and vegan strips are effective to be used on all skin types.
How To Use Biore Deep Cleansing Charcoal Pore Strips ?
Wash your face and thoroughly wet your nose.
Twist the strip to loosen and separate slits to open.
Peel the strip off plastic liner.
Apply to nose and smooth the sides down to let it stick properly.
Let it dry for 10-15 minutes and peel off gently from the edges.
Use weekly once.
Biore Deep Cleansing Charcoal Pore Strips Benefits And Uses :
Removes blackheads.
Removes excess oils.
Deeply cleanses and unclogs pores.
Makes skin smooth and clear.
Minimizes the sizes of the pores.
Biore Deep Cleansing Charcoal Pore Strips Ingredients
STYRENE/STEARYL METHACRYLATE CROSSPOLYMER