Blue Heaven Innocence Matte Lipstick Reviews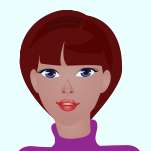 PROS
Travel-friendly
Lightweight
Superior pigmentation
Glides smoothly
All colors of Blue Heaven are awesome and unique. It keeps lips so soft and smudge-free. You can carry it with you anywhere. It is also a long-lasting product. I also use this product for more than 6 months, and I also recommend this brand to all my friends.
View More…
Blue Heaven Innocence Matte Lipstick is a royal matte lipstick that imparts brilliant color while protecting and nourishing the lips. The lipstick enables a lovely matte finish and shine and glides on with complete ease on the lips. The rich pigmentation feature helps color to disperse in one stoke on the lips. The range has 12 beautiful shades that cater to various skin tones and complement different moods. The lipstick has a lightweight texture and stays put all day without smudging. Lips feel soft, nourished, and hydrated with the usage of the lipstick. It is suitable to be worn by people of all skin types.
How To Use Blue Heaven Innocence Matte Lipstick ?
Twist the lipstick upwards and apply shade to cleansed lips.
Swipe the desired shade lipstick starting from the center of the lips to outer corners.
Follow the natural lines of your lips.
For more precision, apply the lipstick using an applicator brush.
Blue Heaven Innocence Matte Lipstick Benefits And Uses :
Adds a brilliant color to your lips.
Nourishes and hydrates your lips.
Settles into a matte finish.
Makes lips soft and supple.
Blue Heaven Innocence Matte Lipstick Shades (Colors) :
Red Orange-01
Baby Pink-02
Orange-03
Pink-04
Dark Purple-05
Peach-06
Orange-07
Coffee-08
Pink-09
Mauve-10
Red-11
Pink-12