Chambor Smoky Eyes Intense Kohl Reviews
PROS
Intense pigmentation
Glides smooth
No mineral oil
No irritation
This is a kajal every girl should have in her purse. It makes your eyes look bold and beautiful, it is creamy and gets applied in only stroke. This can be used to make your eyes have a smokey look, we only required kajal and a brush and we can create smoky eyes and it will give a perfect finish.
View More…
PROS
Glides smooth
No irritation
long lasting
perfect finish
Chambor kajal as name suggest is helpful in creating smokey eyes, you just have to dab a little amount of kajal and you can see the magic, it is dense and long lasting for any occasion. This kajal is also helpful for office and daily wear as just a stroke of it and it is done creating glam. I highly recommend this product.
View More…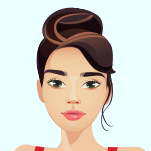 PROS
Intense pigmentation
Glides smooth
No irritation
Chambor smoky eyes intense kohl is one the best kohl available in india. It may be little costly but it gives a amazing look and texture when drawn over the eyes. It comes in different colours and it's less shiny and give a luxury look. It feels it's smudge free as in never smudged unless I rubbed it on my own. You can easily go for it to get a glamorous night look.
View More…
Chambor Smoky Eyes Intense Kohl has a velvety texture that glides smoothly on the eyes. It has a no-smudge formula that easily sets and does not fade or smudge easily. The staying power of this kohl is amazing, as it stays almost all day long. This kohl has an intense black pigmentation that gives definition to the eyes. It is perfect as all-day wear as it does not irritate the eyes and is waterproof. This kohl has a beautiful matte finish. It is also free from paraffin and preservatives. The rich and smooth pigmentation does not stretch the skin as it always stays moist. This is the ultimate kohl for every occasion.
How To Use Chambor Smoky Eyes Intense Kohl ?
Glide smoothly on the upper eyelids along the waterline.
You can use it similarly on the lower waterline as well.
Chambor Smoky Eyes Intense Kohl Benefits And Uses :
No-smudge formula that does not budge on the lashline.
Waterproof and smudge-proof eyeliner that stays on for a long time.
Defines your eyelines to give you a brighter and bolder look.
Chambor Smoky Eyes Intense Kohl Shades (Colors) :