Colorbar Luxe Nail Lacquer Reviews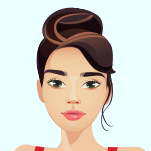 PROS
High-gloss formula
Chip-resistant
Non-yellowing
Travel fiendly packaging
After drying nailpaint on sides get peeled off easily
No mess
Bristle of the brush are really good
I had this nail paint in blue shade and I really like it but if I'll go for a nail paint it's a bit costly as it looses it shine ( gloss after sometime) best thing that I feel about it is that it doesn't get messy after the nail paint dries up u can just peel of the residue. Bristles of the brush are really Good.
View More…
PROS
High-gloss formula
Creamy formula
Chip-resistant
Non-yellowing
Non-carcinogenic
Paraben free
Travel fiendly packaging
Cruelty-free
Sharing a nail polish from my all time favourite brand Colorbar. Colorbar nail polish is unique formulation combines with intense color and incredible shine to create perfection and also, Non-yellowing, Non-carcinogenic, Environment-friendly, Paraben-free, Cruelty-free and amazingly pigmented. Requires at least 2 coats to be completely opaque. Stays without chipping for more than a week.
View More…
PROS
Non-yellowing
Travel fiendly packaging
Cruelty-free
color bar nail paints are very vibrant, it matches to all skin tones. After applying the nail paint you can see that there is glossy touch in your nails which bring shine. it is long lasting even if you use it with more exposure to water. they are not expensive but quality is just perfect :)
View More…
Colorbar Luxe Nail Lacquer is a nourishing nail color formula that delivers the peppiest colors with a lustrous glow finish. Comprised of browns, blues, nudes, corals, greens, reds, pinks, purples, yellows, metallics, clear, and black and white, this nail lacquer is available in 90 vibrant shades. The creamy formula doesn't yellow and is chip resistant. The wide applicator allows end-to-end coverage in a single, effortless swipe.
How To Use Colorbar Luxe Nail Lacquer ?
Apply one base coat to clean, dry nails.
Apply your favorite shade from the Colorbar Luxe Nail Lacquer range.
Let the first coat dry and then re-apply a second coat of the nail lacquer.
Finish by applying one coat of Luxe Top Coat to sela the color and gloss.
Colorbar Luxe Nail Lacquer Benefits And Uses :
Adds a vibrant color to your nails.
Creamy formula that sets smoothly on your nail bed.
Chip-resistant formula that lasts long.
Colorbar Luxe Nail Lacquer Shades (Colors) :
008 Dazzling Mauve
011 Baby
013 Flirt
014 Kiss Me Darling
015 Rosie
016 Mauve Like Me
017 Pink Promise
020 Pink Ice
021 Sweet Mama
025 Russian Red
029 Berry Nice
031 Vamp
035 Phantom
037 White Maze
040 Magical Green
044 Candy Romance
046 Flaming Red
047 Peach Rose
048 Bubbly Pink
050 Love Her Madly
057 Rusky Beauty
058 Red Enigma
059 Riot Red
064 Sunrise
066 Haute Rouge
068 Baby Pink
072 Pink Rusk
076 Black Maze
079 Pretty Please
080 Hearts and Tarts
081 Over The Top
083 All Fired Up
084 Fushia Fix
085 Oh mY Magenta
088 Turquoise
092 Rose Quartz
094 Pink Lady
095 Tangerine Mojito
096 Lime Margarita
097 Plum Grenadine
098 Bloody Mary
099 Pina Colada
100 Icy Silver
101 Autumn Rose
102 Sizzling Pink
103 Dusky Mauve
104 Ice Spice
105 Peacock Blue
106 Flirty Mauve
108 Top Coat
112 Peach Fix
113 Adore
114 Orange Pop
115 After sunset
123 Fruit Punch
125 Malibu Breeze
126 Naturale
127 Manicure Pink
128 Pink Crepe
129 Ballet Slipper
130 Peach Muffin
131 Pink Things
133 First Crush
134 Lollipop
135 Grape Vine
136 Orchid Muse
139 Magenta Stash
140 Sherbet
142 Sangria
143 Royal Plum
145 Heroine
146 Gingerbread