Anti Aging

Moisturizing

Skin Conditioning

Solvent
Special Ingredients
Potential Negatives

Allergens

Comedogenic Rating (2)

Fungal Acne Trigger

Silicone
Additional details
Note: Our analysis counts for the known ingredients out of total ingredients , Some ingredients remain undisclosed from the brands and some we might not have enough information
Certifications

Dermalogica Hydrablur Primer Reviews
No Image Uploaded
PROS
Refines pores
Reduces fine lines
Easy-to-use
Travel friendly
Smooth finish
Good base for makeup
Natural finish
Suits all types of skin
Hydrates skin
Reduces oil
Non greasy
-Let's talk about primer today. I love @dermalogicain @dermalogica as a company, I spoke about their skin resurfacing cleanser sometime back and today I am here to tell you all about their hydrablur primer. -It is a lightweight and non-greasy primer. -It minimises the appearance of fine lines and wrinkles, mattifies against oily shine and imparts a silky, smooth finish. -You can wear it over your moisturiser, or after moisturiser and before foundation for a lasting make-up finish. -It can also be worn alone for flawless-looking skin. -Also, if you want ann added blurring effect you can apply it with a damp sponge or foundation brush. -It is Gluten free, vegan, paraben free, cruelty free and contains no artificial fragrances & colors -You get about 22ml of product for Rs. 4,150 available on @mynykaa @nykaabeauty and their website❣️
View More…
No Image Uploaded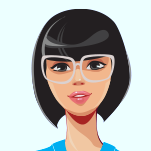 PROS
Refines pores
Easy-to-use
Smooth finish
Good base for makeup
Reduces oil
Covers well
It really covers the pores well...I am glad to see a noticeable difference after application of this hydrablur primer on my skin...I have been using it for more than a month now..for my formal looks I apply a little less in quantity but when I have a party to attend or for an evening I make sure the quantity is higher that gives a good finish too...the overall appearance is very good...so glad to be using it...it has become my go to product ever since I bought it
View More…
No Image Uploaded
PROS
Silky smooth finish
Forms a good base for makeup
This is a lightweight primer that helps in hiding all the fine lines and wrinkles effectively and preps up the skin for make up. It is very soft and smooth in texture and blends well with the skin. It makes the skin look smooth and silky. It gives a radiant look to the skin. This primer is non greasy and also reduces the oiliness in the skin. It minimizes the appearance of the pores, fine lines and wrinkles. It also hydrates the skin and gives it a soft and supple feel. It forms a smooth base for make up. It comes in a travel friendly tube and is easy to use and apply. It blends well on the skin without leaving back any residue.
View More…
Dermalogica Hydrablur Primer is a light weight primer that helps to minimize the appearance of fine lines and wrinkles. It imparts a silky luminous finish to the skin. This product consists of a hydrating formula which keeps the skin soft, smooth and supple. It refines the pores and reduces the oiliness in the skin and gives a shiny radiance to the skin. It is a non-greasy primer and gives a smooth finish as a base under the makeup. It brightens the skin and gives a natural looking flawless skin. It is suitable for all skin types and also all climatic conditions.
How To Use Dermalogica Hydrablur Primer ?
Cleanse the face well.
Take this product in the balls of the fingers.
Gently apply it over the face from inside out and also to the neck.
Blend well.
Allow it to get absorbed into the skin.
Allow it to dry.
Then start with the make up.
Dermalogica Hydrablur Primer Benefits And Uses :
Non-greasy and light weight
Keeps the skin smooth, soft and supple
Reduces the oiliness in the skin
Gives a natural and flawless skin
Suitable for all types of skin
Brightens and gives a radiant look