Faces Ultime Pro Eyeshadow Crayon Reviews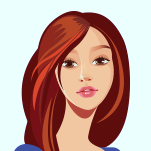 PROS
Travel-friendly
Dermatologically and Ophthalmologically tested
A variety of shades available
I am in love with this product, and it is one of the best lip crayons I have ever used. The color range is so wide that every girl can find the shade which suits her. The shades which I will definitely recommend are PUT ME ON and FIERY BROWN. Go for these lip crayons. You will not regret it.
View More…
Faces Ultime Pro Eyeshadow Crayon is a beautiful eye shadow which instantly makes one look glamorous. The shadow enables various looks from shimmery to extremely bold. It comes in stick format and its beautiful quality of being waterproof makes it wearable with complete ease all day. The crayon has a lovely soft and smooth texture which glides easily on the lids. The crayon is crease proof and does and have a great lasting power which makes it a complete delight to wear. This can be worn by people of all skin types, including people with sensitive skin. Unavailable Wash the eye area gently and pat it dry.
How To Use Faces Ultime Pro Eyeshadow Crayon ?
Wash the eye area gently and pat it dry.
Apply the eye crayon on the eye lids by applying gentle pressure.
Glide on the lids moving from the inner corner of the eyes outwards.
Remove any excess on the corner of the lids.
For contact lens wearers, apply the crayon post wearing lenses.
Store in a dry place.
Faces Ultime Pro Eyeshadow Crayon Benefits And Uses :
Great smooth and soft texture.
Enables different looks with the shades.
Waterproof and crease proof.
Glides on eyes with ease.
Lightweight on lids.
Brilliant pigmentation which makes application easy.
Blends with complete ease.
Suitable for all skin tones.
Makes eyes look more defined.
Gives a gorgeous impactful look to the eyes.
Faces Ultime Pro Eyeshadow Crayon Shades (Colors) :
Dancing Queen
Night Fever
Last Christmas
Uptown Girl
Staying Alive
Shes Got D Look
Oh Carol
Mamma Mia
Careless Wisper
Pretty Woman