L'oreal Paris Color Riche Le Vernis Reviews
PROS
Amazing shades
Good pigmentation
Oil nail paints
Travel friendly
Easily available
Applies smoothly
Flexi brush
Dries quickly
Lasts 4 to 5 days
I have multiple shades of loreal nail paints. And they all are pretty good. They lasts for long. The applicator is also thick and long. Unlike other nail paints they stick for atleast a week. The bottles are tiny and pretty. In one application they give nice color as they are highly pigmented.
View More…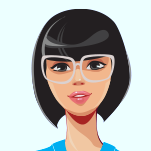 PROS
Amazing shades
Oil nail paints
Easily available
Flexi brush
Lasts 4 to 5 days
Long lasting
Who doesn't like manicured nails but when I dont find time to head to the salon I opt for nail polishes from my closet and one of my current favorite is this ballet by Loreal paris....the color is so rich and the applicator brush is also very thick that makes the application process simple and neat...this nail color lasts for more than 4 to 5 days and that is the reason why I am obsessed with it
View More…
Give a new trendy look to your nails with L'Oreal Paris Color Riche A L'Huile Nail Paint. Available in 22 vivid and vibrant shades, these nail paints are intensely pigmented and deliver highly sophisticated color with elegant oil shine. The product is enriched with 4 precious oils that gives brilliant shine and intense color in just one stroke. The flexi brush contains 400 bristles and is specially crafted with drip resistant technology for smooth and precise application. Paint your nails with this amazing nail colour for perfect, glossy finish. The nail paints come in a uniquely designed bottle that is travel friendly.
How To Use L'oreal Paris Color Riche Le Vernis ?
File your nails in desired shape.
Apply the nail polish over your nail starting from the base to the tip.
Do not allow the nail polish to touch the edge of the cuticle.
Allow it to dry.
L'oreal Paris Color Riche Le Vernis Benefits And Uses :
Innovative formula with intense color and high sheen.
Enriched with precious oils and rich pigments.
Flexi brush that offers precise application.
Travel friendly, good looking bottle.
Available in 22 shades.
Gives a sophisticated look to your nails.
Formulated with Drip Resistant technology to deliver smooth and perfect finish.
L'oreal Paris Color Riche Le Vernis Shades (Colors) :
L'Oreal Paris Color Riche A L'Huile Nail Paint - 112 Blanc De Lune
L'Oreal Paris Color Riche A L'Huile Nail Paint - 220 Dimanche Apres-Midi
L'Oreal Paris Color Riche A L'Huile Nail Paint - 224 Rose Ballet
L'Oreal Paris Color Riche A L'Huile Nail Paint - 440 Cherie Macaron
L'Oreal Paris Color Riche A L'Huile Nail Paint - 442 Coral Trianon
L'Oreal Paris Color Riche A L'Huile Nail Paint - 550 Rouge Sauvage
L'Oreal Paris Color Riche A L'Huile Nail Paint - 556 Grenat Irreverent
L'Oreal Paris Color Riche A L'Huile Nail Paint - 672 Gris Decadent
L'Oreal Paris Color Riche A L'Huile Nail Paint - 222 Jardin De Roses
L'Oreal Paris Color Riche A L'Huile Nail Paint - 114 Nude Demoiselle
L'Oreal Paris Color Riche A L'Huile Nail Paint - 116 Cafe De Nuit
L'Oreal Paris Color Riche A L'Huile Nail Paint - 226 Nymphea
L'Oreal Paris Color Riche A L'Huile Nail Paint - 552 Rubis Folles
L'Oreal Paris Color Riche A L'Huile Nail Paint - 554 Carmin Parisien
L'Oreal Paris Color Riche A L'Huile Nail Paint - 660 L'Or
L'Oreal Paris Color Riche A L'Huile Nail Paint - 664 Greige Amoureux