MAC Powerpoint Eye Pencil Reviews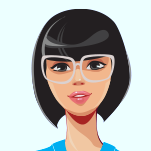 PROS
Travel-friendly
Lightweight
Waterproof
smudgeproof
Soft texture
glides easily
Long-wearing
This is one of the best eyeliner i have ever used. I recommend its use. Its smudge proof, easy to apply. It has app the qualities like it is Travel-friendly,Lightweight ,Waterproof, smudgeproof , Soft texture ,glides easily ,Long-wearing. One must try and order this eyleliner. I loved it hope u will also.
View More…
MAC Powerpoint Eye Pencil is a waterproof, metallic pencil with shimmer and matte finishes. The texture of the pencil is great and smooth and glides on with complete ease. The long-lasting power of the pencil makes it a treat to work with. The pencil does not smudge or budge, which makes it an wear for the eyes that doesn't require touch-up. The pencil enables precise definition of lines on the lids, making them look stunningly beautiful. The pencil is suitable to be worn by contact lens wearers and does not irritate sensitive eyes. The pencil imparts superior pigmentation.
How To Use MAC Powerpoint Eye Pencil ?
Wash the eye area.
Apply the pencil from the inner corner of the eyes moving outwards.
The pencil can be applied on the waterline too.
MAC Powerpoint Eye Pencil Benefits And Uses :
Defines eyes brilliantly.
Enables precise definition of eyes.
Can be used by contact lens wearers.
Does not irritate eyes.
Pigmentation is superior.
Helps create different looks with ease.
MAC Powerpoint Eye Pencil Shades (Colors) :
Engraved - Rich Black
Stubborn Brown - Deep Rich Brown
Bordeauxline - Soulful Deep Rich Plum
Buried Treasure - Underground Brown-Black With Gold
Forever Green - Olive Green With Shimmer
Bountiful Brown - Brown With Bronze Edge
Grey Utility - Uniform Grey
Duck - Soft Grey Brown
Prussian - Dark Military Grey-Blue
Industry - Utility Grey With Pearl