Maybelline New York Gigi Hadid Eyeshadow Palette Reviews
PROS
Long-lasting shades
smudge-proof
Unique colors
Easy-to-apply
Travel-friendly
Maybelline New York Gigi Hadid Eyeshadow Palette have amazing shades which is multipurpose. These colours have good pigmentation. These colours are really easy to apply and I also love the look of this eyeshadow palette. This is travel friendly eyeshadow palette. This is long lasting and smudge proof too. Highly recommended
View More…
PROS
Long-lasting shades
smudge-proof
Unique colors
Easy-to-apply
Travel-friendly
This is very beautiful eyeshadow palette by Maybelline. I am really in love with this gorgeous palette, it's super duper pigmented palette with a great blendable quality. It has very beautiful shades suitable for day makeup as well as night makeup. This Maybelline new york gigi hadid eyeshadow palette is perfect for any occasion ❤❤❤.
View More…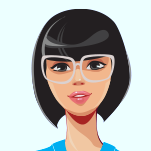 PROS
Long-lasting shades
smudge-proof
Unique colors
Easy-to-apply
Travel-friendly
This eye shadow palette is an exclusive edition with all the elegant shades that gives you a soothing and attractive look. It gives a perfect look for a day outing or even a afternoon party. It doesn't makes your skin look uneven or too makeup on it. The pretty shades make you look much younger than age and altogether it's a perfect day night outing eye shadow palette, easy to carry with long lasting shades.
View More…
Maybelline New York Gigi Hadid Eyeshadow Palette is a collection of perfect shades that makes a lasting impression for eye makeup looks. The shadows have a blendable texture that glides smoothly on the eyelids and gives a shimmering finish to the eyelid. It settles easily on the skin and doesn't irritate your skin. The Gigi Eyeshadow is available in two shades, namely Cool, Warm, and each palette contain six shadows. The Cool palette shadows are Off Duty, Butterfly lane, Magic Hour, Carbon Canyon, Gi-Force, East Valley. The Warm palette shadows are Pacific Coast Highway, Blonde, Paradise Cove, Firehouse, Montecito, Summerland. These shadows are suitable for all skin types and are perfect for every occasion.
How To Use Maybelline New York Gigi Hadid Eyeshadow Palette ?
Clean the eye area effectively.
Apply the shadow with the brush moving from the inner corner of the lids moving outwards.
Avoid direct contact of the products with the eyes.
Maybelline New York Gigi Hadid Eyeshadow Palette Benefits And Uses :
Gives a lovely texture to eyes.
Compliments different skin tones.
Maybelline New York Gigi Hadid Eyeshadow Palette Shades (Colors) :