SUGAR Cosmetics Contour De Force Mini Highlighter Reviews
PROS
Intensely pigmented
Dermatologically tested
lightweight
Very good highlighter i just loved thiss and wow like wow i am so happy to grab this amazing highlighter i used this more than a week and it blend on my skin like so softly so pigmented and so lightweight.💕😍 for you want to go anywhere you carry it on your pocket
View More…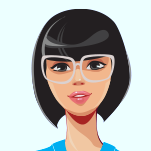 PROS
Intensely pigmented
lightweight
I think this is the best highlighter by Sugar.. Intense pigmented. Soft shimmer. Smooth on skin.. Gives you a soft smooth glow... I've used this highlighter every time when to do makeup.. Just use on ur high points of ur face and uh gonna go. The best one by sugar. ❤❤❤
View More…
Crave an envy-inducing glow to your face with a few dabs of the buttery soft, blendable, and buildable formula of SUGAR Contour De Force Mini Highlighter. It's amazing how effortless it is to create a youthful, dewy look with this highlighter that will enhance your natural complexion and use the light just right to accentuate your features. Not only does it deliver the truest champagne gold hue you'll ever wear, but it also gives you the perfect amount of brilliance. Dermatologically tested and approved, and 100% safe for your skin, this highlighter is free from parabens, D5, oil, silicon, mineral oil, and nano-ingredients.
How To Use SUGAR Cosmetics Contour De Force Mini Highlighter ?
Take a litle amount of highlighter on the brush.
Apply it over temple area, browbone, cheeks, inner corner of the eyes, and the tip of your nose.
SUGAR Cosmetics Contour De Force Mini Highlighter Benefits And Uses :
Highlights the contours of your face.
Delivers amazing color.
Brightens your skin.
A tiny bit goes a long way.
Creates a radiant glow.
Nourishes and hydrates the skin.
SUGAR Cosmetics Contour De Force Mini Highlighter Shades (Colors) :
Champagne Champion
Gold Glory
Metal Medal
Royal Rose