SUGAR Cosmetics Never Say Dry Creme Lipstick Reviews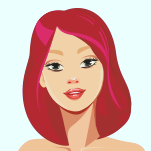 PROS
Intensely pigmented
Great shades
Ok So I purchased the product two weeks ago. The shade is Brown Ultimum. It's basically brown nude shade and it's beautiful. Suits almost every skin tone. It's not that much transfer proof. But anyhow I liked the shade and it's really good for regular use like college, tuition or work.
View More…
PROS
Intensely pigmented
Great shades
Long-wearing
No mineral oil, lanoline, and paraben
Sugar lipsticks are little bit expensive but there shades colour variants are really very appealing and very nice... Longwear lipsticks..lasts for 4 to 5 hours andif you do not eat any oily food and it also very smooth in texture and very much pigment and the packaging is really very strong and luxurious
View More…
SUGAR Cosmetics Never Say Dry Creme Lipstick is a moisturizing lipstick that sets into a demi-matte finish. It comes in 11 beautiful shades that suit all Indian skin tones. It does not crease or clump on the lips. The ultra-moisturizing formula makes it a comfortable wear any day. It glides on the lips easily and comes off without making the lips dry or chapped. The pigmentation of this lipstick is mind-blowing. The added vitamin E nourishes the lips. It gives a beautiful soft matte color. This is a must-have in every makeup lover's collection.
How To Use SUGAR Cosmetics Never Say Dry Creme Lipstick ?
Exfoliate your lips.
Apply the lipstick on the upper lip starting from the center towards the outer corner of the lip.
Repeat the above step on the upper lip.
SUGAR Cosmetics Never Say Dry Creme Lipstick Benefits And Uses :
Enriched with vitamin E for soft and nourished lips
Stunning shades available in this range
Creme formula for easy gliding on the lips
SUGAR Cosmetics Never Say Dry Creme Lipstick Shades (Colors) :
01 Subtle island
02 Dial M for Magenta
03 The Brown Ultimatum
04 Revolutionary Rose
05 Berry Maguire
06 Raisin Helen
07 Mauve Actually
08 Jack Peacher
10The Plum Diary
09 A Christmas Coral
11 Red Poet's Society