A Complete Guide To What You Should Wear To A Wedding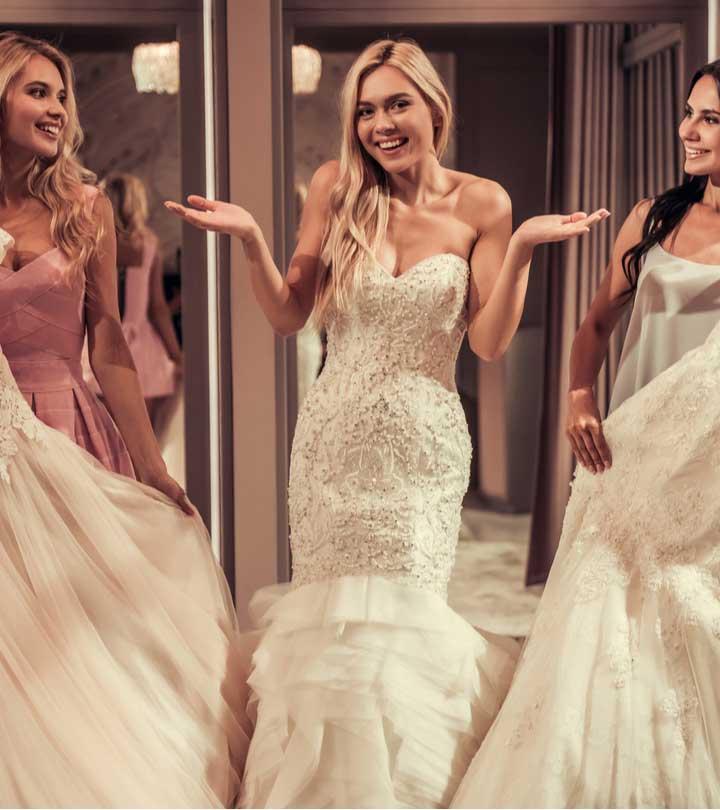 Weddings are always exciting; whether it's your close friend tying the knot or a distant relative, the moment you receive the invitation, the first thought that crawls into your mind is, "What will I wear?" Unfortunately, even though it seems simple to pick a dress and shoes, there is so much that can go wrong. Even with your best efforts, wearing something inappropriate can focus unwanted attention on you and make you the villain of the day. So to keep all awkwardness at bay, here are simple dress codes to follow at a wedding.
1. Stay Away From White
When we say white, it includes pale pink, off-white, and anything that comes close to white. It is an unsaid rule that only the bride should be wearing white, and the last thing you want to do is upset the bride and unleash the bridezilla in her. Even if you choose a pale color, there is a chance it will come off as a white dress in pictures, so try to select a more contrasting color so your photos come out really well.
2. Avoid Wearing Party Colors
This one might be tricky, but if you are in contact with the bride or bride's maid, this should be straightforward. Most people go for a color scheme for the wedding. It can be blue and white, orange, or lavender, depending on what the bride and groom decide. If you dress up in something that matches the color of the decor, you might get camouflaged in the photos or look like a prop! So before you pick the dress for the wedding, ask about the color theme, what color the decorations are, and then select the dress you want. To be on the safe side, you can go for a printed dress, as the bridesmaids traditionally wear dresses of the same color.
3. Don't Dress Too Casual
Even if the wedding invitation doesn't demand a dress code, you shouldn't walk in wearing jeans and a sweatshirt. You must choose between being underdressed and overdressed, which should not be a problem. Sometimes something as simple as a one-piece or jumpsuit does the trick. Also, if you are genuinely not sure about what would be an appropriate dress to wear to the wedding, you can always ask the bride or bridesmaid.
4. Be Feminine
We don't mean that a wedding is no place for trousers. However, you can't dress for a wedding the same way as you would for an interview. So even if you want to flaunt pants, make sure they are dressy enough for the nuptials. You can go for a polished blouse, blingy accessories, and even a matching blazer to give your outfit a striking look.
5. Cover Your Shoulders
You might have picked an off-shoulder dress that looks fabulous on you; however, weddings are sacred occasions, and the ceremony might take place in a church or an institution with a modest dress code. To be on the safe side, carry a shawl or a scarf to help you cover up when necessary.
6. Don't Go Overboard
Weddings indeed follow the 'dress to impress' code, but the last thing you want to do is outdo the bride and groom. Some colors and prints are good but don't try and take the spotlight away with your dress. When you shop, don't pick a cocktail dress to attend a wedding in. Instead choose something that makes you look amazing but doesn't draw too much attention.
7. Wear A Decent Neckline
If you are unsure about what others are wearing, it is best to stick to something that will not gather stares and gawks. So as a general rule, stick to less showing of skin. Even if you go for a sleeveless and a short dress, keep the neckline modest, so all the grandma's and aunties don't get a heart attack seeing you. You can save your risque dresses for the bachelorette party!
Attending a wedding might overwhelm you as the more you think about it, the more you feel you will be the odd one out in the group. But it doesn't have to be so. The best thing to do is clear out all your doubts before the D day, and even send a picture of the dress to the bride to ensure there is no scope for unwanted surprises. Also, choose your shoes wisely and according to where the marriage will take place. For example, if it is an outdoor marriage, it's best to keep the stiletto at bay, for it will only dig deep in the ground. So, what did you think about our guide to choosing a dress for a wedding? Is there something you would like to add to our list? Let us know in the comments section!
The following two tabs change content below.