8 Actresses Who Opened Up About Bollywood's Unrealistic Beauty Standards For Women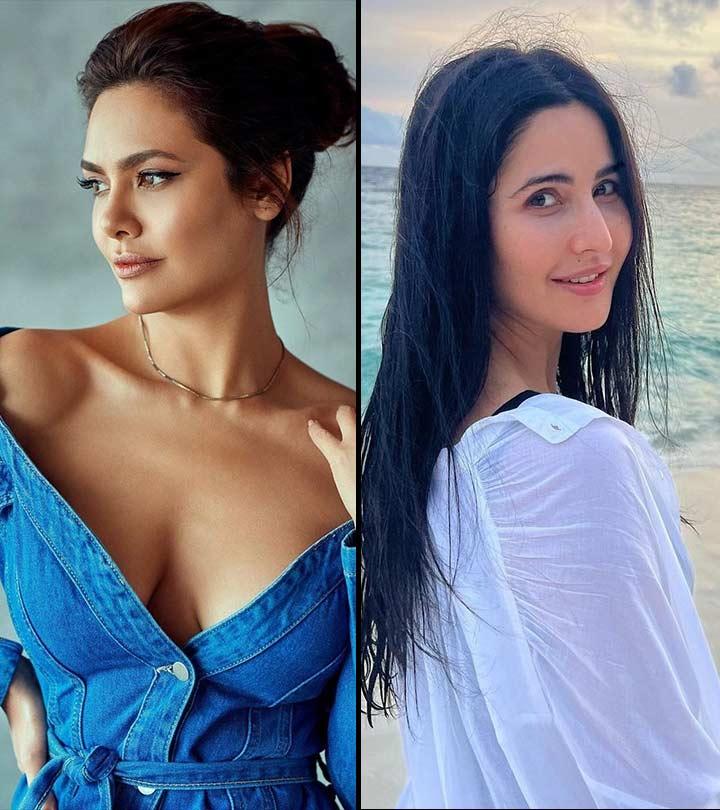 Beauty lies in the eye of the beholder, right? Well, almost! It depends on your definition of beauty. Some features we all used to enclose in the parameters of beauty are flawless skin, 0 size figure, thick and shiny hair, perfect hairline, ideal facial structure, no unwanted body hair, and so on. But unfortunately, it is almost unnatural to look perfect every minute. When you look at celebrities, it's almost like they belong to another world. The ideal body, skin, and hair are enough to make you feel inferior. But is that what the true definition of beauty is, and does it come naturally? While society has upheld the problematic standards of beauty for the longest time, more and more celebrities are coming forward to unmask the dark truth behind the flawless beauty image we adore. Here are some famous stars from Bollywood who have opened up about their struggles to match unrealistic beauty standards. Read on to know them all.
1. Priyanka Chopra
Priyanka Chopra has always been vocal about her problems in the movie industry. The biggest challenge she faced was lining up with the conventional beauty standards expected of every woman before joining the movie industry. She was ridiculed for being skinny and dusky. But, it is more than just about looking flawless; you have to be perfect in the way you carry yourself.
2. Kajol
Kajol is known for being brutal about her opinions, and she didn't shy away from letting everyone know about the toxic beauty standards Bollywood had set for the girls. She said actors have almost dehumanized themselves to uphold the standards they have created. Looking a certain way comes with baggage, and things like airport fashion and wearing stilettos while traveling are downright ridiculous.
3. Esha Gupta
Esha Gupta had to deal with the worst comments when she entered Bollywood. She was asked to take injections that lighten the complexion to eliminate her natural dusky color. Some even suggested getting a nose job done to sharpen her nose like other actresses.
4. Richa Chadha
Richa Chadha shared how she struggled at the beginning of her career in the industry because of her body type and skin color. She said her dusky skin made it difficult to open opportunities for her, and for the longest time, only her parents thought she was beautiful.
5. Katrina Kaif
We know it will sound somewhat surprising, but Katrina felt inadequate in terms of looks. She said as a child, she believed that beauty was what she saw in magazines. If you didn't look like that, you just weren't pretty. She was conscious of her looks when she grew up and felt she was not pretty enough. This made her put immense pressure on herself to look flawless no matter where she went.
6. Sonam Kapoor
Sonam Kapoor brought reality to the picture by saying it is not just about your looks or being a perfect size. You also must keep natural processes and features like bloating and cellulite away from the image. She was conscious about dancing in a backless choli as she had to hide her backrolls from showing on camera.
7. Sonakshi Sinha
Even though she is a daughter of Shatrughan Prasad Sinha, she was not welcomed into the industry till she lost 30 kgs. Even after losing weight, the audience kept fat shaming her for not fitting into the perfect body image.
8. Vidya Balan
Vidya Balan did not belong to the film industry family, but her talent is something we all adore. But even she struggled for the longest time to fit in the beauty standards. Her body weight became a constant discussion in her interviews and it made her feel very insecure.
Being beautiful is easy, but looking beautiful round the clock is neither possible nor feasible. At the end of the day, all you want is to do is peel the dress from your skin and get into comfortable oversized clothes. Even though eradicating the false beauty image away from society will take time, accepting what's real will help you take the burden away from your soul. And the acceptance starts with you. So we need to first embrace our nose, scars, body, and skin the way they are. So, what do I think is the most unrealistic beauty standard that is followed by the glamor industry? Let us know in the comments section!
The following two tabs change content below.