7 Alternative Uses Of Black Tea For Your Skin And Hair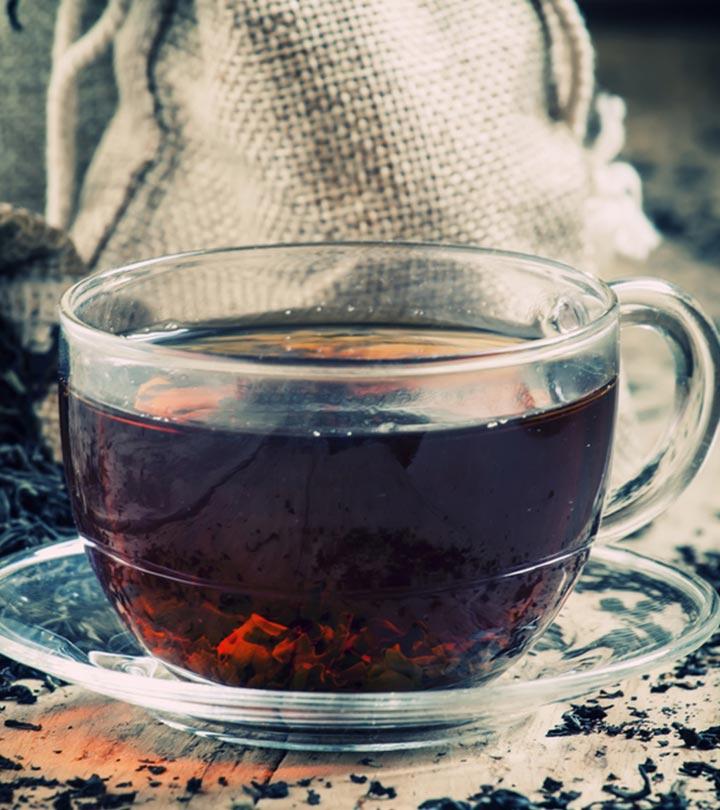 Besides being great for your body, tea has many other practical uses. It's a smart idea to start implementing tea into your beauty routine. No, we're not joking. Those tea leaves can be used for a lot more than just a hot cuppa. This common household item has tons of skin benefits, even when applied topically. So if you're someone who tends to throw out tea bags after use, STOP! Here are a couple of ways you can use black tea to improve the effectiveness of your regular beauty regimen:
1. To Get Rid Of Smelly Feet
Having feet that might smell a little funky is nothing to be ashamed of. Considering India has mostly a humid and warm environment, we are bound to face the pesky problem of smelly feet. Rather than lamenting over your luck or rushing to a parlor (especially during these times), you can use black tea to give yourself a DIY pedicure. Brew the tea leaves like you would brew them for your regular chai and add it to a small bucket of hot water for you to soak your legs in. The tannic acid present in the tea will help rid your feet of smell, caused by germs or bacteria.
2. To Control The Breakage Of Hair
If you are someone who struggles with brittle hair or you're just looking for a way to improve your hair texture, you should consider adding black tea into your shampooing routine. Brew black tea and rinse your hair through it before you condition it to see the massive difference that it makes to your hair. It's also a smart idea if you oil your hair beforehand (if you aren't doing it already) to see an even better effect on your hair once you've washed it. It will take a few days, but you will be sure to notice the difference.
3. De-Puffing Your Undereyes
Products that contain caffeine are gaining popularity in recent times as caffeine can help reduce any extra fluids that might be causing your eyes to look puffier than they regularly do. If you're in the mood for some stay-at-home spa treatment, you can slap on a face mask and cover your eyes with a cold, damp tea bag to get an immediate pick-me-up! No better way to chill than with some groovy beats, a lime soda, a facemask, and an eye tea mask, amirite, girls?
4. To Treat Sensitive Skin
If you find yourself suffering from a few nicks and cuts due to shaving and dread the idea of friction toughing it, refrigerate a used tea bag and apply it on the cut to see an immediate effect. This is also helpful for people who might be suffering from sunburn or even sensitivity after waxing the skin. Apply the damp tea bags directly onto the affected area to see the best effect. You could also combine the aloe vera with used black tea to create a simple and natural lip mask and lip scrub to help get rid of dead skin cells that might be present on your lips.
5. As An Astringent And Skin Toner
Using black tea as an astringent and skin toner works well in helping even out your skin tone and making your makeup glide on more smoothly. When it is in pure form, black tea also acts as a powerful yet gentle skin toner that helps to firm your face. Black tea is rich in antioxidants and thus acts as a perfect skin booster for you. Adding a good toner to your routine can help keep your skin free of nasty breakouts. If you're someone who has large pores or extremely oily skin, using a skin toner would be of great benefit to you.
6. To Fix Minor Cracked Or Chipped Nails
If you cut or chip your nail in a place where it cannot be cut off from your finger, try applying a wet tea bag to the affected part and leaving it for around twenty minutes or so. If you're lucky, the nail might have sealed back to normal and fixed itself. However, this is just a temporary solution, and if you notice that the damage hasn't fixed itself, the cut might be deeper than you believe it to be.
7. As A Homemade Body Scrub
You've probably noticed plenty of body scrubs that claim to be infused with coffee beans to help exfoliate and firm your skin. You can also make your own body scrub at home by combining ground coffee beans with used black tea leaves. This homemade body scrub will work wonders on your skin, and help firm and tone your skin. Especially the skin on your thighs, butt, and stomach. This can even help reduce the visibility of cellulite that might be present on your thighs (no shame in having it girls, we all do).
Like every other product in an Indian kitchen, tea too can have multiple uses. Drinking tea is not only beneficial to your body, but using it can be beneficial to your skin and hair as well. Look up different natural ingredients and methods online and try experimenting with natural ingredients that are present in your own home. Ditching chemical products and going the natural route will be super beneficial to your skin and cause it to glow and flourish. Have you tried using tea in your beauty regimen before? Let us know in the comment section below.
The following two tabs change content below.

Latest posts by Niharika Nayak (see all)

Niharika Nayak
Niharika has a passion for all things art, music and travel. During her spare time she likes experimenting in the kitchen, painting pop culture icons and chasing after random street cats. Her dream is to one day own an amusement park so she can ride roller coasters for free.